Assuming that there is such a thing as reincarnation – I am convinced that my husband Jack was Asian in a previous life.
Anytime we eat sushi or other Asian foods, or when Jack shops at the local Asian supermarket – he gets this a look of pure (for lack of a better word) 'contentment' on his face!   Don't get me wrong – he really loves his Italian family recipes, and even my Polish family recipes – but that dreamy and joyous expression he gets on his face is something altogether different!
So – over New Year's, we had the huge pleasure of meeting the mother of our friend and neighbor Simone, who was visiting from California.  On that same day, we were also treated to a wonderful lunch of some authentic Vietnamese dishes that Simone's mother made for us!
When Simone's mother is not visiting, Simone enjoys cooking herself and one of her go-to cookbooks for Asian cuisine is called, The Best of Vietnamese & Thai Cooking: Favorite Recipes from Lemon Grass Restaurant and Cafes
by Mai Pham.  Simone has told us that many of the recipes in this cookbook are the closest she has found to recreating her mother's own recipes.  So of course – given Jack's otherworldly love for Asian cuisine, we had to buy the cookbook for our own collection!
Fast forward a few weeks later, and with game day party menu-planning in full swing, we decided to adapt a recipe from that cookbook to make these Crispy Asian Chicken Wings with Ginger-Lime Dipping Sauce!  These Asian-seasoned chicken wings are covered in a rub made from Chinese five spice powder, salt, and sugar, then fried until golden and crispy.  Then the wings are served with a really fantastic ginger-lime dipping sauce that has spicy, zesty and citrusy flavors – all combined to perfectly complement the gentle spice of the crispy chicken wings.  This is a must-try recipe!
Note: The cookbook we mentioned above is actually out of print, but at the time of this post, used copies can still be found here
. (Affiliate link)
Print
Crispy Asian Chicken Wings with Ginger-Lime Dipping Sauce
Prep Time:

12 hours

Cook Time:

1 hour

Total Time:

13 hours

Yield:

20-24 Wingettes and Drumettes
---
Description
The chicken wings can be prepared early in the morning and cooked and served that night, or prepared and stored overnight up to 24 hours in advance of cooking. Also once the chicken is cooked, it can be held in a warm oven until ready to serve so if you wanted, you could get this done before your guests arrive.
---
3½

to

4

pounds whole fresh chicken wings (

10

–

12

whole wings)

3

inch piece of ginger peeled, sliced and smashed

1½ tablespoon

Chinese five spice powder

1 tablespoon

sugar

2 tablespoon

kosher salt
Vegetable oil for frying
For the Dipping sauce
2

large garlic cloves peeled and sliced

2

fresh Thai chilies cleaned and sliced (optional)

1 teaspoon

chili paste (add more if omitting Thai chilies)

2 tablespoons

finely minced fresh ginger

¼ cup

fish sauce

2 tablespoons

fresh squeezed lime juice (include pulp), plus additional fresh lime wedges to serve with chicken

¼ cup

water

4 tablespoons

sugar
---
Instructions
Separate the wingette from the drumette by running a sharp knife down between joint. Then remove and discard the wing tip or freeze it for a future stock.
Heat a large pot with about a gallon or so of water and add ginger (enough water to cover chicken but don't put chicken in until water has boiled). When it comes to a boil, add chicken and bring back to a boil. Then cover and shut off burner. Let chicken sit in hot water for 30 minutes. Drain into colander and discard liquid and ginger pieces.
Place a rack over a sheet pan and place chicken onto rack to drain. (Getting the chicken dry is crucial to a crispy wing).
While the chicken is cooling, make the rub. In a small bowl mix five spice powder, sugar and salt to combine.
Once the chicken is cool, pat dry with paper towels and try to get them as dry as possible. Sprinkle with spice rub a little at a time pressing the rub in as you go. Keep flipping and coating until all covered with rub. Leave the chicken on the rack and place the entire pan and rack into the refrigerator uncovered overnight or at least 8 hours. The chicken will lose more moisture uncovered and will drip into pan.
The dipping sauce can be made the night before or close to serving. In a mortar and pestle, pulverize the garlic, chilies, chili paste and ginger to a fine paste. You can also use a small food processor (such as this one) if you do not have a mortar and pestle. Place paste into a small bowl and add fish sauce, lime juice, water and sugar. Cover and refrigerate until ready to serve.
Pull chicken one hour before cooking to bring to room temperature then about another 15 minutes before serving to cook. Heat a wok or heavy bottomed pan with enough oil to cover the chicken when cooking (about 3-4 cups). Using a thermometer, heat oil to between 325 and 350 degrees.
Turn oven to 200 degrees to keep chicken warm between batches.
Carefully drop one third of the chicken in the hot oil one at a time (it will splatter so stand back). Cook for 3-5 minutes or until browned and crispy. Remove to paper towel lined plate then place in oven on pan to keep warm. Let oil come back to temperature and drop next third and repeat process for the remainder, keeping warm in oven as you go.
Serve hot with dipping sauce and lime wedges.
---
You may also like:
Chicken with Sweet and Sour Plum Sauce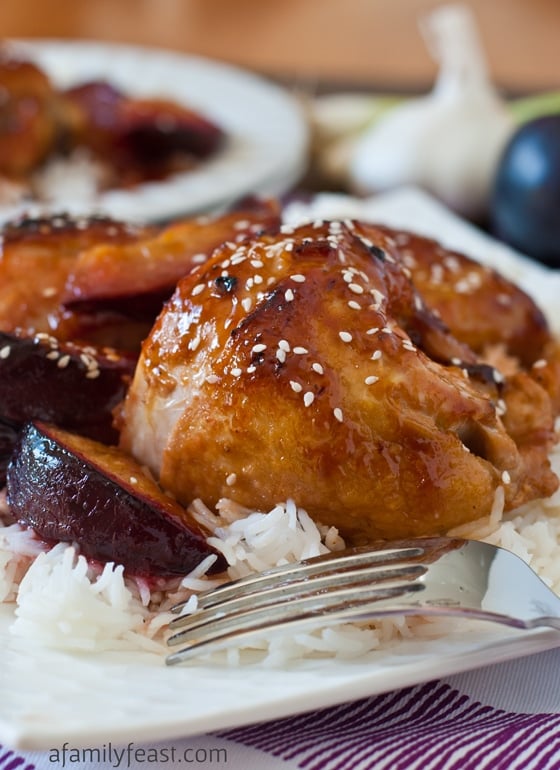 Bourbon Spice Barbecue Chicken Wings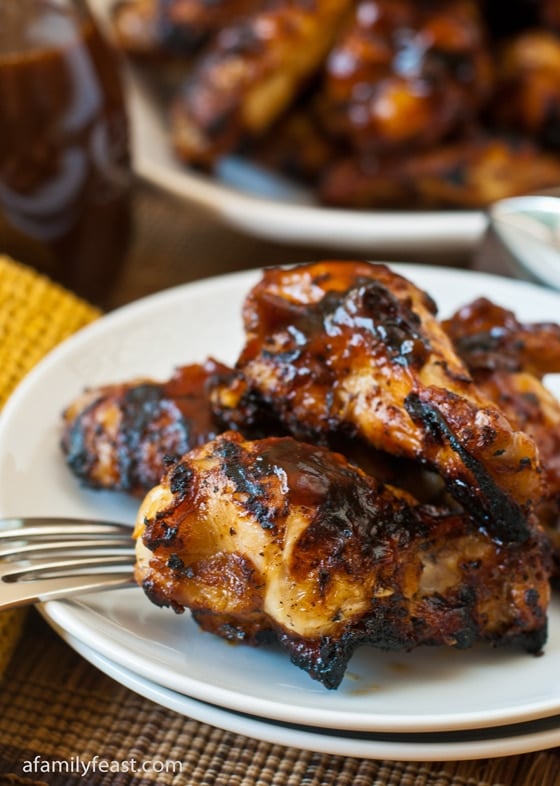 Sweet and Spicy Shrimp, Pineapple and Bacon Skewers