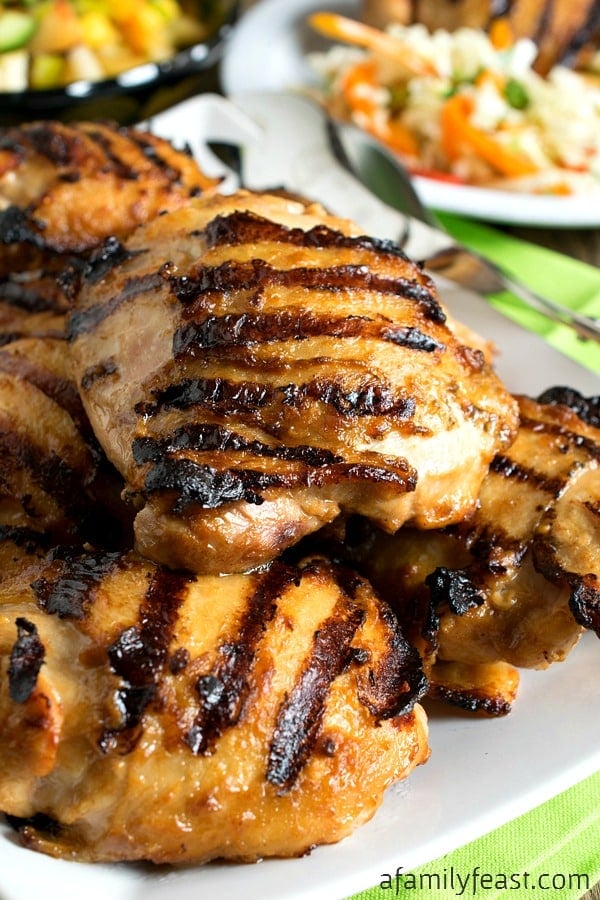 I first made this fantastic Peanut Ginger Chicken recipe years ago – long before we started blogging and long before everyone could easily find recipes online!
Back then, I was just starting to develop a passion for cooking, and I used to clip and save recipes from magazines and newspapers that caught my eye.  I still have many of those clippings, and at the risk of dating myself, I clipped this Peanut Ginger Chicken recipe from the July 1997 issues of Better Homes and Gardens. (Eek – 19 years ago – I am old!) But this recipe is just as delicious today as it was back then!
This recipe starts out by marinating chicken thighs in a flavorful combination of creamy peanut butter, freshly grated ginger, garlic, chili sauce, soy sauce, apple cider vinegar, plus a little bit of cayenne pepper.  Then, the thighs are cooked outside on a grill over low heat until juicy and perfectly done.
These Peanut Ginger Chicken thighs have a crispy, caramelized skin – and there is also a wonderful, creamy richness as you take a bite, thanks to the peanut-ginger marinade.  This recipe is a very delicious change to the same-old grilled chicken you've been making!
And – be sure to come back tomorrow and Wednesday because we will be sharing the recipes for the two side dishes you see above – a fresh Fruit and Cucumber Salsa, and an Easy Napa Cabbage Slaw.  They are wonderful complements to this Peanut Ginger Chicken.  It's an absolutely perfect menu for any summertime barbecue!
Print
Peanut Ginger Chicken
Prep Time:

12 hours

Cook Time:

30 mins

Total Time:

12 hours 30 minutes

Yield:

5-6 servings
---
---
10

–

12

chicken thighs (about

3

–

4

pounds)

1/2 cup

creamy peanut butter

1/2 cup

hot water

1/4 cup

bottled chili sauce

1/4 cup

soy sauce

2 tablespoons

canola oil

2 tablespoons

apple cider vinegar

4

cloves garlic, minced

4 teaspoons

grated fresh ginger

1/4 teaspoon

cayenne pepper

1/4 cup

vegetable oil
---
Instructions
Rinse chicken and pat dry with paper towels. Place chicken in a large plastic zipper seal bag that has been set in a shallow bowl.
To prepare the marinade, place peanut butter in medium bowl and gradually stir in hot water. (The mixture will be stiff at first – keep stirring and it will loosen and blend together.) Stir in chili sauce, soy sauce, canola oil, vinegar, garlic, ginger, and cayenne pepper.
Pour marinade over chicken. Seal bag and massage the chicken in the bag to evenly coat with the marinade. Chill in the refrigerator for at least 12 hours or up to 24 hours, turning the bag in the bowl occasionally.
When ready to grill, preheat an outdoor grill to a hot temperature. Remove the chicken from the marinade and discard the marinade. With your hands, wipe the marinade away from the skin side then brush the skin with oil.
Place the chicken thighs skin-side down on the lower grill rack closest to the flame and sear for about 4-5 minutes minutes or just long enough for the skin to start to crisp without burning. It is ready to flip when you lift it and it no longer sticks to the grill grates. Brush oil on top of upturned thighs, turn and sear the other side of the chicken thighs for another 4-5 minutes.
Lower the heat of the grill as low as it can go, then place the chicken thighs on the upper rack away from the direct flame or to a cooler side of the grill. Close the cover and cook chicken until tender and cooked through to an internal temperature of 140 degrees F. With the cover closed and our grill temperature turned to low, our grill stayed at around 425 degrees F, and 10 fairly large thighs took about 15-20 minutes to cook through. (A probe thermometer is a great tool to have on hand to ensure your grilled chicken is cooked through to the proper temperature.)
Remove from heat and serve immediately.
---
Disclosure: This post contains affiliate links.
You may also like: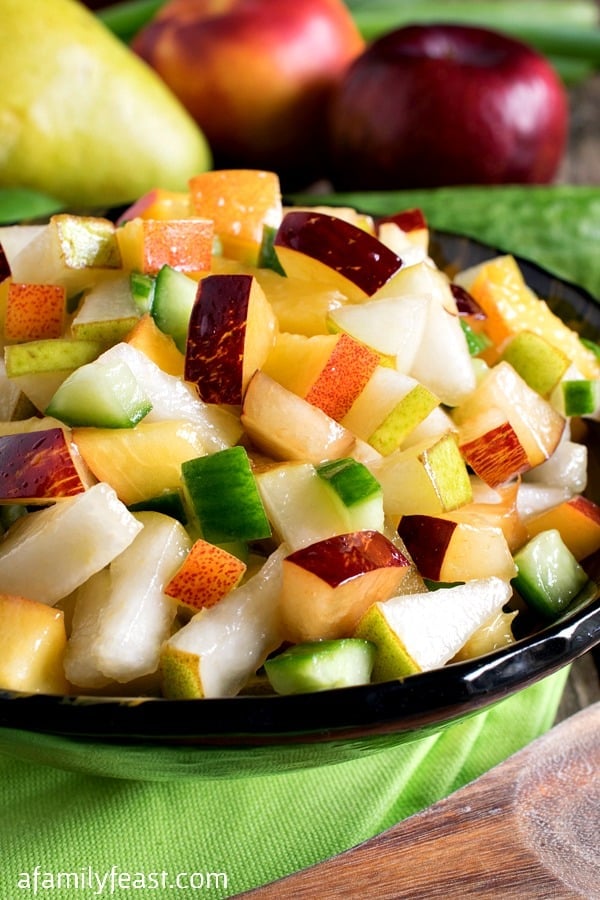 Easy Napa Cabbage Slaw – Recipe Coming on Wednesday!
Perdue's Favorite Sweet and Smokey Chicken
Grilled Basil Garlic Chicken Breasts