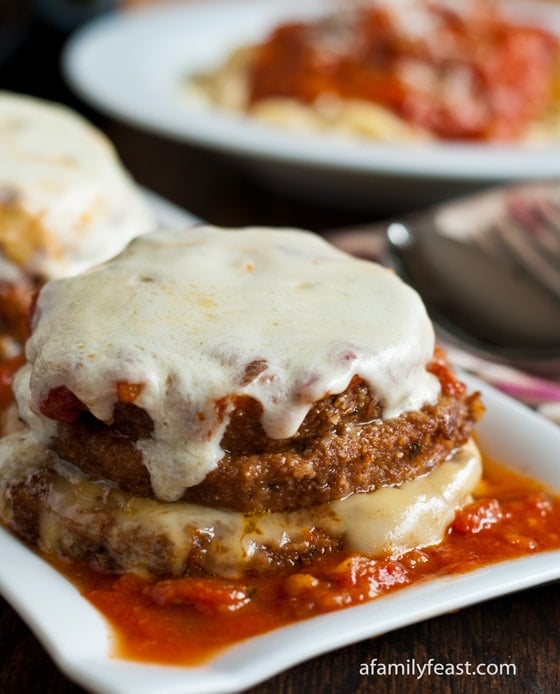 My husband Jack makes a really terrific Eggplant Parmesan – and we're sharing the recipe with you today!  This is another one of those dishes that I've always loved to eat out at a restaurant, but I avoided cooking myself mostly because my cooked eggplant always tasted a little bitter to me.
But Jack's recipe is fantastic! This eggplant parmesan is a stack of breaded eggplant slices that are lightly fried, leaving the outside perfectly crispy with a soft and creamy inside.  Then the eggplant is layered with a wonderful homemade tomato sauce and a combination of Fontina, mozzarella, parmesan and romano cheeses, and baked in the oven until the cheese is melted.
Don't you want to dig your fork into this right now?
Jack also shares his tip in the recipe for removing the bitter taste from your cooked eggplant.  The trick is actually quite easy – just sprinkle both sides of the eggplant slices with a generous amount of salt and allow it to sit for up to two hours before cooking.  This salting process draws the bitter liquid out of the eggplant.  Then you rinse the eggplant slices – removing the excess salt and the bitter liquid – and you can proceed with cooking.
We hope you'll agree – this eggplant parmesan is fantastic!
Print
Eggplant Parmesan
Prep Time:

2 hours

Cook Time:

30 mins

Total Time:

2 hours 30 minutes

Yield:

5 servings
---
Description
Here's a helpful hint: The cooking oil used to fry the eggplant in this recipe can be filtered and saved for another recipe or discard. Just filter the hot oil through a coffee filter to remove any solids from the oil. Many restaurants do this to avoid waste and it's perfectly acceptable to do this at home as well.
---
Ingredients
1 ¼

pounds eggplant, peeled and cut into slices about ½ inch thick (

15

slices ranging in size from small to large)
Salt

1 cup

flour

1 teaspoon

salt

½ teaspoon

black pepper

3

eggs

3 tablespoons

milk

1 ½ cups

seasoned bread crumbs
Vegetable oil – enough to fill a 14 inch skillet with 1 inch of oil

1 ½ quarts

tomato sauce (see our recipe here), or your favorite jarred sauce

1 cup

freshly grated Parmesan cheese

¼

pound Fontina cheese sliced

1/8 cup

freshly grated Romano cheese

½

pound fresh mozzarella cheese
Your favorite pasta for serving
---
Instructions
After peeling and slicing the eggplant into 15 equal slices, lay them flat on your cutting board and sprinkle both sides with salt. (Don't worry about over salting as it will get washed off later; this salting process draws out the bitterness of the eggplant.) Allow the slices to sit for 1 ½ to up to 2 hours at room temperature. Put the slices in a strainer and wash off the salt and the bitter liquid; pat the slices dry with paper towels.
Lay out three large bowls. Place flour, salt and pepper in the first and stir. Place eggs and milk in the second and whisk well. Place the seasoned bread crumbs in the third. Have a plate at the end of the row to collect the breaded slices.
Dip each slice of eggplant in flour and shake and tap off excess. Then dip in egg wash and finally in bread crumbs – coating both sides with all steps. Place on collection plate. Repeat until all eggplant is breaded.
In a 14" skillet, heat the oil to 350 degrees. (Using a candy thermometer is helpful to ensure you get to the correct temperature.)
Preheat oven to 350 degrees.
Once the oil is hot, cook the eggplant in three batches. Cook for 1 to 1 ½ minutes on each side until golden brown. Remove to paper towels to drain. Lightly salt each slice as they come out of the hot oil.
When you are done, you should have a collection of eggplant slices that are large, medium and small in diameter. Separate them into three sizes with five in each pile. Pour one cup of tomato sauce into the bottom of a 9×13-inch pan or baking dish. Place five large slices spread out into the bottom of the pan over the sauce.
Sprinkle each slice with a teaspoon of Parmesan and a tablespoon of sauce. Cut Fontina into five portions and place a slice onto each eggplant circle. Then layer the medium slices on top of the Fontina. Cover each pile with another teaspoon of Parmesan, a tablespoon of tomato sauce and split the Romano between the five portions. Add final small slice on each of the five portions and top with a teaspoon of Parmesan on each and ¼ cup of tomato sauce on each. Divide the fresh mozzarella between the five portions and lay over the top.
Insert a skewer or a tooth pick (without frills) into the center of each so they don't slide apart while baking.
Cook your pasta according to package directions while eggplant is baking.
Cover the pan or dish with a sheet of parchment paper and a sheet of foil, shiny side facing the food. Seal tight around the edges and bake for 25 minutes. Uncover and bake for 5 minutes more. (The shiny side of foil reflects the heat so I always put dull side up.)
Once the dish is done, let them sit for five minutes to set up. Remove the tooth picks and serve with pasta and tomato sauce with Parmesan cheese.
---
You may also like: