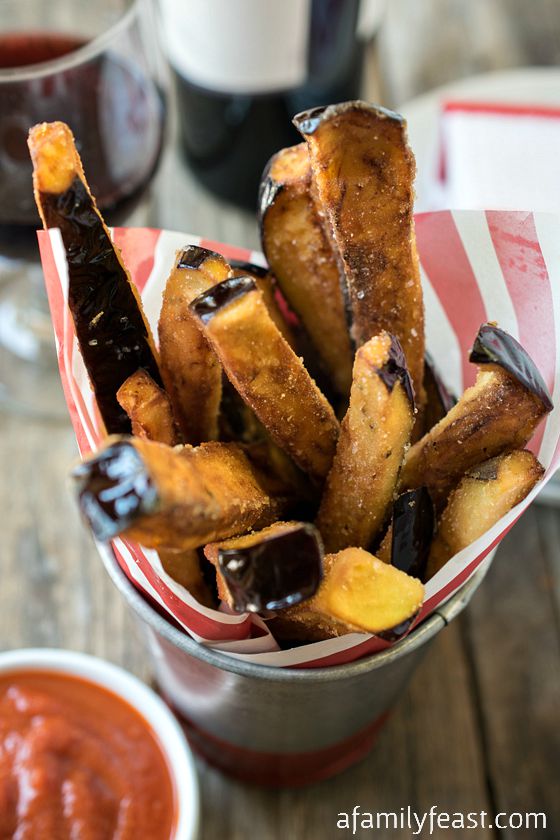 If you've been a regular reader here at A Family Feast, then you already know from the stories we share that many of our personal friends are also fellow foodies!
While they don't write food blogs themselves – they do certainly enjoy "taste testing" our blog recipes, and they are great company and adventurous eaters when we all go out to try a new restaurant. Sometimes, our friends also give us recipe inspiration – and such is the case with today's Eggplant Fries with Marinara Sauce.
Earlier this summer, our friend and neighbor Sean told us about a fantastic appetizer that he enjoyed one night at a local restaurant – eggplant fries served with a side of marinara sauce for dipping.
As soon as Sean mentioned those eggplant fries – Jack and I knew we had to try making it ourselves at home! This dish is reminiscent of a classic eggplant parmesan but served in a new way. The eggplant is cut into fries and rolled in a light coating made with seasoned rice flour, then fried until tender. Then we served the hot fries with our easy (and delicious) homemade marinara sauce. (I can totally understand why Sean raved about this dish!)
One last note – don't be scared away by using rice flour in this recipe. (You can find it at most supermarkets these days in the gluten-free or health foods section of the store.) After some trial and error – we felt that the rice flour creates the best, light coating for these Eggplant Fries with Marinara Sauce.
Print
Eggplant Fries with Marinara Sauce
Prep Time:

1 hour 30 mins

Cook Time:

15 mins

Total Time:

1 hour 45 minutes

Yield:

4 servings
---
1½

pounds Italian eggplant (about

2

medium)

1 tablespoon

kosher salt
For the Breading
1½ cups

rice flour

1 tablespoon

sea salt, divided (we used a Sicilian sea salt)

½ teaspoon

garlic powder

½ teaspoon

onion powder

1 teaspoon

dry oregano

1 teaspoon

dry basil
Vegetable or canola oil for frying
For Serving
---
Instructions
About an hour before frying, trim ends of each eggplant then slice the long way into four or five thick slices. Leave skins on. Turn and slice again into strips. I got about 30 fries per eggplant. Lay them out flat on your cutting board or counter and sprinkle both sides with the tablespoon of kosher salt. Then let sit for an hour. This will draw out any bitterness. After the hour, place in a bowl and cover with cold ice water.
In a large bowl, mix the flour, 1 teaspoon of the sea salt, garlic powder, onion powder, oregano and basil.
Place a large pot on the stove and fill half way with the oil. Heat to 345 degrees F using a candy thermometer. This seems like an odd temperature but you actually drop down to 325 degrees F as you fry which is what you want.
Preheat the oven to 300 degrees F. This will be used to keep the fries hot as you cook each batch.
Drain the ice water from the eggplant but do not pat dry. While still wet dredge them all in the rice flour mixture and then place on a tray.
Cooking in batches, fry for about 4-5 minutes or until they just start to brown. They will not get dark amber like a French fry would but more of a light golden color. Using a spider or strainer, remove to a tray with paper towels and generously sprinkle with the remaining sea salt. Let the oil get back to 345 degrees before starting the next batch.
As each batch is cooked, place on a pan and hold in the oven until all the fries have been cooked.
Enjoy with marinara dipping sauce.
---
You may also like: