Wow – this Eggplant and Garlic Pizza is delicious! Simple ingredients, but the flavors of eggplant, garlic, cheese, sauce and herbs are perfectly balanced.
Hey everyone, it's Jack. Today, I'm sharing a fabulous recipe for Eggplant and Garlic Pizza made with a Roasted Tomato Pizza Sauce.
Quite a few years ago I got dragged to a very seedy bar, in a not-so-nice city in Massachusetts, so I could try what I was told was "The Best Pizza on the Planet".  After finding a parking space where my tires wouldn't get slashed and I wouldn't get mugged as soon as I stepped out of my car, I gingerly walked in to the wonderful smell of stale beer and cigarette smoke.  I found a table that was the least sticky and the furthest from the dart board and pool tables, and ordered some pizza.
Only one type of pizza was served there, in fact it was the only food on the menu.  So my choice was simple: "I will have the pizza please".  Even though I'm not much of a beer drinker myself, I ordered a beer so I wouldn't get beat up ordering a glass of wine or a cocktail.  The beer came in a glass with my pizza. (I was hoping for a bottle.)  When no one was looking, I cleaned the glass rim with my shirt sleeve,  took a sip of beer, and then started on the eggplant and garlic pizza.
What I bit into was a slice of heaven!  There was the perfect amount of garlic, roasted eggplant and the most wonderful rustic, roasted tomato sauce I have ever tasted.  After a few slices were gone, an older and very weathered-looking woman came over and asked me how I liked the pizza.  I told her I thought it was wonderful – and I really meant it.
Turns out, she was the mother of the owner of the bar, and she convinced him to allow her to make this eggplant and garlic pizza for his customers.  It was her recipe and she was quite proud of it. We talked for almost an hour – she was an incredibly interesting person and great company!  She shared her recipe with me, and I have been making a version of it ever since.
By the way, when I got back to my car, it had a parking ticket on the windshield – but at least it was intact and not being stripped at the local chop shop.

Print
Eggplant and Garlic Pizza
Prep Time:

1 hour

Cook Time:

7 mins

Total Time:

1 hour 7 minutes

Yield:

One 12-14 inch pizza
---
Description
For best results, a pizza stone and pizza peel should be used when making this recipe.
---
7 ounce

pizza dough (store bought or our homemade Perfect Pizza Dough)

6

–

8

slices of peeled eggplant, cut ½ inch thick
Salt to sprinkle on eggplant

½ cup

flour

1 teaspoon

salt

¼ teaspoon

white pepper

½

inch vegetable oil for large skillet
Flour for surface

1/3 cup

roasted tomato pizza sauce or your favorite sauce

¾ cup

shredded mozzarella cheese

1 ½ teaspoons

finely minced garlic (more if you prefer)

1 tablespoon

chopped fresh basil

1 teaspoon

chopped fresh oregano or

½ teaspoon

dried
A drizzle of extra virgin olive oil
Corn meal to coat pizza peel
---
Instructions
Bring dough ball to room temperature on a floured pan. Cover dough ball with plastic and a dish towel and let sit in a warm place for 30 minutes.
On a floured surface, flatten dough to a 12-14 inch round. Cover with plastic and dish towel again and let sit for another 30 minutes.
Meanwhile, lay out slices of eggplant and liberally salt each side. This process draws out the bitterness of the eggplant. Let them sit on the counter for 30 minutes. You will see moisture being drawn out. After 30 minutes, rinse them under water to remove salt and bitter liquid.
On a plate or in a bowl, mix the ½ cup of flour, salt and pepper. Then dip eggplant into this mixture, coating both sides. Shake off excess flour.
Heat the large skillet over high heat with the ½ inch of vegetable oil to 375 degrees. When oil is hot, lay eggplant slices into oil and cook on both sides until brown (about 1 ½ minutes per side). Remove to a paper towel to drain.
Preheat oven to 500 degrees and in middle rack, place your pizza stone.
On a pizza peel, sprinkle corn meal over surface. Lay pizza dough round onto peel.
Carefully spread pizza sauce to ½ inch from edge without getting any on peel.
Sprinkle most of the shredded mozzarella over sauce but leave a small amount to sprinkle over finished pizza.
Sprinkle minced garlic, basil and oregano over cheese and then lay eggplant slices over all. Sprinkle the remaining cheese over top.
Drizzle a little oil over top and slide pizza from peel onto the stone and set timer for 7 minutes. After 7 minutes check pizza bottom for browning with a pair of tongs and cook 1-2 more minutes only if needed.
Cut and serve with a nice tall cold beer. (Hopefully in a clean glass)
---
You may also like: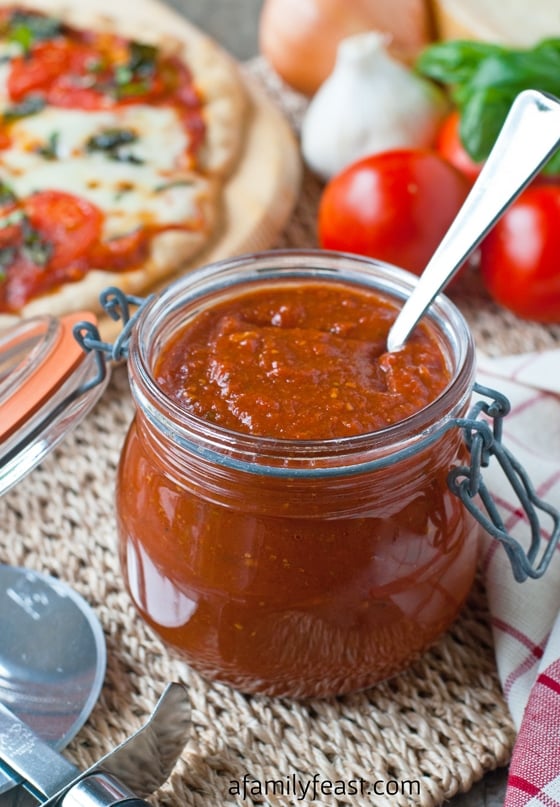 How to Make Perfect Pizza Dough