Cold Mexican Cucumber Soup is refreshingly delicious. A perfect summertime appetizer or light lunch!
Crisp, fresh summertime cucumbers are the best – and this Cold Mexican Cucumber Soup is a delicious way to enjoy cooking with them!
Today's recipe is a new twist on the classic cold cucumber soup recipe.  Rather than seasoning this light and creamy soup with dill, my husband Jack decided to go in a completely new (and very delicious) direction.
This Cold Mexican Cucumber Soup (as you can tell from the name) is subtly flavored and seasoned with ingredients you'll often find in Mexican cuisine: jalapenos, cumin, coriander, cilantro, and lime. A mix of sour cream and Greek yogurt create a silky-smooth base for the cold cucumber soup.
The results are fantastic and the Mexican-inspired flavors really complement the cool, refreshing cucumber flavor!
How do you make Cold Mexican Cucumber Soup?
This cold soup recipe is super easy to make – in fact, the majority of the prep time goes to chopping the vegetables and salting the cucumbers.
You'll start by peeling the cucumbers, then cut them in half. Next, use a spoon to scrap out all of the seeds.
Lay the cucumbers on a paper towel – then sprinkle them with salt, and let them sit for about 15 minutes. The salting process draws out some of the moisture from the cucumber, intensifying the cucumber flavor in the soup.  After 15 minutes, flip the cucumbers over and let them sit for another 15 minutes.
While the cucumbers sit, chop the red onion and garlic and measure out the rest of your ingredients. When ready to make the soup, rub the cucumbers with a clean paper towel to remove any excess salt. Finely chop some cucumbers and red onion for garnish, and set that aside.
Next – in a blender – combine the cucumbers with the sour cream, yogurt, and all of the other ingredients and seasonings. Blend until smooth and frothy.
Pour the soup into cups, then top with the reserved chopped cucumbers and onion – and enjoy!
What variety of cucumbers should I use in this Cold Mexican Cucumber Soup recipe?
We intentionally chose to make this soup with the traditional salad cucumbers (often Diva, Green Burpless, or Persian varieties) you'll easily find at the supermarket.  But if you happen to be growing cucumbers in your backyard garden, or you prefer the long English cucumbers – those can be used as well.
You may enjoy these other Cucumber recipes:
Print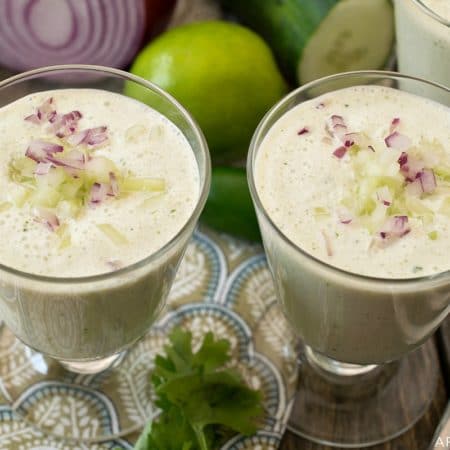 Cold Mexican Cucumber Soup
Author:

Prep Time:

30 minutes

Total Time:

30 minutes

Yield:

8-10 servings

Category:

soup

Method:

blend

Cuisine:

Mexican
---
4 medium cucumbers, reserving some for garnish
½ teaspoon kosher salt
1 ½ cups sour cream
1 cup full fat Greek yogurt
3 tablespoons chopped red onion, plus more for garnish
1 tablespoon chopped garlic
2 tablespoons chopped jalapeno, no seeds
½ teaspoon ground cumin
½ teaspoon ground coriander
¼ cup fresh cilantro
Zest from one lime
Juice from 1 ½ limes
½ teaspoon sea salt
½ teaspoon white pepper
---
Instructions
Peel the cucumbers and cut off ends. Cut them in half the long way and using a knife and a spoon, scoop out the seeds and discard. Lay them cut side up on paper towels and sprinkle on the ½ teaspoon of kosher salt and let sit while you prepare the other ingredients, about 15 minutes. Turn the cucumbers cut side down and let sit another 15 minutes. Reserve a half cup and cut into small pieces to use as a garnish. Cut the remainder into large chunks to be pureed.
In a blender or food processor, place sour cream, yogurt, red onion, garlic, jalapeno, cumin, coriander, cilantro, lime zest, lime juice, sea salt and white pepper.
Rub the cucumbers dry with more paper towels and add to the blender and puree the mixture until smooth.
Serve immediately in glasses or small bowls garnished with chopped red onion and chopped cucumber. Soup may be chilled before serving as well.
---
Keywords: Cold Mexican Cucumber Soup