Our Zucchini Pie has a rustic olive oil crust, filled with slices of fresh garden zucchini, three kinds of cheese, and fresh garden herbs.
This Zucchini Pie is so good, you'll be thankful for all of that garden-grown zucchini this summer!
After a rainy spring and cool start to the summer, our backyard garden is finally growing like crazy – and the zucchini is coming fast and furious. This delicious Zucchini Pie is a great way to use some of it up!
This creamy and delicious pie also gets additional flavor from fresh garden herbs, as well as three kinds of cheese, and it makes a great weeknight dinner with a fresh greens salad on the side.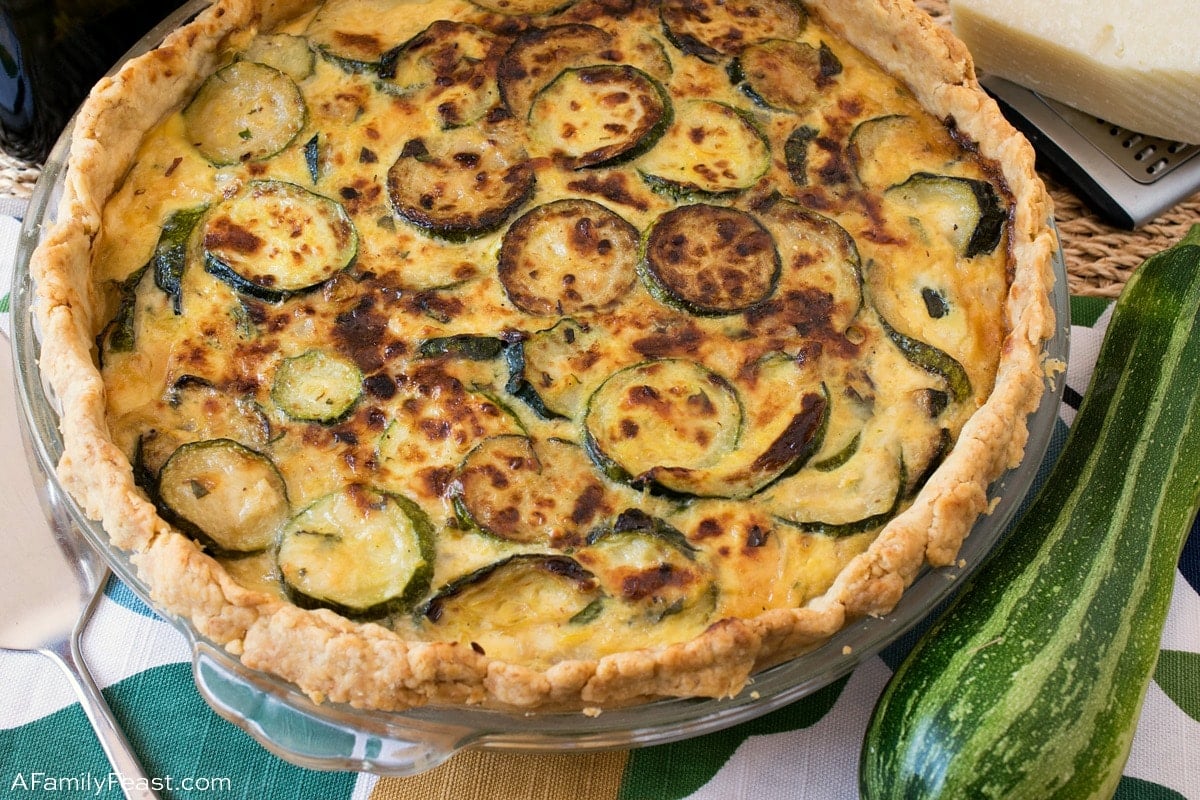 How do you make Zucchini Pie?
It all starts by making a wonderful olive oil-based crust.  Unlike most pie crust recipes that call for butter or shortening, we used extra virgin olive oil, which gives this rustic, flaky crust a really wonderful flavor.
You'll first blind bake the crust. Then fill it with slices of sautéed zucchini*, onions and garlic that are combined with eggs, a touch of milk and a three-cheese mix of Parmesan, Romano and melty Fontina cheese.  A generous amount of fresh, garden herbs finishes things off – and the combination of fresh Italian flat-leaf parsley, basil and oregano are a great flavor pairing with the zucchini.
*This initial sauté step also helps remove some of the moisture from zucchini, which helps prevent a soggy pie.
Bake your Zucchini Pie until set in the middle and golden on top.
What do you serve with Zucchini Pie?
This Zucchini Pie can be served as an entrée with a garden salad topped with our favorite vinaigrette dressing and a slice of crusty garlic bread. Or, it can also be served as a side dish with some grilled chicken or steak.  Either way, it's a delicious way to eat your summer vegetables!
You might enjoy these other Zucchini recipes:
Print
Zucchini Pie
Author:

Prep Time:

30 minutes

Cook Time:

1 hour

Total Time:

1 hour 30 minutes

Yield:

8 servings

Category:

entree

Method:

baking

Cuisine:

American
---
Crust
2 cups all-purpose flour
1 teaspoon kosher salt
1 teaspoon granulated sugar
½ cup extra virgin olive oil
5 tablespoons whole milk
Filling
3 tablespoons extra virgin olive oil
2 pounds zucchini cut into quarter inch slices (cut large slices in half)
1 ½ cups Vidalia onions, diced
1 tablespoon fresh garlic, minced
1 teaspoon kosher salt
½ teaspoon freshly ground black pepper
Pinch red pepper flakes
3 whole eggs
2 tablespoons whole milk
¾ cup freshly grated Parmesan cheese
¼ cup freshly grated Romano cheese
6 ounces Fontina cheese, shredded on large holes of box grater (about two cups)
2 tablespoons fresh flat leaf parsley, minced (or half that of dried)
2 tablespoons fresh basil, minced (or half that amount of dried)
1 tablespoon fresh oregano, minced (or half that amount of dried)
---
Instructions
Preheat oven to 375 degrees F with rack in center of oven.
In a large bowl mix flour, salt and sugar then add oil and milk and mix with a wooden spoon or with your hands and roll into a ball.
Lay out two overlapping pieces of wax paper and place the dough in the center then cover with two more overlapping pieces of wax paper.
Using a rolling pin, roll out to a 14" circle.
Remove the top pieces of wax paper and neaten up the edges to a smooth circle.  Then invert the dough into a 10" pie dish and remove the remaining wax paper.
Press the dough into the dish and crimp the sides into an attractive edge. I use the knuckle of my index finger and thumb of the other hand to make the edge.
Line the dough in the pie dish with a large piece of crinkled up foil that has been pressed back out or with a piece of parchment paper with slits on the side to fit into the dish. Pour in dry beans or pie weights and bake for 20 minutes.
While crust is baking, heat a very large skillet over high heat with the three tablespoons of olive oil and once hot, add zucchini and onions and saute for three minutes. Add garlic, salt, pepper and pepper flakes and saute for three more minutes. Cover and remove from heat. The zucchini will soften up off heat with the cover on.
In a large bowl, beat eggs and milk and stir in the Parmesan, Romano and Fontina cheeses.
Also stir in the parsley, basil and oregano.
Pour the zucchini mixture into a strainer and drain off all liquid. Let sit for a few minutes to cool while draining.
Once cooled, add into the egg and cheese mixture.
After 20 minutes remove pie shell from oven and remove pie weights by lifting out the foil or parchment.
Pour the zucchini mixture into the pie shell and arrange a few slices of the zucchini on top in an attractive manner so that they show once baked.
Place back into the oven and bake for 40 minutes. If the crust starts to brown too soon, place a ring of foil over the crust.
Broil for 2-3 minutes to brown from that middle rack position, keeping the foil on the crust edge so it does not burn.
Let sit five minutes then serve.
---