Our Polish Barley and Vegetable Soup is a delicious choice for a Meatless Monday meal! This soup is loaded with root vegetables and barley in a super flavorful broth.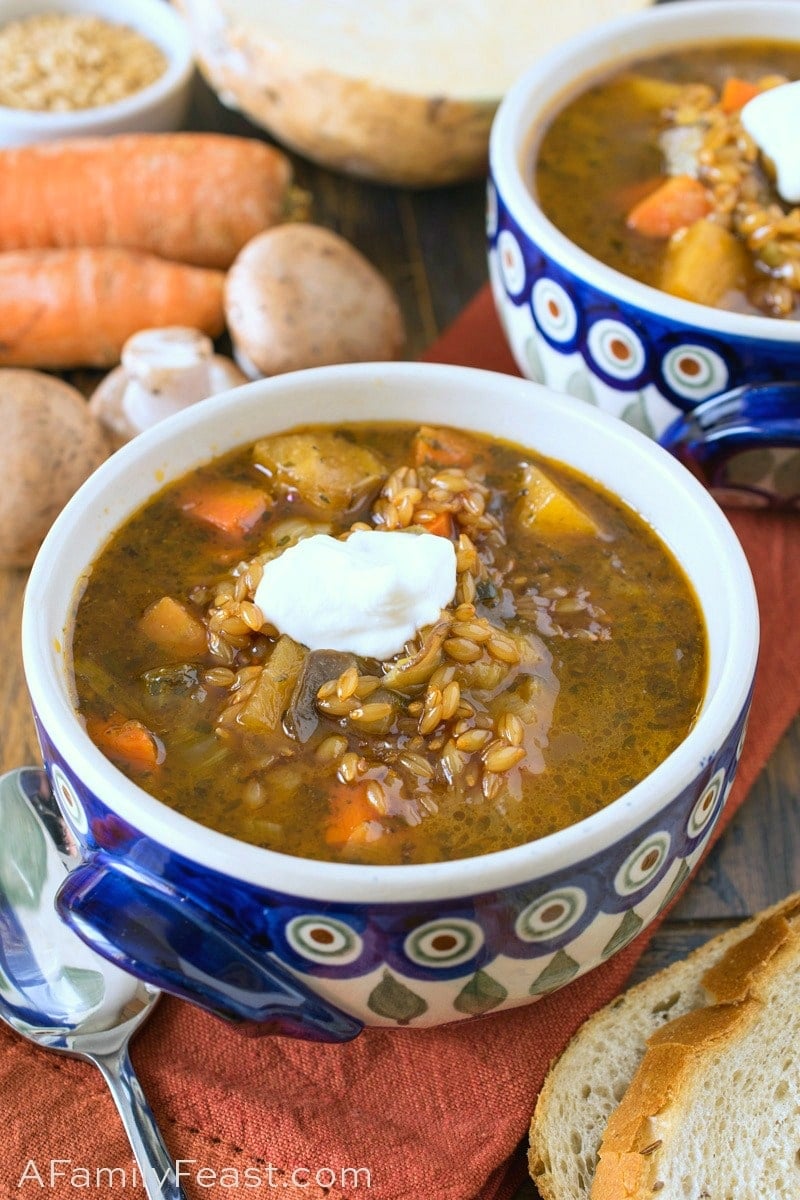 When you're in the mood for a hearty and comforting bowl of soup—this Polish Barley and Vegetable Soup is going to hit the spot!
A nice variety of root vegetables including carrots, onions, and yellow turnip, are combined with leeks, celery and mushrooms in a flavorful stock. Tender, cooked barley is also added, giving this Polish Barley and Vegetable Soup a wonderful bite in each spoonful.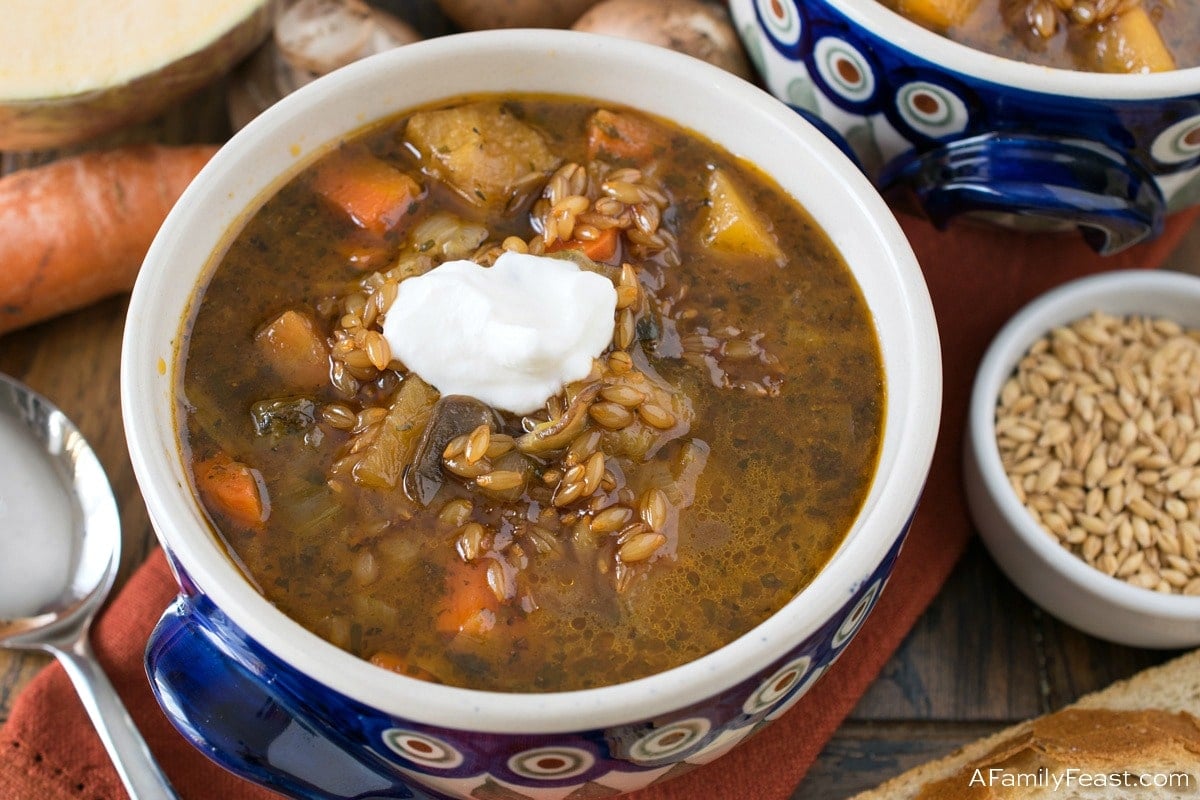 My husband Jack found this Polish Barley and Vegetable Soup in one of my mother's old cookbooks—a collection of recipes compiled by the Mother's Club of the church we attended while I was growing up. (It's the same cookbook where we found this earlier walnut crust pumpkin pie recipe.)
I don't remember my mom or dad or grandmother making this soup recipe—although it certainly would have been the type of recipe they would have enjoyed. It's a budget-friendly meal that can feed a hungry family, with plenty leftover to reheat for lunch the next day.
We served our Polish Barley and Vegetable Soup with a dollop of sour cream on top and some rye bread on the side.
One last note: The original Polish Barley and Vegetable Soup called for pearl barley which is the variety you'll most often find at the grocery store, typically with the dried beans and other legumes.  Instead, we used hull-less barley which you can find with other Bob's Red Mill brand items. The hull-less barley cooks up to a nice chewy texture that works really well in this soup recipe, but it takes longer to cook so plan accordingly. (*Read more in the notes below.)
You may enjoy these other Soup recipes:
Print
Polish Barley and Vegetable Soup
Author:

Prep Time:

45 minutes

Cook Time:

45 minutes

Total Time:

1 hour 30 minutes

Yield:

6 to 8 servings

Category:

soup

Method:

stovetop

Cuisine:

Polish
---
Description
The cooking time listed above assumes you will use pearl barley in this recipe. If you plan to use the hull-less barley, plan for at least 30 minutes extra cooking time.
---
1 cup pearl barley, or hull-less barley (*see Notes below)
½ cup butter or fat, divided **
2 cups onion, diced
2 cups carrots, diced
4 cups yellow turnip, diced
2 cups leeks, diced, whites only cleaned of sand
1 cup celery, diced
4 ounces mushrooms, sliced (about 1 heavy cup)
½ teaspoon freshly ground black pepper
1 teaspoon dry marjoram
1 tablespoon dry parsley
3 quarts stock (any combination of chicken, beef or vegetable stock)
1 teaspoon kosher salt
Sour cream for garnish
Rye bread for serving
---
Instructions
In a medium sauce pan, place the barley and cover with water (not stock). If you use stock, the salt in the stock creates a reaction that does not allow the barley to cook. You could cook it until the next ice age and it would stay tough. If you are using the hull-less variety, cover with six cups of water and simmer partially covered for 45-90 minutes depending on the texture you want, adding more water if needed. If using pearl barley, follow package instructions for the water.
Once barley is cooked, stir in half the butter and set aside.
In a 5-quart Dutch oven or heavy bottomed soup pot over high heat, melt half the butter or fat and add the onions, carrots, turnip, leeks, celery, mushrooms, pepper, marjoram and parsley.
Cook stirring often with a large wooden spoon for eight minutes.
Add stock and bring to a simmer and simmer until vegetables are tender, 15-20 minutes.
Taste and only add salt if needed.
Add barley with any liquid left in the pan and stir.
Serve with dollop of sour cream and slices of rye bread.
---
Notes
*Pearl barley is typical for this dish however I used Bob's Red Mill Hull-less barley – found in most supermarkets. When cooked, it has a chew to it which I liked for this soup. The downside is that it takes a while to cook (45-90 minutes) where the pearl barley is cooked in 30 minutes and quick barley 10-15 minutes. With the hull-less barley, you can cook it as long as 90 minutes. At 45 minutes it is cooked but has a chew to it, the longer you cook it up to 90 minutes, the more tender and plump it becomes.
**The fat can be butter, chicken fat or beef fat or any combination. I sautéed the vegetables in some beef fat I had and used butter mixed into barley.
Keywords: Polish Barley and Vegetable Soup