Summertime means fresh melons are readily available in virtually every grocery store and farmer's market. We've got over 25 magnificent melon recipes to give you inspiration to create some melon mania in your kitchen! While watermelon, cantaloupe, and muskmelon (also known as honeydew) are the most popular, there are at least 27 other types of melons out there to enjoy.* (*source)
This magnificent melon recipes collection starts with drinks (some are adults-only, and others are kid-friendly), then snacks and desserts, sides and salads, and we finish up with some lunch and dinner ideas – all featuring melon.
To save the entire collection to your Pinterest board, click on the image up above and pin from there. Or click through to each individual recipe and pin them directly from the recipe creator's website.
We hope you enjoy these melon recipes!
DRINKS
Gin and Tonic with Fresh Watermelon from Cook the Story
Watermelon and Pink Grapefruit Frozen Margaritas from A Family Feast
Cantaloupe Mint Rose Batidos from Jeanette's Healthy Living
Watermelon Margarita from Wine and Glue
 Watermelon Mojito from Call Me PMC
Watermelon Rum Cocktail from Karen's Kitchen Stories
Watermelon Strawberry Agua Fresca from Around My Family Table
Raspberry Melon Smoothie from A Family Feast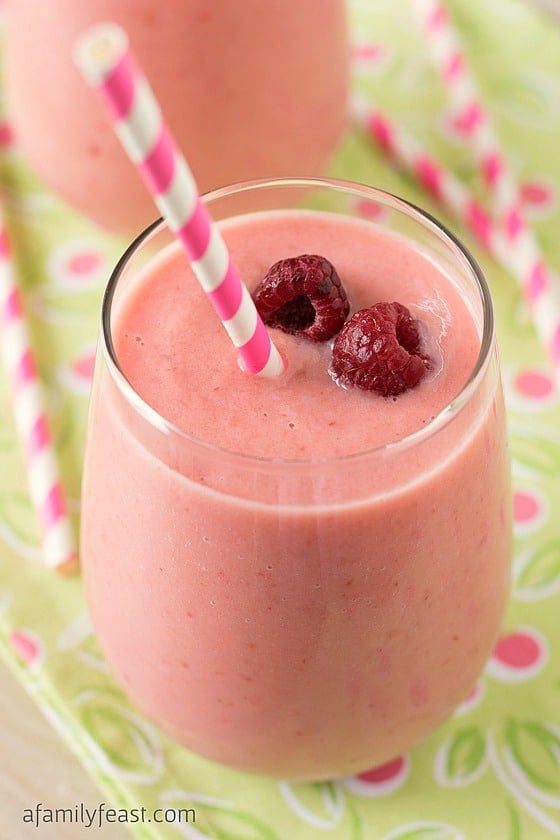 Watermelon Sorbet Floats from Chocolate Moosey
 Skinny Watermelon Limeade from The Housewife in Training Files
Honeydew Melon Smoothie from A Family Feast
 SNACKS AND DESSERTS
Egg-Free Kiwano-Orange Ice Cream from It's Yummi
 Creamy Melon Granita from A Family Feast
 Watermelon Doughnuts from Fork and Beans
 Watermelon Lime Mint Popsicles from Neighbofood Blog
 SIDES AND SALADS
Watermelon, Feta & Mint Salad from A Family Feast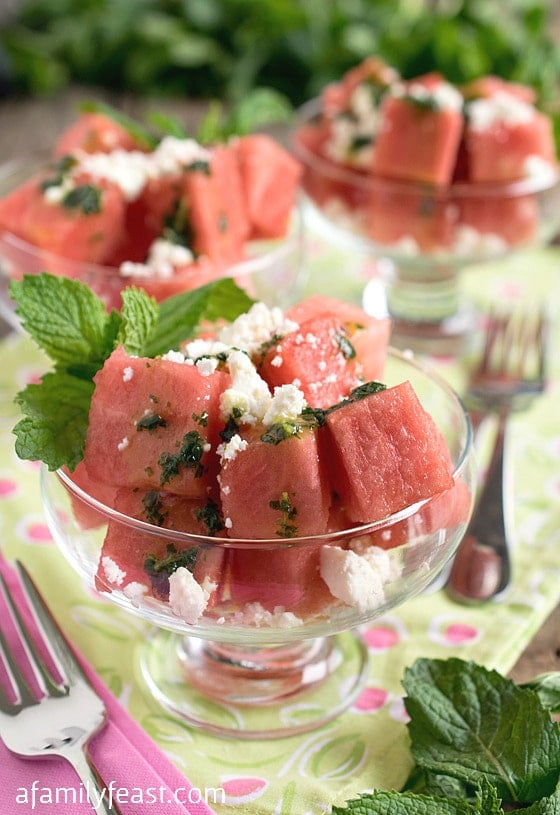 Chilled Cantaloupe Soup from It's Yummi
 Feta, Almond Watermelon Salad from Call Me PMC
 Summer Melon Salad from The View From Great Island
 Cantaloupe Salad with Maple Cinnamon from The Kitchen is my Playground
 Bacon, Cantaloupe and Arugula Salad from Frugal Foodie Mama
 Melon Balls with Poppy Seed Dressing from A Family Feast
Grilled Peach and Watermelon Kebabs from Cook the Story
 Melon, Prosciutto, and Mozzarella Skewers from Running to the Kitchen
Star Spangled Fruit Salad from A Family Feast
ENTREES
 Prosciutto Wrapped Zucchini Melon Pasta from A Family Feast
 Prosciutto, Melon, and Provolone Grilled Cheese from Kudos Kitchen by Renee
 Spicy Shrimp Tacos with Watermelon Salsa from Chocolate Moosey
 Cantaloupe Prosciutto Pizza from Farm Fresh Feasts