Italian Sausage with Lentils & Rice is a budget-friendly meal that combines simple ingredients with big flavors.
Just about a year ago, we made a conscious effort to always keep a well-stocked pantry. Like everyone else around the world, we were trying to stay home as much as possible and avoid unnecessary shopping trips.
Back then, we stocked up on affordable ingredients with a long shelf-life, as well as ingredients that could be frozen. We also prioritized ingredients that could be used in a variety of different recipes.
This Italian Sausage with Lentils & Rice was one of our "pantry-meals" – made entirely from ingredients we had on hand, plus some fresh Tuscan kale we bought during one of less-frequent supermarket runs.
Why you'll love it
This recipe transforms simple ingredients into a delicious and very satisfying dinner. You can serve six to eight people – or, enjoy leftovers the next day.
Each step in the cooking process adds layers of flavor to this dish. Your taste buds will be thrilled with each and every bite!
Hands-on prep time is only fifteen minutes – then your stovetop does all of the work.
Key Ingredients and Substitutions
Aromatics including onions and garlic – We used sweet Vidalia onions in this recipe, but any yellow or white onion can be used. In a pinch, jarred garlic could be used – although we do think fresh is best!
Vegetable broth or chicken stock – You can use either flavor of stock in this recipe. And, you can used canned or homemade stock.
Sweet Italian Sausage – Buy the large sausage links. Or – if you like things spicier – use Hot Italian Sausage instead.
Dried Lentils – either green or brown lentils will work for this recipe, but NOT the red or yellow lentils. You'll want the lentils to cook in the stock (picking up great flavor) so canned lentils should also be avoided.
White rice – This recipe is written for a long-grain white rice. You can swap in brown rice, but you'll need to partially cook the brown rice ahead of time since it takes much longer to get tender than white rice.
Tuscan kale – We love Tuscan kale (also called lacinato, black, or dinosaur kale). You can swap in just about any other favorite greens if you prefer.
Canned, diced tomatoes – We used your basic, plain diced tomatoes – but you could use fire-roasted or Italian-seasoned canned tomatoes if you prefer.
How do you make Italian Sausage with Lentils & Rice?
Sauté the diced onions in some extra virgin olive oil.
Add garlic, water, broth, seasonings, and sausage to the pot with the onions.
Simmer until the sausages are cooked through – then remove the sausages to a plate.
Add lentils to the pot of broth and simmer to cook.
Brown the sausage while the lentils cook.
Sauté the kale in a skillet (while the lentils cook) just until wilted. Then add the kale to the pot with the lentils, along with the white rice.
Simmer until the lentils and rice are tender. Stir in the canned tomatoes with their juices.
Nestle the cooked browned sausage into the lentils and rice mixture and cover to heat through. Serve with an additional drizzle of olive oil on top.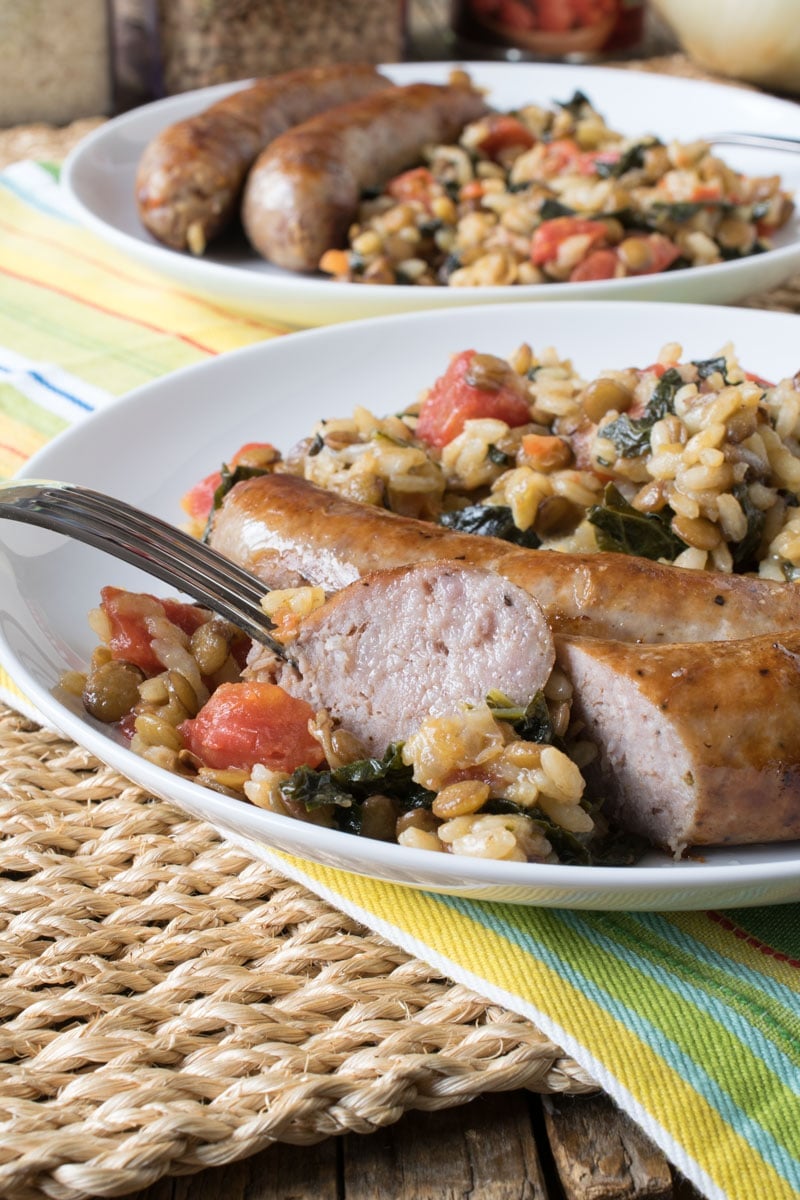 Frequently asked questions
Are lentils and rice good for you? Absolutely! According to WebMD, lentils are high in protein, and when combined with a whole grain such as rice, they can give you the same quality of protein as meat.
You may like these other lentil recipes:
Print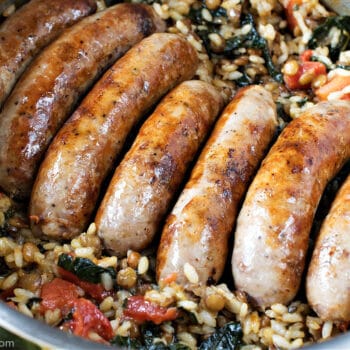 Italian Sausage with Lentils & Rice
Author:

Prep Time:

15 minutes

Cook Time:

1 hour

Total Time:

1 hour 15 minutes

Yield:

8 servings

Category:

entree

Method:

stovetop

Cuisine:

Italian
---
3 tablespoons extra-virgin olive oil, divided
2 cups sweet onion, diced
1 tablespoon fresh garlic, chopped
3 cups water
1 ½ cups vegetable or chicken broth
2 bay leaves
½ teaspoon kosher salt
¼ teaspoon freshly ground black pepper
2 pounds sweet Italian sausage (12 links)
1 cup green or brown lentils, rinsed
3 cups Tuscan kales leaves, cut from stems, rinsed and chopped (about one bunch)
1 cup dry white rice
1 14.5-ounce can diced tomatoes
Additional olive oil to drizzle over finished dish
---
Instructions
In a 4-5 quart pan that has a tight fitting lid, over medium, heat 2 tablespoons of the olive oil and once hot, add the onions and cook for three minutes.
Add the garlic, water, broth, bay leaves, salt, pepper and Italian sausage links and bring to a boil.
Cover and lower to a slow simmer and cook ten minutes.
Remove sausages with tongs and drain on paper towels.
Add the lentils to the pot, again cover and get to a low simmer and cook 30 minutes covered.
While lentils are cooking, in a large saute pan, add the last tablespoon of oil and over medium heat, brown the sausages for about ten minutes, turning to brown all sides. Remove to a plate and set aside.
Keep the heat on medium and add the wet Tuscan kale leaves and saute a few minutes until wilted, scraping up any brown bits from the pan bottom. Set this aside for now.
After the lentils have been simmering for 30 minutes, add the dry rice and wilted kale, bring back up to a simmer (make sure there is about two cups of liquid left in pan, if not add a little more water or broth), cover and lower to lowest heat with pan half off burner. Set timer for 15 minutes.
After 15 minutes, remove lid, find and discard the bay leaves, and stir in the canned tomatoes with juice.
Press the cooked whole sausage links into the mixture to reheat, cover and let sit five minutes then serve on a platter with a little additional olive oil drizzled over the top of the platter or serving.
---
Keywords: Italian Sausage with Lentils and Rice