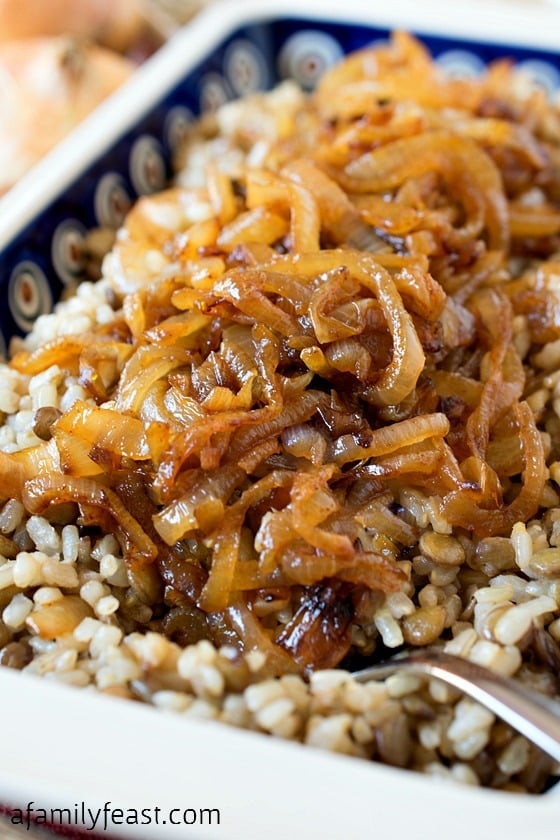 I'm always thrilled to discover easy recipes made with ingredients that we always have on hand in our kitchen – and once combined – it tastes absolutely delicious! Such is the case with today's recipe called Mujadarra.
Mujadarra is a classic dish made from lentils and brown rice that have been smothered in caramelized, seasoned onions. It's a staple in Middle-Eastern diets and there are now many new variations of this dish with different lentils, grains and seasonings – but today's recipe closely follows the more traditional version.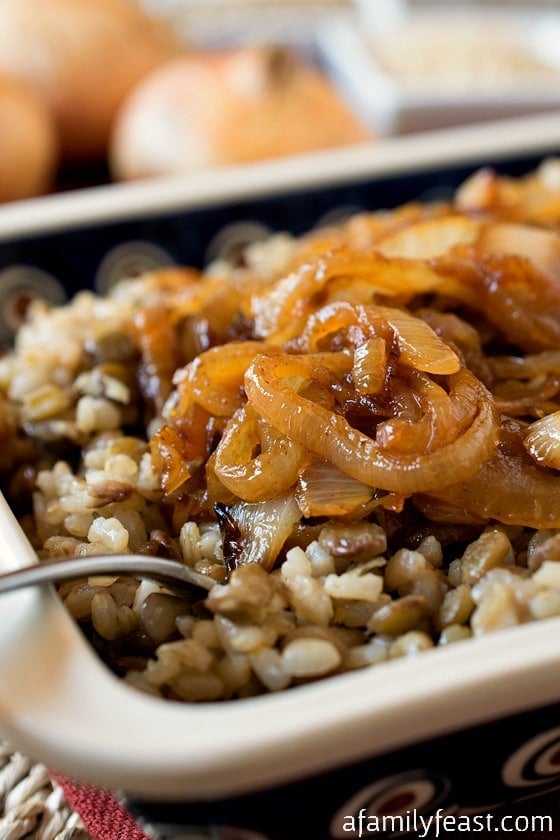 According to Wikipedia, the word mujadarra is the Arabic word for "pockmarked" – with the thought that the name of the dish is inspired by the lentils among the rice resembling pockmarks.
But don't be fooled by the simple ingredients in this recipe! The flavors are rich and comforting and mujadarra is a wonderful side dish to just about any meal. (It's also hearty enough to serve as a meatless meal if you'd like!)
Adapted from My Jewish Learning.
Print
Mujadarra
Prep Time:

10 mins

Cook Time:

45 mins

Total Time:

55 minutes

Yield:

4-6 servings
Ingredients
2½ cups water
¾ teaspoon kosher salt
¼ cup plus 2 tablespoons extra virgin olive oil, divided
½ cup brown lentils, sorted and rinsed
1 cup short grain brown rice (we recommend Lundberg brand)
2 large Vidalia or white onions, cut in half, then sliced into thin rings (approximately 4 cups)
¼ teaspoon paprika
Instructions
In a medium-sized saucepan with cover, combine water, salt, and 2 tablespoons olive oil. Bring to a boil over medium heat. Add the brown rice and lentils to the saucepan and bring back to a boil.
Once the lentils and rice have reached a boil, reduce heat to low and cover. Simmer for approximately 40-45 minutes or until the brown rice and lentils are tender. Turn off heat and allow to sit covered for 5 minutes.
While the rice and lentils are cooking, prepare the onions. In a large skillet, heat the remaining ¼ cup of olive oil over medium high heat, tipping the skillet so that the oil evenly coats the bottom of the pan.
Add the sliced onions, and cook for about 20-30 minutes, stirring frequently until the onions are a deep golden color, and the edges of the onions are well caramelized. Once cooked, remove from the heat and sprinkle the paprika over the onions. Stir to combine.
Give the rice and lentil mixture a stir, then pour into a serving bowl. Top with caramelized onions and serve. (This dish is delicious served hot off the stove or at room temperature.)
Disclosure: This post contains affiliate links.
You may also like:
Lentils with Brown Rice and Feta
Couscous with Lentils and Vegetables