Quite possibly one of the best French Onion Soup recipes around! Super rich and flavorful with crusty toasted bread and melted Swiss cheese. YUM!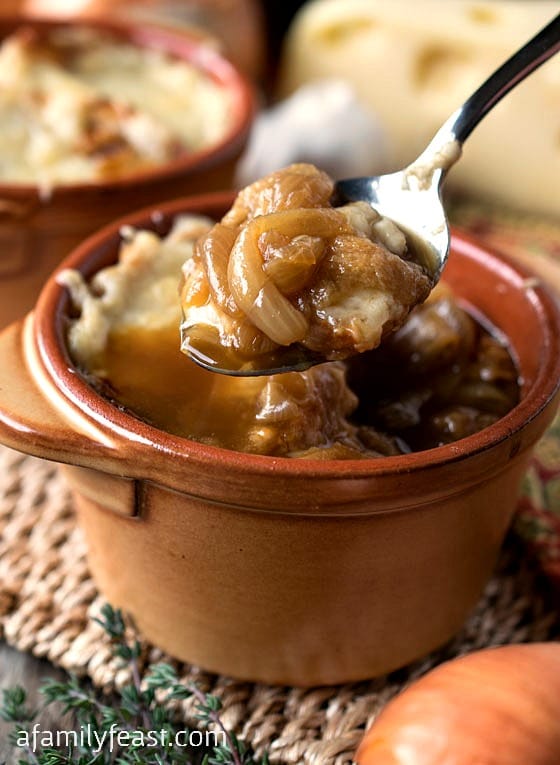 Hi all, this is Jack. I don't typically write the story behind the recipes here on A Family Feast, but today I wanted to be the one to share – in my own words – what inspired today's recipe for French Onion Soup.
Over 20 years ago, I decided to go back to college at night so I could change my career path from working in food service management to information technology. Food was (and is) my passion – but technology pays the bills a whole lot better!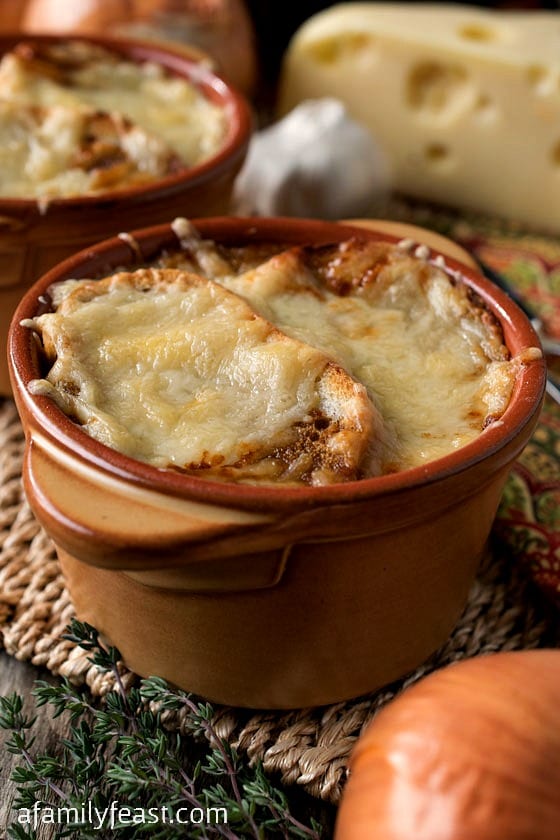 So I started a program going to school at night while continuing to work my full-time job as a food service director. I was nervous about going back to school, but fortunately on my first day I met a great guy named Steve who helped me cope with the incredible amount of hours it took to change careers. (Steve was doing the same – making the change from working as a graphic artist to a career in IT.) Steve and I became friends and outside of school we frequently got together (when time allowed) so we could mountain bike and hike.
Steve is French and one of his favorite meals is French Onion Soup. He was particularly fond of my version – which we're sharing here today – and Steve asked me to make it often for him and his wife.
Steve is a special guy in that he has cystic fibrosis, but he still tries to maintain a normal, active lifestyle – in fact, I think his active lifestyle has helped him stay as healthy as he is! Other than some constant coughing, you would never know he has CF because he doesn't let it run his life – and even on his worst days, he is tougher than me and can bike circles around anyone!
Steve, I know you've been waiting for this French Onion Soup recipe – I wanted to make sure I got it just right! This one's for you buddy!
Print
French Onion Soup
Prep Time:

20 mins

Cook Time:

2 hours

Total Time:

2 hours 20 minutes

Yield:

4-6 servings
---
Description
This is not a quick throw-together soup using canned beef stock. To get the deep beefy flavor just right, you really need to start with a really good beef stock. This recipe is a combination of one that I made early in my food service career and one that I loosely followed from the Culinary Institute of America's Book of Soups cookbook
---
2 tablespoons

butter

2 tablespoons

extra virgin olive oil

8 cups

sliced onion, see note below

3

or

4

parsley stems

½ teaspoon

dried thyme

½ teaspoon

dried tarragon

1

bay leaf

1 tablespoon

minced garlic

½ cup

brandy

6 cups

homemade beef stock (see recipe here)
Salt to taste
Freshly ground black pepper to taste
French bread

2 cups

shredded Gruyère Swiss cheese
---
Instructions
To slice the onions, cut off root and stem end then cut in half vertically. Cut each half in half again, cutting vertically so you have four thick slices. Now cut slices, staying with the grain, about ¼ to ½ inch thick.
In a large heavy bottomed pot such as a Dutch oven, melt butter and oil over medium low heat. Add onions and stir once. Do not touch again for 15 minutes.
After 15 minutes, stir and do not touch again for another 15 minutes.
Move heat to medium and cook 15 or more minutes until onions are nice and browned and caramelized. Watch closely at this point so they do not get too dark or stick to the bottom. Add a little water if they are sticking.
While onions are cooking, place parsley stems, dried thyme leaves, dried tarragon leaves and the bay leaf onto cheese cloth. Wrap tightly and tie with a string. Hold for later.
Add garlic to onions and cook for one minute.
Add brandy and cook to evaporate.
Add stock and herb bag. Cover loosely and simmer for 45 minutes.
Add salt and pepper as needed.
Preheat oven to 350 degrees.
Place oven proof bowls or crocks into a baking pan and pour hot tap water about half way up outsides of bowls.
Discard herb bag and divide soup between bowls or crocks. (Number of servings depends on size of your bowls or crocks. The finished soup is roughly 8 cups).
Slice French bread into half inch slices and cover the tops of each bowl, overlapping bread slices if needed.
Divide cheese between bowls by covering the tops of the bread.
Place pan with water and soup crocks in oven and cook for 20 minutes.
To get the tops browned and bubbly, place crocks under broiler for a few minutes.
Serve hot and bubbly.
---
You may also like: