Egg Foo Young is a Chinese egg omelet loaded with chopped vegetables and meat of your choice. Serve it with a flavorful brown gravy on top!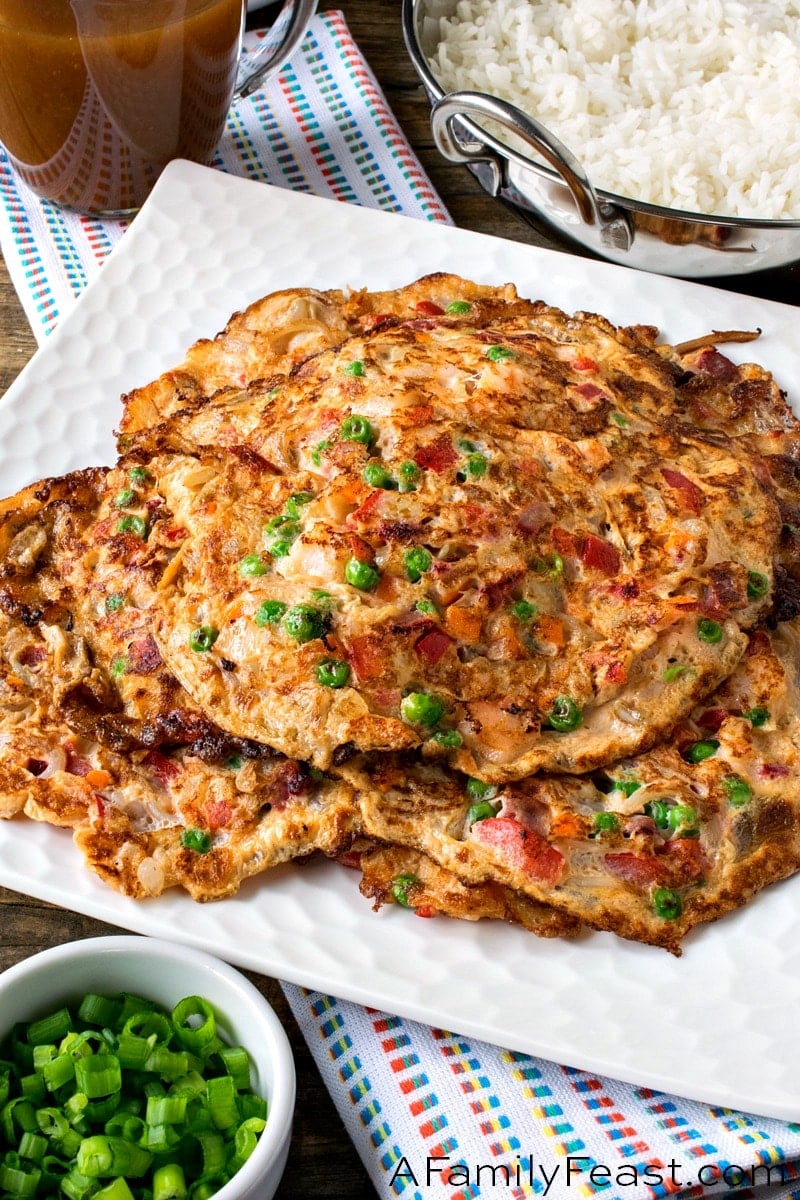 If you've been following along with us all week, then you already knew that this delicious Egg Foo Young recipe would be shared here on A Family Feast today!
Egg Foo Young (also spelled Egg Foo Yung, or Egg Fu Yung) is a Chinese-American dish that, it seems, everyone has heard of before. (And if you haven't — you're in for a real treat!)
How do you make Egg Foo Young?
Egg Foo Young is basically a fried, loaded-up egg omelet served with a savory brown gravy over the top. You can add in just about any kind of chopped ingredients you like — our version today includes some of our leftover Chinese BBQ Pork, shrimp, and vegetables including carrots, red bell pepper, bean sprouts and peas.
You can, however, easily adapt this Egg Foo Young recipe to whatever leftover ingredients are in your refrigerator.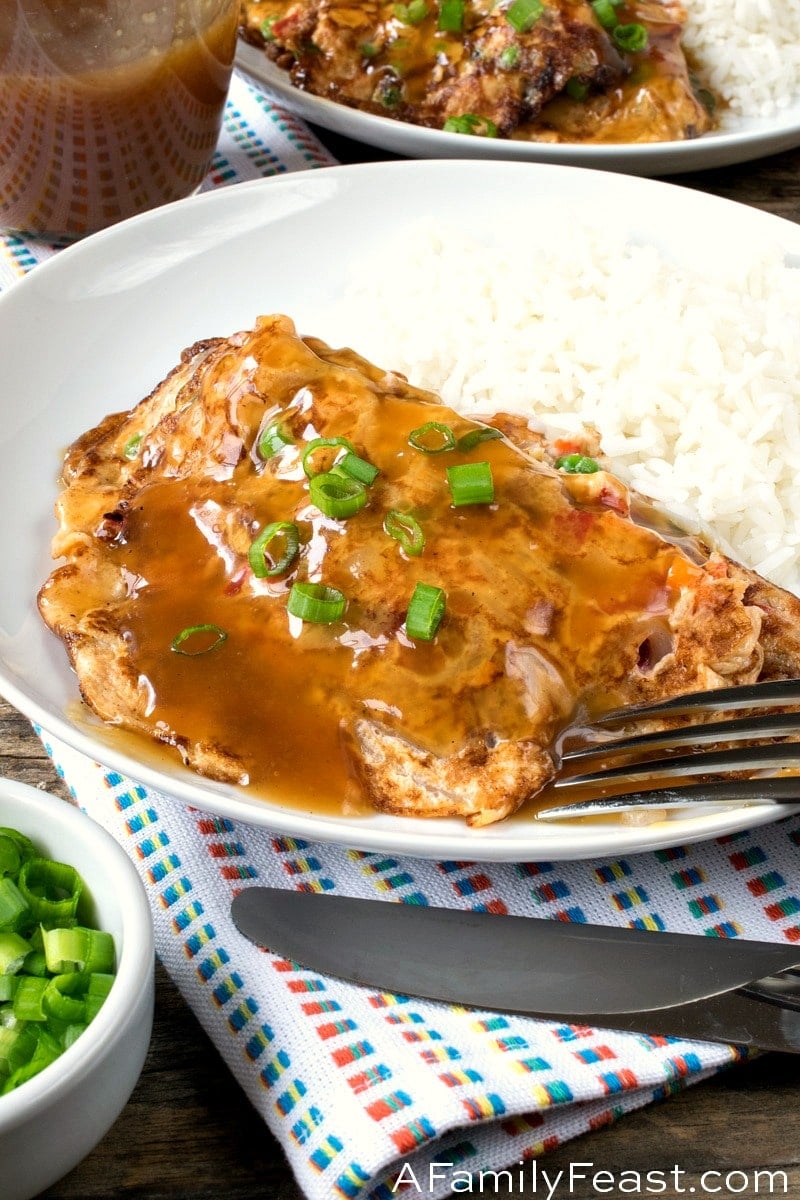 We've mentioned before that when you cook Asian dishes like this Egg Foo Young, all of the preparation should be done before you start to cook. Cooking this recipe in a wok will go very fast, and once you start you won't be able to chop more ingredients. So chop, dice, and measure all of your ingredients in advance — and ideally organize them in bowls in the order you plan to add them.
We cooked our Egg Foo Young in a well-seasoned wok, but any heavy-duty, non-stick slopped sided pan will do. If you are cooking with gas, use the burner with the highest BTU available so your wok can get very hot and the dish cooks quickly. (If you are cooking with electricity, turn your cooking temperature up high.)
Finally, feel free to make the brown sauce for your Egg Foo Young in advance. You can keep it warm in a small saucepan while you cook the Egg Foo Young omelets.
You may enjoy these other Asian dishes:
Print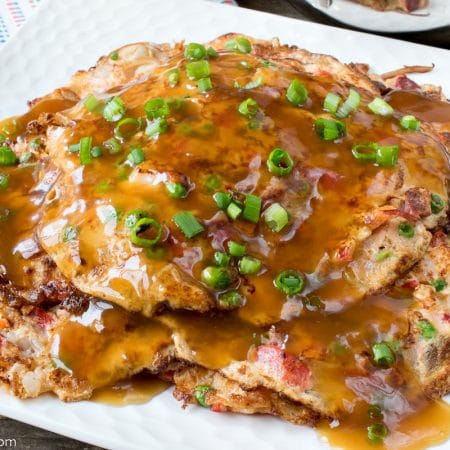 Egg Foo Young
Author:

Prep Time:

20 minutes

Cook Time:

20 minutes

Total Time:

40 minutes

Yield:

4 servings

Category:

entree

Method:

stir fry

Cuisine:

Asian
---
Sauce
1 ½ cups chicken stock
1 ½ tablespoons sherry or sake
Pinch white pepper
½ teaspoon sesame oil
1 tablespoon oyster sauce
1 teaspoon rice vinegar
1 teaspoon granulated sugar
2 tablespoons low sodium soy sauce
1 ½ tablespoons corn starch
Remaining ingredients
Vegetable oil, as needed to fry omelets
½ cup onion, diced small
1 teaspoon garlic minced
¼ pound uncooked shrimp, cut up small (about 5–6 large shrimp peeled and de-veined)
¼ cup carrots, diced small
½ cup red bell pepper cut up small
8 whole eggs
2 cups fresh bean sprouts, see Notes below
1 teaspoon oyster sauce
¼ teaspoon granulated sugar
½ cup Chinese BBQ pork cut into small pieces, see recipe here
¼ teaspoon ground white pepper
½ cup frozen peas, thawed
½ teaspoon kosher salt
Chopped green scallion, for garnish
---
Instructions
Place chicken stock, sherry, white pepper, sesame oil, oyster sauce, vinegar and sugar in a medium sauce pan and heat. Mix corn starch with soy sauce in a small bowl and add to pan and stir to combine and thicken. Once hot, remove from heat and hold for end of recipe.
In a seasoned wok over high heat, add a half cup of oil and once hot, swirl around to oil sides then remove all but two tablespoons of the oil. Reserve the remaining oil.
Once smoking hot, add the onion, garlic, shrimp, carrots and red bell pepper all at once and cook and stir for about two minutes until shrimp is cooked and starting to turn pink. Remove to a bowl or plate to cool. Turn off heat.
In a large bowl, beat eggs and add fresh bean sprouts, oyster sauce, sugar, BBQ pork, pepper, peas and salt. Once the cooked ingredients are cool, add to the bowl. Stir to combine.
Preheat oven to 200 degrees to keep the omelets warm while you cook the entire batch.
Using the same pan you cooked the vegetables, heat to between medium and medium high. Once the pan is very hot, add about two tablespoons of the vegetable oil and once that is very hot, use a ¼ cup measure and scoop out a full ¼ cup of the mixture and pour it into the hot pan. The pan must be hot, and the omelets nice and browned when done, not mildly yellow like an omelet. As soon as you pour the mixture in, the sides will bubble up and puff in the hot oil and the bottom will brown. Once the center is set enough that you can safely flip, flip using your favorite spatula. I used a fish turner.
Cook on the other side just long enough to set the egg then remove to a waiting oven proof platter. Continue until all the mixture has been cooked into several omelets, using two tablespoons of oil between each omelet. If there is enough oil after each batch, you don't need to keep adding more, just make sure that each omelet is cooked in at least two tablespoons of the oil.
Bring the sauce up to serving temperature and either serve on the side or pour over the omelets.
Garnish with chopped green scallion tops.
Notes
If fresh bean sprouts are not available, and most of the time they aren't, used canned bean sprouts found in the Asian aisle of your local supermarket. Word of caution, they must be drained, squeezed dry and then patted dry with paper towels. If not, they will water down the egg mixture and the omelets will be runny and flat.