Bacon-Wrapped Chicken Bites have tender boneless chicken wrapped in bacon, then sprinkled with a simple spice rub for a touch of heat.
Every party needs these Bacon-Wrapped Chicken Bites on the menu. In fact, these little bites of goodness are so delicious – you might want to consider making a double batch!
Bite-sized pieces of tender chicken are wrapped in bacon, then sprinkled with a slightly spicy-slightly sweet rub made with brown sugar and a blend of ground spices.
Once these chicken bites are baked, serve them with a honey-soy dipping sauce – a perfect complement to the juicy chicken, crispy bacon, and zesty-sweet seasonings.
Key ingredients and Substitutions
Chicken – Chose boneless-skinless chicken breasts or thighs – either will work for this appetizer. We found that the thigh meat stayed juicer than the breast meat during the cook time to crisp the bacon, but the breast meat was easier to work with.
Bacon – Thin-sliced bacon slices work the best here because they will cook more quickly than a thick-cut bacon. Choose any flavor of bacon you'd like.
Spice rub – Make a simple spice rub of seasonings from your spice cabinet plus brown sugar. We included chili powder, paprika, onion and garlic powder, ground ginger, salt and pepper, plus a pinch of cayenne for a little extra heat.
Dipping sauce – Optional for serving and dipping your Bacon-Wrapped Chicken Bites, this sauce is made with a mix of soy sauce, honey, ketchup, water, Worcestershire sauce, and fresh garlic and ginger. We also add a dash of hot sauce for a little kick of flavor and heat.
Special supplies needed
Tooth picks, to hold the bites together as they bake
A sheet pan with rack that fits in the tray
Chef's Tip –

Lining a sheet tray with foil and spraying both sides of the rack with non-stick cooking spray will make for easy clean up.
How do I make Bacon-Wrapped Chicken Bites?
Mix the sauce together in a small saucepan and simmer for five minutes. Chill to cool.
Cut chicken (breasts or thighs) cut into one-inch pieces (about one ounce each).

Cut bacon strips into smaller pieces.
Wrap chicken pieces in bacon, overlapping the ends and securing with a toothpick.
Mix all of the spice rub ingredients in a small bowl.
Line a sheet tray with foil. Then spray both sides of a rack with non-stick cooking spray and insert the rack into the foil-lined pan.
Place the bacon-wrapped chicken in a single layer on the prepared rack and sheet tray.
Sprinkle half of the rub over one side of the chicken bites, then turn each one over and sprinkle the other side with the second half of the rub.
Bake in a 350 degrees F preheated oven for about 35-40 minutes, rotating the pan half way through. If you'd like the bacon to be extra crispy, place under the broiler for a minute or so to crisp up.
Serve with the dipping sauce.
Frequently asked Questions
Can I make Bacon-Wrapped Chicken Bites ahead of time? You can wrap the chicken in bacon, plus make the rub and dipping sauce ahead as well. Refrigerate until ready to bake. When ready to bake, sprinkle the rub on the chicken and bake as written in the recipe instructions.
How do I store the leftovers? Store any leftover, cooked chicken bites in the refrigerator for up to two days.
Can I freeze these bites? The Bacon-Wrapped Chicken Bites should freeze well, assembled but still uncooked, as long as the chicken wasn't previously frozen. Thaw before baking. They will also freeze well after baking. Then reheat after thawing by placing the bites back onto a rack and heating through in the oven.
You may enjoy these other appetizer recipes:
Print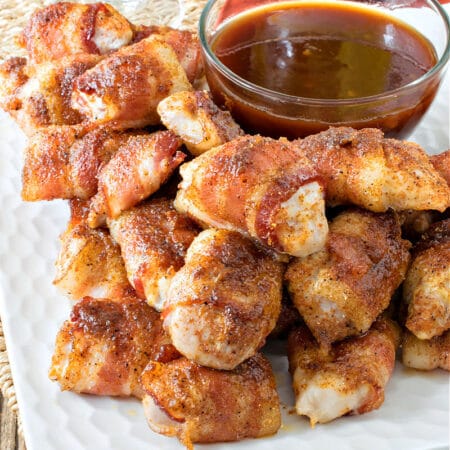 Bacon-Wrapped Chicken Bites
Author:

Prep Time:

45 minutes

Cook Time:

45 minutes

Total Time:

1 hour 30 minutes

Yield:

10 servings (4 pieces per portion)

Category:

appetizer

Method:

baked

Cuisine:

American
---
Dipping sauce  (optional)
¼ cup soy sauce
½ cup honey
½ cup ketchup
¼ cup water
2 tablespoons Worcestershire sauce
1 tablespoon fresh ginger, finely minced
1 tablespoon fresh garlic, finely minced
Dash of your favorite hot sauce
Dry rub
½ cup brown sugar
1 teaspoon chili powder
1 teaspoon paprika
1 teaspoon onion powder
1 teaspoon garlic powder
1 teaspoon dry ground ginger
1 teaspoon kosher salt
1 teaspoon freshly ground black pepper
Pinch cayenne powder
Bites
2 ½ pounds boneless-skinless chicken breasts or thighs or a mix of both
1 pound bacon (16 slices per pound, thin not thick cut bacon) Look for packages with even looking slices
---
Instructions
Place all of the dipping sauce ingredients into a small sauce pan, bring to a boil then simmer on medium low for five minutes. Cool and refrigerate to thicken up.
Mix all rub ingredients and set aside.
Cut the chicken into one-inch pieces (about one ounce each)
Preheat the oven to 350 degrees F.
Pull off one strip of bacon at a time and determine if you need to cut the strip into two or three pieces based on the size of the chicken pieces. Some of my slices I cut into two and some into three based on the size of each chicken piece.
Wrap each piece and overlap the ends of the bacon and secure with a toothpick. Repeat for all pieces, about 40 total.
Line a sheet tray with foil and spray a rack on both sides and fit it into the sheet tray.
Line up the chicken bites not touching, about 5X8 for a total of 40.
Sprinkle on half of the rub, flip each piece over and sprinkle on the other half.
Bake uncovered for about 35-40 minutes or until the bacon is somewhat crispy.
If you want them crispier, place the pan under the broiler for a minute or two to crisp up.
Serve four pieces per portion with some of the dipping sauce on the side.
---
Keywords: bacon-wrapped chicken bites