There are a few tips and tricks to making the perfect Scallops Wrapped in Bacon, and we are sharing all of them with you today.
Go to any formal party or wedding, and chances are, you'll be served Scallops Wrapped in Bacon as a passed appetizer. It's a delicious choice – plus it's quick and easy to prepare.
Most people think that this recipe is as simple as wrapping a slice of bacon around a scallop, securing it with a toothpick, then baking or broiling it. But – often times – either the bacon is undercooked, or (if the bacon is fully-cooked and crispy) the scallop is tough and rubbery.
Below we're sharing a few tips and tricks to ensure that you make perfectly cooked Scallops Wrapped in Bacon. We also include a recipe for a delicious glaze that is a wonderful complement to the scallops and bacon flavor.
What kind of scallops do you use in Scallops Wrapped in Bacon?
First of all, you'll want to select the right kind of scallop for your Scallops Wrapped in Bacon recipe. You can read all about the different types of scallops sold here – and our choice for this easy appetizer recipe is frozen, dry sea scallops which are larger in size and frozen right on the boat, so they are super fresh.
You can find bags of frozen, dry sea scallops at Costco or other grocery stores in the frozen section – be sure to look for bags that are labeled as 'dry' scallops.
What bacon brands are best for Scallops Wrapped in Bacon?
You'll want to select a thin-cut bacon. We typically choose a name-brand bacon, such as Oscar Meyer or Carando (and others) rather than a less expensive store brand, simply because they are thin-cut.
The bacon takes longer to cook through than the scallops – so our next tip is to partially-cook the bacon before it gets wrapped around the scallop. We bake our bacon in the oven on sheet pans – just long enough that the bacon strips are cooked but still pliable, then drained on paper towels to absorb as much excess fat as possible.
While the bacon is cooking, we prepared a delicious savory-sweet sauce made with butter, garlic, scallions, brown sugar, sherry, ketchup, Dijon mustard, red pepper flakes, and some rendered bacon fat. We tossed the scallops in the sauce to coat.
Then, we wrapped the pre-cooked bacon around the glazed scallops, securing the ends with a toothpick. Place each bacon-wrapped scallop on a rack over a baking sheet, being careful not to over crowd the sheet plan.
How long do you bake Scallops Wrapped in Bacon?
Your baking time will vary a bit based on the size of your scallops. Our bag of dry sea scallops included some medium-sized scallops as well as some huge scallops. To ensure even baking, we cut the very large scallops in half before wrapping them in the bacon strips.
You'll want to bake your Scallops Wrapped in Bacon in a hot, 425 degrees F oven. Our scallops took between 8 and 12 minutes. You'll know they are done when the scallops are white and opaque in the center. And, because you partially cooked the bacon, it should be crispy when the scallops are perfectly cooked through.
Serve your Scallops Wrapped in Bacon immediately – then stand back. Your guests will devour this delicious appetizer in minutes!
You may enjoy these other Appetizer recipes:
Print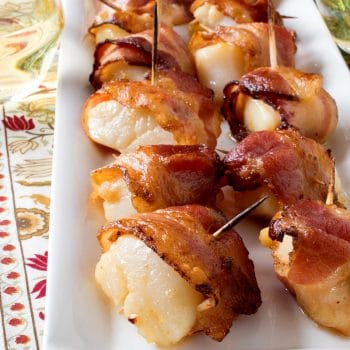 Scallops Wrapped in Bacon
Author:

Prep Time:

15 minutes

Cook Time:

27 minutes

Total Time:

42 minutes

Yield:

16 to 24 servings

Category:

appetizer

Method:

baked

Cuisine:

American
---
Description
The sauce in this recipe is optional, but highly recommended!
---
1–2 pounds dry frozen scallops, thawed overnight under refrigeration, see Notes below
2 pounds thin cut bacon, see Notes below
Sauce
3 tablespoons butter
2 teaspoons finely minced garlic
1 ½ tablespoons finely minced scallion bottoms
Pinch of red pepper flakes
¼ cup brown sugar
2 tablespoons sherry
2 teaspoons ketchup
1 teaspoon Dijon mustard
1 tablespoon bacon fat
---
Instructions
Preheat oven to 425 degrees F and line three sheet trays with parchment paper. Spray all three with pan spray over the parchment.
Lay out the bacon in flat slices on the three trays. (If you only have one tray, cook in batches.)
Place in oven and cook in five-minute intervals, turning the pans as well as rotating the pans between racks. After ten minutes, check and remove any slices that are cooked but still pliable. Continue cooking the rest for up to 15 minutes until they are done. Each piece will be undercooked but pliable and will finish cooking and crisp up once wrapped and back in the oven. Drain on paper towels.
While the bacon is cooking, peel off the little muscle on the side of the scallop if present and discard then lay them out on paper towels with another layer over the top. You want them as dry as possible.
Start the sauce in a medium saute pan over medium heat by melting the butter and adding the garlic, scallions and red pepper flakes. Cook for about three minutes until tender, but not browned. Lower heat if needed as they cook.
Add brown sugar and with a small whisk, whisk until mixed in and melted.
Add sherry and stir to combine and cook until frothy and bubbly.
Remove from heat and stir in the ketchup, mustard and bacon fat removed from cooked bacon pan.
Set aside to cool. You want it cooled to room temperature, not chilled. When ready to use, whisk again.
Keep the oven at 425 degrees F.
Line a single sheet tray with a rack and spray the rack with pan spray.
Cut any very large scallops in half (which in my case, was most of them).
In a medium bowl add the dry scallops and pour in the sauce. Use your hands and massage the sauce into the scallops so that they all get covered.
Lay out one strip of bacon and place a scallop at one end and roll tight. Push a toothpick through the end of the bacon, through the scallop, and out the other end and lay on the rack that is sitting over the sheet pan. For the small scallops, use a half piece of bacon.
After all scallops are wrapped and secure, place the pan into the oven and cook for about eight minutes. Check one scallop to see if it is cooked and continue cooking until fully cooked, up to a total of about 12 minutes. The scallop is cooked, when the center is white and no longer opaque. Overcooked scallops get rubbery so check regularly after the eight-minute mark. (Smaller scallops will take less time to cook so use your judgment on timing.)
Serve immediately.
---
Notes
You will need to buy one pound of bacon for every pound of scallops you plan to cook. The sauce ingredients will stay the same – it will coat a large number of scallops. My two pounds of scallops had very large (2 ounces each) as well as medium sized (about 1 ounce each). I cut the large one's in half and left the smaller one's whole.
Keywords: scallops wrapped in bacon