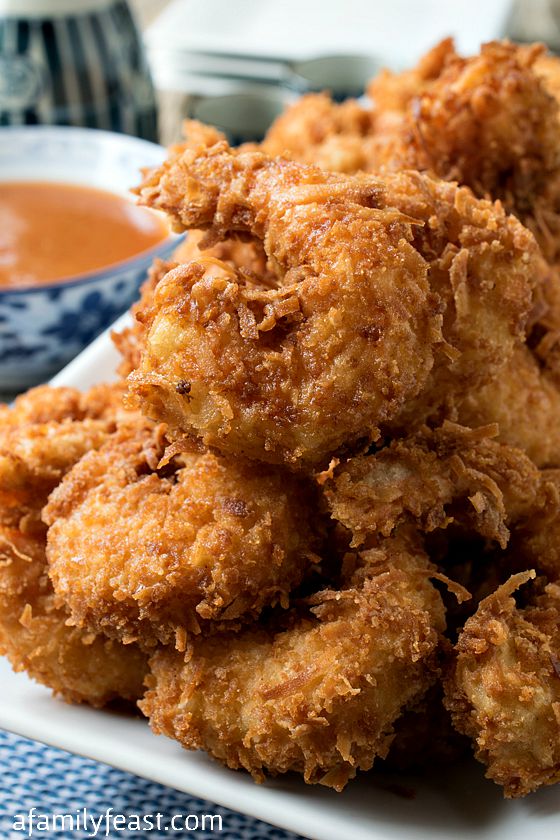 Last month, after our daughter's dance recital, we invited our family out to dinner with us. My father-in-law (a.k.a. Grampa) ordered Coconut Shrimp which surprised my husband Jack – because he didn't think that his dad liked that sort of dish!
When Jack commented on the order – Grampa told him that Coconut Shrimp was actually one of his favorites! So of course – Jack immediately decided to come up with a recipe!
After some experimentation in the kitchen, Jack discovered that canned coconut milk was an excellent addition to the coconut shrimp coating. It helped to keep the flaked coconut and panko bread crumbs coating from falling off the shrimp – plus it gave the shrimp some great coconut flavor! The coating in this shrimp is also seasoned with a small amount of 5-spice powder and it is perfectly flavored as well as golden brown and crispy.
After we took the photos you see here in today's post, Jack brought the cooked shrimp over to his parent's house – as well as the Sweet Chili Dipping Sauce made to go along with the shrimp.
Grampa immediately devoured the shrimp! So much so (my husband Jack chuckled) at one point, Grampa had a shrimp in each hand as he ate! Grampa told Jack that he tried making Coconut Shrimp once himself – but it never tasted as delicious as this recipe!
All for you Grampa!  We love you! 🙂
Print
Coconut Shrimp
Prep Time:

30 mins

Cook Time:

15 mins

Total Time:

45 minutes

Yield:

32-40 pieces
---
Description
Note: Open the canned coconut milk upside down so that the liquid pours out before the fat (just makes it easier to remove from the can). If the two are totally separated, heat slightly to combine but cool before using.
---
2

pounds shell-on raw shrimp, 16-20 per pound.

2 cup

all-purpose flour, divided

1 ½ teaspoons

kosher salt

½ teaspoon

freshly ground black pepper

1/8 teaspoon

5-spice powder

1

13.6-ounce can coconut milk, see note above

2

eggs beaten

2 cups

panko bread crumbs

2 cups

shredded coconut
Enough vegetable oil to fill a pan or wok three inches up the sides
---
Instructions
Remove shells from shrimp but leave tails on. This will act as a handle to pick up the cooked shrimp.
Lay out three medium to large bowls.
In the first one; mix 1 cup flour, salt, pepper and 5-spice powder.
In the second; mix coconut milk with the two beaten eggs.
In the third; mix Panko, coconut flakes and the remaining 1 cup of flour.
Handling a few at a time, dredge in flour, shake off excess and then into the egg mixture. Let the mixture drip off for a few seconds then dredge in the panko mixture. I found that tossing the shrimp in the bowl on this last step was easier and coated them better.
Place on a sheet tray not touching as you go.
Once you finish breading the shrimp, heat the pan or wok with the oil to 325 degrees F using a candy thermometer, then maintain that temperature as you fry each batch. Get the oil back to 325 degrees between each batch.
Fry in about four or five batches placing them in one at a time not touching. They will cook for about three minutes and will float and be golden brown once done. Do not over cook.
Serve immediately with our Sweet Chili Dipping Sauce.
---
You may also like:
Bacon-Wrapped Gulf Shrimp with Bleu Cheese Butter and Port Reduction