Our delicious Chinese BBQ Pork can be eaten as is, or added to so many delicious Asian recipes.
Chinese BBQ Pork can be served as a delicious appetizer, or diced into small pieces and added to many dishes including Egg Foo Young (our recipe is coming on Friday!), Pork Fried Rice, Pork Lo Mein, and so many more.
Also known as Char Siu – which means "fork burn" (or "fork roast") — Chinese BBQ Pork is often served at Chinese-American restaurants in skewered strips that are then roasted over a small pot of burning charcoal to achieve almost-burnt, caramelized edges.
How do you make Chinese BBQ Pork?
This Chinese BBQ Pork couldn't be any easier to make. We started with small pork butt (also called pork shoulder), trimmed off the excess fat, then marinated it in our Copycat Ah-So Sauce for a few days.
Once marinated, we roasted the pork in the oven. While the pork cooked, we poured the marinade into a sauce pan and cooked it into a luscious, sweet BBQ sauce, which we basted over the pork while it roasted.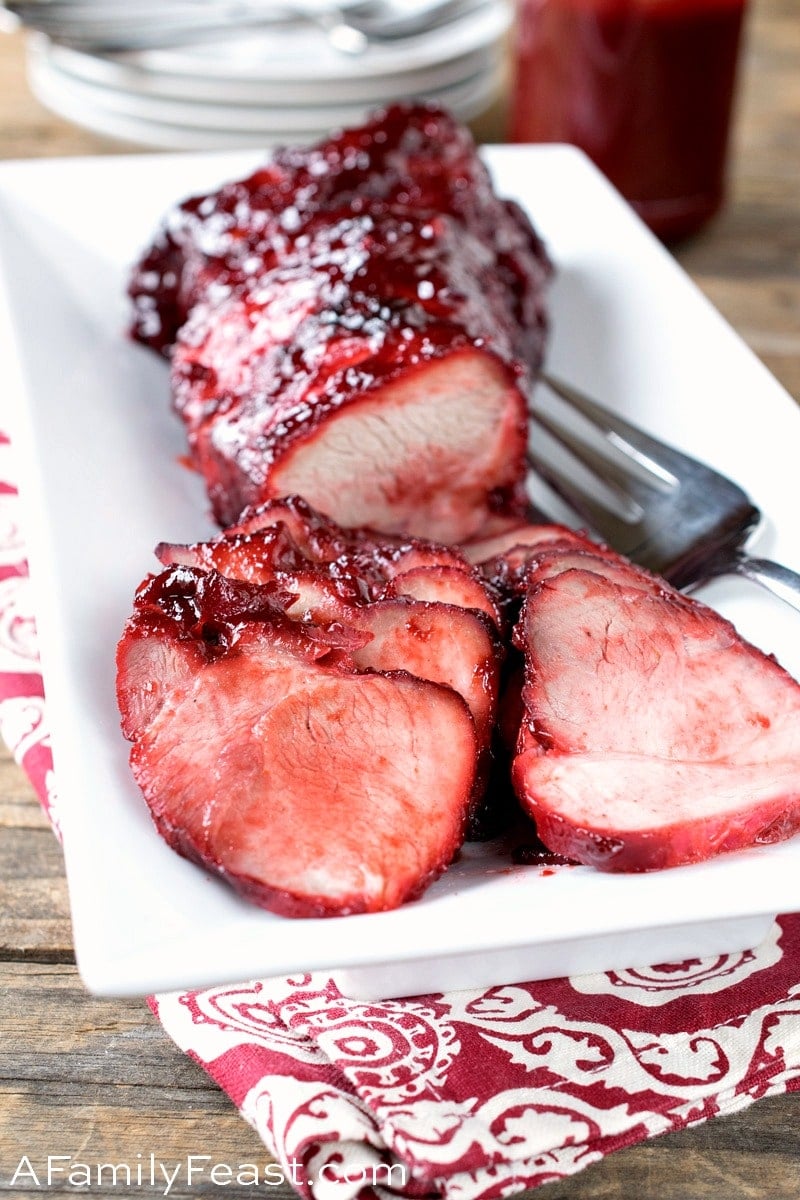 Once done roasting, we simply sliced our Chinese BBQ Pork — which is a very delicious main course all on its own! Served this way (without the additional charring), the pork stays tender and juicy, and that sweet and savory sauce is absolutely delicious too.
Come back on Friday because we'll be using some of our leftover Chinese BBQ Pork to create another take-out favorite: Egg Foo Young!
You may also like Asian-inspired recipes:
Print
Chinese BBQ Pork
Author:

Prep Time:

48 hours 30 minutes

Cook Time:

2 hours

Total Time:

50 hours 30 minutes

Yield:

8-10 servings

Category:

appetizer or entree

Method:

BBQ

Cuisine:

Asian
---
½ cup honey
3 tablespoons brown sugar
½ cup Hoisin sauce
2 teaspoons 5-spice powder
2 tablespoons red food color
4 teaspoons vegetable oil
¼ cup sherry or Sake
¼ cup tomato paste
¼ cup soy sauce
4 pound boneless pork butt, also called pork shoulder
1/3 cup more honey
2 tablespoons corn starch
---
Instructions
In a medium sauce pan, mix the honey, brown sugar, Hoisin sauce, 5-spice powder, red food coloring, vegetable oil, sherry, tomato paste and soy sauce and heat to a simmer and cook three minutes then remove and cool completely.
While the marinade is cooling, remove any visible fat or gristle from the pork. There are two methods to cutting it up. Either cut along the natural lines and remove fat between each piece or simply cut in half the long way then each half in half again the long way so you have four log shaped pieces. I chose the first method so I could use the small pieces for some other Chinese dishes and the large pieces for this dish, but totally up to you.
Place the meat in a gallon zip lock bag with the cooled marinade and marinate at least one day and up to four days ahead. This isn't like a brine where the length of time in the mixture usually would not surpass 12-24 hours, this is a marinade and the meat can stay refrigerated in the marinade for up to four days.
Preheat oven to 325 degrees F.
Line a sheet pan with foil and cover with a rack.
Pull the meat out of the marinade and place on the rack and place in the oven for 30 minutes.
While the meat is cooking, pour the marinade in a medium sauce pan and remove about a half cup to a small bowl. Add the remaining honey to the pan and heat until bubbling and cook for three minutes.
Add the corn starch to the small bowl and stir to dissolve then add to the sauce pan and whisk to thicken. Cook for one more minute then remove to cool.
After the pork has roasted for 30 minutes, brush liberally with the sauce and roast for 30 more minutes.
Brush again and roast for 20 more minutes.
Brush again and roast for an additional 10-20 minutes or until an internal probe thermometer inserted into the end of the fattest piece registers 145 degrees F.
Remove from the oven and brush one more time.
Let rest for at least ten minutes then slice and serve with the remaining sauce.
Cut up any small pieces for other Chinese dishes such as fried rice or Egg Foo Young.
Keywords: Chinese BBQ Pork