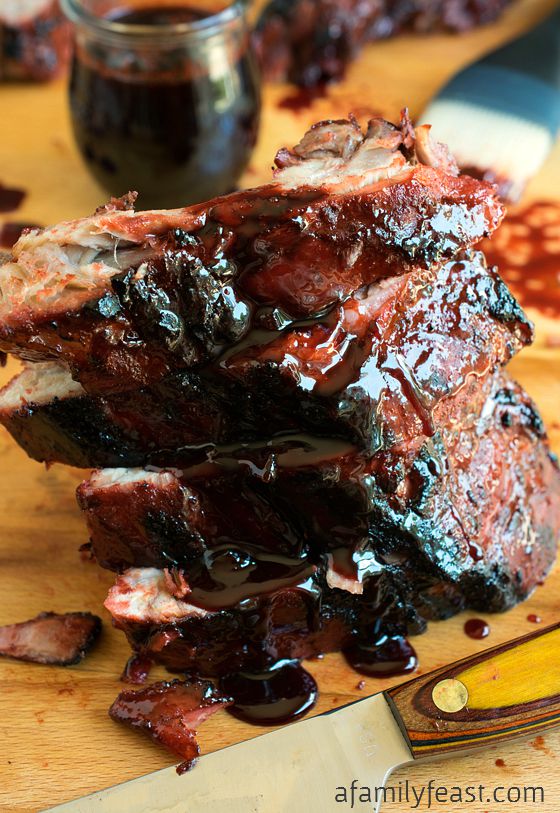 Grab some napkins everyone! Our Asian Barbecue Pork Ribs recipe takes everyone's favorite Chinese restaurant appetizer – and turns it into a satisfying and delicious main dish!
We first made these Asian Barbecue Pork Ribs last summer, right around the time that we shared our homemade Asian Barbecue Sauce recipe here on A Family Feast. Back then, we used that  fantastic sauce to make some chicken wings that rival those served at any of the best restaurants around!
So with some leftover sauce, we cooked up some St. Louis-style pork ribs – slathered in that same Asian Barbecue Sauce – and the results were fantastic! The tender pork was perfectly coated in a glossy, mahogany sauce that is spicy and deeply caramelized.
Over the winter, we made these Asian Barbecue Pork Ribs in the oven and served them right from our roasting pan. But now that grilling season is back with the warmer Springtime weather finally here – these Asian Barbecue Pork Ribs are equally good with a little bit of char added from the grill just before serving.
Enjoy!
Print
Asian Barbecue Pork Ribs
Prep Time:

10 mins

Cook Time:

3 hours

Total Time:

3 hours 10 minutes

Yield:

12-14 ribs
---
---
---
Instructions
Preheat oven to 325 degrees F.
Remove silver skin from bottom of rib rack by grabbing a corner with a paper towel and pulling to completely remove.
In a roasting pan slather ribs with half of the sauce and place in pan meat side up. Cover the pan with parchment and foil and bake 90 minutes. Remove, flip ribs to meat side down, cover and bake for another 90 minutes.
Remove from pan and discard any liquid in pan.
From here you can separate the ribs, brush with the remaining sauce and serve as is, or to add grill marks, heat on a medium grill just long enough on both sides of the rib rack to add a grill char.
---
You may also like: