A delicious Vegetable Egg Rolls recipe inspired by the vegetables from our local CSA farm box. Use any in-season fresh vegetables from your garden!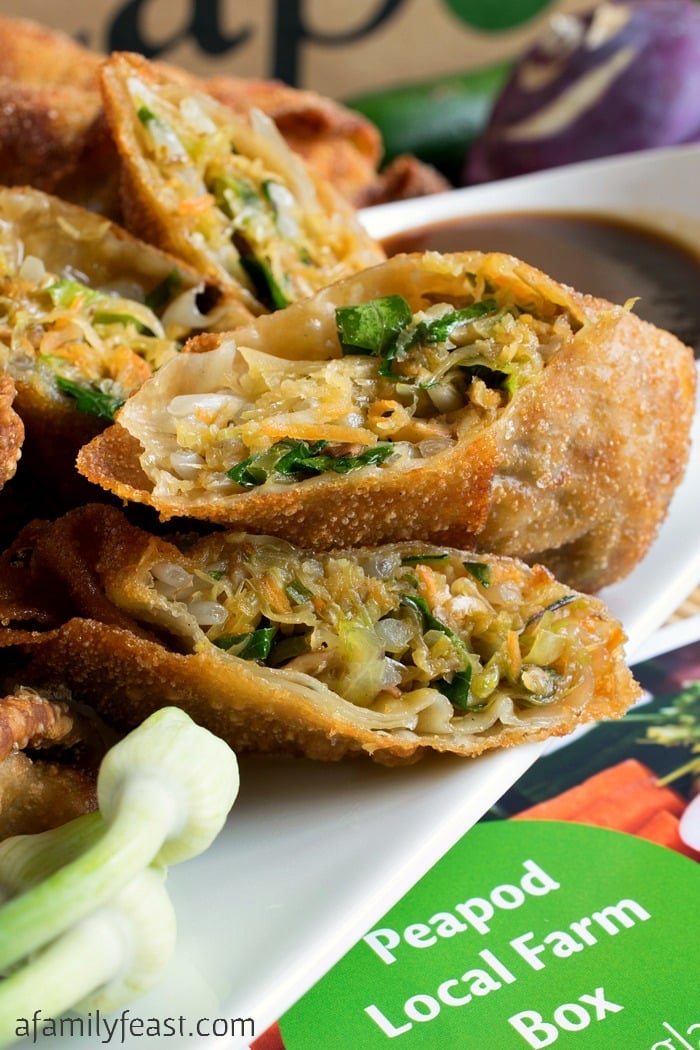 We developed these Farm Box Vegetable Egg Rolls as part our ongoing ambassadorship with Peapod. All opinions are 100% mine.
Over the last year, we've been sharing lots of delicious recipes and talking about the convenience of Peapod – the nation's leading grocery delivery service. But did you know that Peapod also supports local farmers through The Peapod Local Farm Box program – a box of fresh-from-the-farm produce that you can order as part of your regular grocery delivery?
The Peapod Local Farm Box is a multi-farm CSA or Community Supported Agriculture.  Peapod has committed in advance to buying the harvest from a collection of local farmers in the markets where they do business – allowing the farmers to plan ahead and grow their business.
Each week, the local farm box is different and contains produce that is super fresh and in-season. Click here to find The Peapod Farm Box contents before you order, as well as recipes using the box ingredients. Then, order the farm box along with the rest of your Peapod order.
Once the farm box is delivered, inside you'll find information about the local farmers who have grown your food. (You might even recognize some of the same farms from your local farmer's market!)
Today's delicious Farm Box Vegetable Egg Rolls recipe was completely inspired by the collection of gorgeous produce we received a few weeks ago in our own New England-grown Local Farm Box – including local cabbage, zucchini, scapes, and kohlrabi – plus other ingredients we ordered from Peapod.  (This recipe is very flexible – you can swap in vegetables from your own farm box if you'd like!)
Print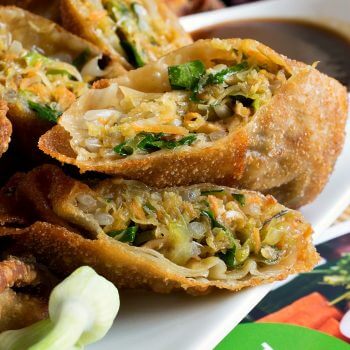 Farm Box Vegetable Egg Rolls
Author:

Prep Time:

1 hour

Cook Time:

15 minutes

Total Time:

1 hour 15 minutes

Yield:

12 egg rolls

Category:

appetizer

Method:

frying

Cuisine:

Asian
---
Description
See Notes section below for additional information on vegetable prep.
---
1½ tablespoons soy sauce
¾ teaspoon corn starch
½ teaspoon sesame oil
½ teaspoon granulated sugar
1 tablespoon peanut oil
2 scapes with stems, see below
4 ounces button mushrooms, see below
1 teaspoon fresh ginger, grated
8 ounces green cabbage, see below
1 large kohlrabi (8–10 ounces), see below
4 ounces zucchini, see below
2 ounces carrots, see below
4 ounces bean sprouts
1 16-ounce package egg roll wraps
Vegetable or canola oil for frying
For the Dipping sauce
¼ cup soy sauce
2 tablespoons rice vinegar
2 tablespoons honey
4 ounces apple sauce
1 teaspoon sesame oil
½ teaspoon garlic powder
½ teaspoon garlic chili paste
2 tablespoons water
½ teaspoon corn starch
1 teaspoon chopped scape tops
---
Instructions
In a small bowl combine 1½ tablespoons soy sauce, corn starch, sesame oil and sugar. Set aside.
In a very hot wok, heat peanut oil.
Add scapes and mushrooms and cook over high heat, stirring often for three minutes. Add ginger and cook for another minute.
Add cabbage and mix to incorporate the cabbage into the mixture. Once mixed, add the reserved sauce and just cook long enough to thicken. The cabbage will still be crunchy but not totally raw. Don't overcook this step.
Pour this mixture into a large bowl and stir in raw kohlrabi, kohlrabi leaves if you have them, raw zucchini, raw carrots and bean sprouts.
Fill a fryer or deep heavy bottomed pot with vegetable or canola oil high enough to fry the eggrolls. Do not heat yet.
To assemble, lay a wrapper out with a corner facing you. Place one 12th of the filling in the center spreading it out not quite to the ends. Roll the tip facing you away and tuck it tight under the filling. Fold the left and right sides in. Wet your finger with some water and dap the top point exposed edges. Then roll the eggroll away from you ending on the wet edge. Keep covered until all twelve are finished.
Heat a wok to 350 degrees F.
While oil is heating make the Dipping Sauce by combining soy sauce, vinegar, honey, apple sauce, sesame oil, garlic powder and garlic chili paste into a small sauce pan. Turn on heat. Mix the water with corn starch and add to mixture. Once mixture has thickened, remove from heat and add chopped scape tops.
Once wok is hot, fry eggrolls in two batches, turning with tongs or a spider to brown all sides. Once brown, remove to paper towels to drain. This should take about 4-5 minutes per batch.
Serve hot with the dipping sauce on the side.
---
Notes
Notes on vegetable sizes and cuts for the egg rolls:
Scapes: Scapes are long stemmed with a flower at the top and have a mild garlic flavor. The base of the stem is tough and the top including the flower is tender and edible. Discard the bottom 6-8 inches of tough stem until you come to the tender top half. Save the thin tips to add to the dipping sauce and take the rest and slice very thin, including the flower.
Mushrooms: Slice thin then slice each slice into strips.
Green cabbage: Slice as thin as you can. A mandolin is perfect for this.
Kohlrabi: Peel completely and remove the tough end and top. Shred the rest on the fine holes of your grater. Squeeze over a colander and then in paper towels to remove liquid. If your Kohlrabi came with leaves, as ours did, shred those and reserve with the shredded kohlrabi.
Zucchini: Shred on large holes of a grater.
Carrots: Shred on fine holes of a grater.
Keywords: vegetables, farm box