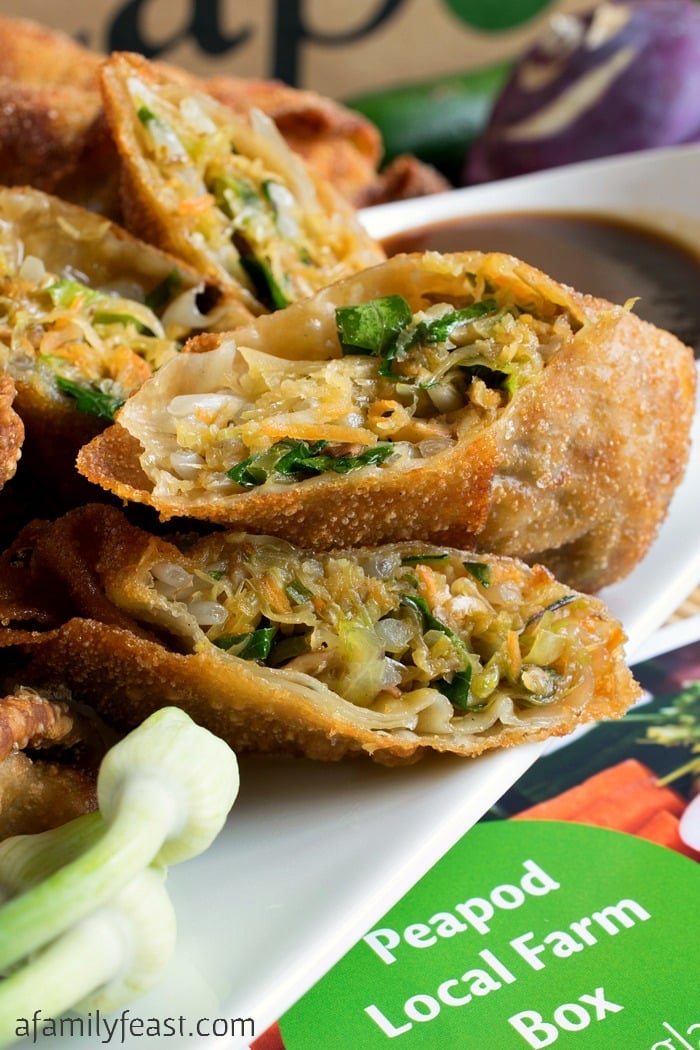 We developed these Farm Box Vegetable Egg Rolls as part our ongoing ambassadorship with Peapod. All opinions are 100% mine.
Over the last year, we've been sharing lots of delicious recipes and talking about the convenience of Peapod – the nation's leading grocery delivery service. But did you know that Peapod also supports local farmers through The Peapod Local Farm Box program – a box of fresh-from-the-farm produce that you can order as part of your regular grocery delivery?
The Peapod Local Farm Box is a multi-farm CSA or Community Supported Agriculture.  Peapod has committed in advance to buying the harvest from a collection of local farmers in the markets where they do business – allowing the farmers to plan ahead and grow their business.
Each week, the local farm box is different and contains produce that is super fresh and in-season. Click here to find The Peapod Farm Box contents before you order, as well as recipes using the box ingredients. Then, order the farm box along with the rest of your Peapod order.
Once the farm box is delivered, inside you'll find information about the local farmers who have grown your food. (You might even recognize some of the same farms from your local farmer's market!)
Today's delicious Farm Box Vegetable Egg Rolls recipe was completely inspired by the collection of gorgeous produce we received a few weeks ago in our own New England-grown Local Farm Box – including local cabbage, zucchini, scapes, and kohlrabi – plus other ingredients we ordered from Peapod.  (This recipe is very flexible – you can swap in vegetables from your own farm box if you'd like!)
Click here to learn more about The Peapod Local Farm Box.  And to see the recipe for our Farm Box Vegetable Egg Rolls click on over to FromThePod.