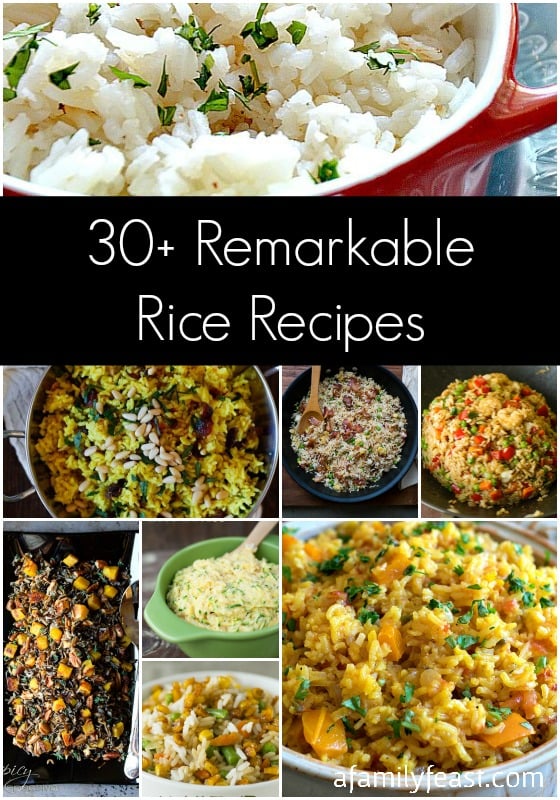 Rice is such a versatile ingredient and there are so many different ways to prepare it. So today we're sharing a great collection of 30+ Remarkable Rice Recipes!
This collection includes both savory and sweet rice recipes that were inspired by flavors from all around the world. I think you'll be as amazed as I was at ALL of the great recipes that you can make with such a simple, staple ingredient! (One thing to note: We did not include any Arborio rice recipes (such as risotto) in this collection…that's a collection for another day!)
Use the pin button above to save this entire remarkable rice collection, or click through to the original blog to pin each individual recipe.
 Perfect White Rice – 36th Avenue
Cheesy Zucchini Rice – Buns In My Oven
Cheddar Chive Rice – The Weary Chef
Bacon-Lovers Fried Rice – Best Recipe Box
Fiesta Lime Rice – Skinny Taste
Scallion Cilantro Lime Rice – Foodie with Family
Coconut Lime Rice – Tastes Lovely
Pineapple-Lime Jasmine Rice – Kitchen Meets Girl
Center Cut Cook – Chinese Fried Rice
Vegetable Fried Rice – Swanky Recipes
Hawaiian Fried Rice – Life in the Lofthouse
Pineapple Fried Rice – Natasha's Kitchen
Thai Cashew Coconut Rice with Ginger Peanut Sauce – Host the Toast
Ginger and Turmeric Aromatic Rice – The Roasted Root
Orange Rice with Cranberries – Premeditated Leftovers
Coconut Saffron Mango Rice – Food Done Light
Lemon Pesto Parmesan Rice – Let's Dish Recipes
Pesto Lemon Rice – Kalyn's Kitchen
Greek Rice (Spanakorizo) – A Family Feast
Brown Rice with Lentils & Feta – A Family Feast
Roasted Garlic-Basil Brown Rice – Cooking on the Weekends
Black and Orange Forbidden Rice with Acorn Squash and Pecans – A Spicy Perspective
Brazilian Sticky Coconut Rice – Oh Sweet Basil
Portuguese Nourishing Rice (Arroz con Sustancia) – A Family Feast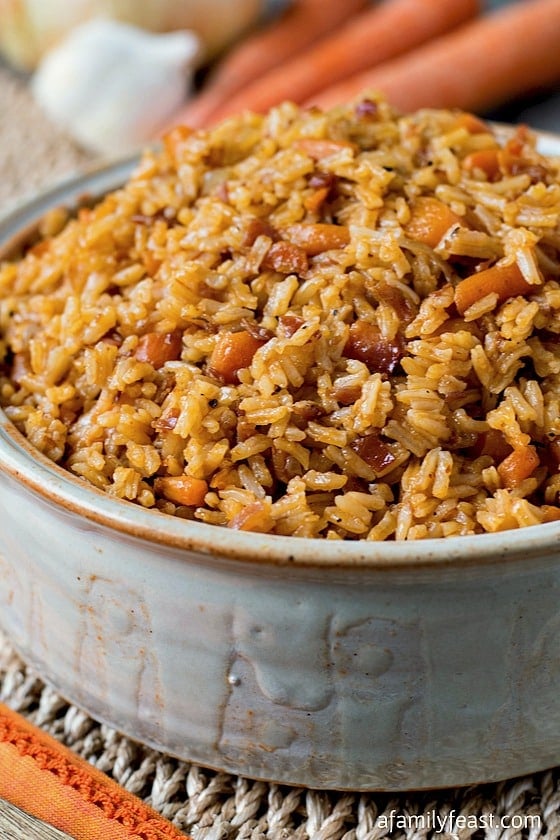 Puerto Rican Arroz con Gandules – Modern Mami
The Best Wild Rice – A Family Feast
Wild Rice and Mushroom Dressing – Pop Sugar
Portuguese Rice Pudding – A Family Feast
Cinnamon Raisin Brown Rice Pudding – Food Doodles