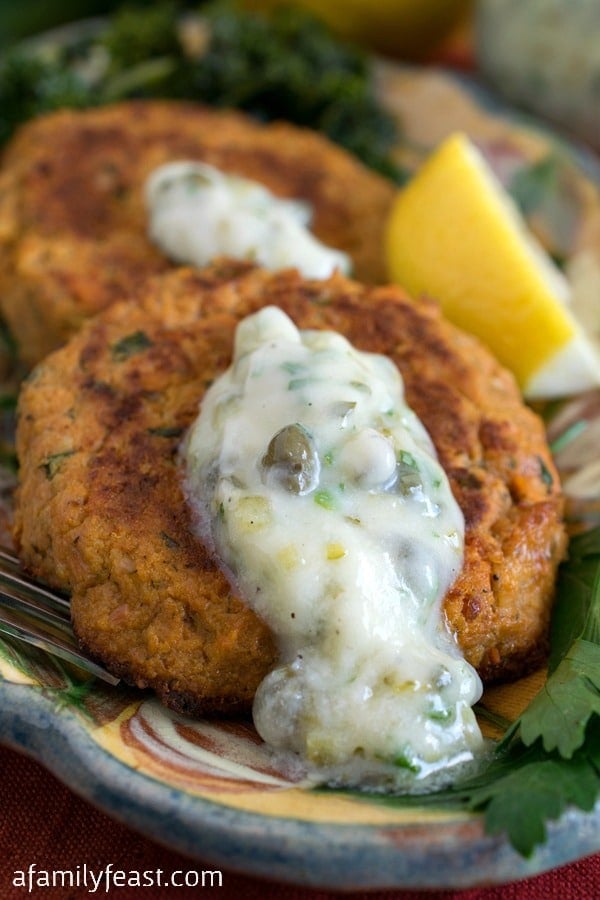 My husband Jack and I are still following the Whole30 program as much as possible.  Actually – I have to give Jack even more kudos here… He is much more diligent about following the program than I, and he has lost over twenty pounds following the program – and it really shows! (I won't complain either – I've lost just shy of 15 pounds so I'm happy too!) But most importantly, we both feel so much better.
We've both found that meal planning ahead of time, and having Whole30 compliant foods on hand when our schedules get hectic is really a key factor to helping us stay on track. Today's recipe for Whole30 Salmon Cakes with Tartar Sauce is a delicious meal that we make quite frequently.
This recipe comes right from the book, It Starts with Food, which outlines all of the details behind the Whole30 program. The salmon cakes are made with canned wild-caught salmon, as well as canned (or freshly cooked) sweet potato – so it's a great always-keep-the-ingredients-on-hand-in-the-pantry type of recipe!
We serve our Whole30 Salmon Cakes with Tartar Sauce that is also Whole30 approved (and the recipe is also from the book and it is made with a homemade olive oil mayonnaise).  It's still amazing to us that we can eat all of these delicious foods, feel great, get healthier, and still lose weight!
These Whole30 Salmon Cakes with Tartar Sauce take just a few minutes to prepare – and we typically cook up a double batch and freeze the extras so we always have some on hand when we don't have time to cook.  (The recipe below shares our tips & tricks for freezing the salmon cakes, as well as reheating them once they are frozen.)
Print
Whole30 Salmon Cakes
Prep Time:

15 mins

Cook Time:

30 mins

Total Time:

45 minutes

Yield:

7 cakes
---
---
1

14.75-ounce can wild-caught salmon

1 cup

cooked sweet potato (canned with no syrup is OK to use)

1

whole egg

½ cup

almond flour

2 tablespoons

minced fresh parsley

2

scallions sliced thin, tops and bottoms, roots removed

2 teaspoons

dried dill

1 teaspoon

hot sauce (optional)

½ teaspoon

paprika

1 teaspoon

kosher salt

¼ teaspoon

freshly ground black pepper

2 tablespoons

clarified butter or coconut oil, melted
---
Instructions
Note: These can be made ahead and frozen and baked frozen if desired.
If baking immediately, preheat oven to 425 degrees F.
Line a small sheet tray with parchment paper.
Drain liquid from can of salmon and discard liquid. Pick out bones and skin and discard. Take remaining salmon, break into pieces and place in a medium bowl.
Add all other ingredients except butter (or coconut oil).
Mix and form into seven equal patties about 1" thick.
Butter or oil parchment paper and set salmon cakes on paper. If freezing, cover and freeze.
If baking, place in preheated oven for 20 minutes.
Flip and cook for ten minutes more.
If using frozen salmon cakes, they can be baked frozen or thawed. If baking frozen, you may need to adjust cooking time.
Serve with tartar sauce (see recipe below) and lemon.
---
Print
Whole30 Tartar Sauce
Prep Time:

15 mins

Total Time:

15 minutes

Yield:

1 cup
---
---
½ cup

Olive Oil Mayonnaise

1 Tablespoon

minced cornichons or dill pickle

2 Tablespoons

minced fresh flat leaf parsley

2 teaspoons

minced capers

2 teaspoons

minced fresh chives

½ tablespoon

fresh lemon juice

1 teaspoon

pickle juice
Salt to taste
Freshly ground black pepper to taste
---
Instructions
Place all ingredients in a bowl and mix to combine. Refrigerate for 30 minutes before serving.
---
Disclosure: This post contains affiliate links.
You may also like:
Whole30 Cauliflower and Yam 'Potato' Salad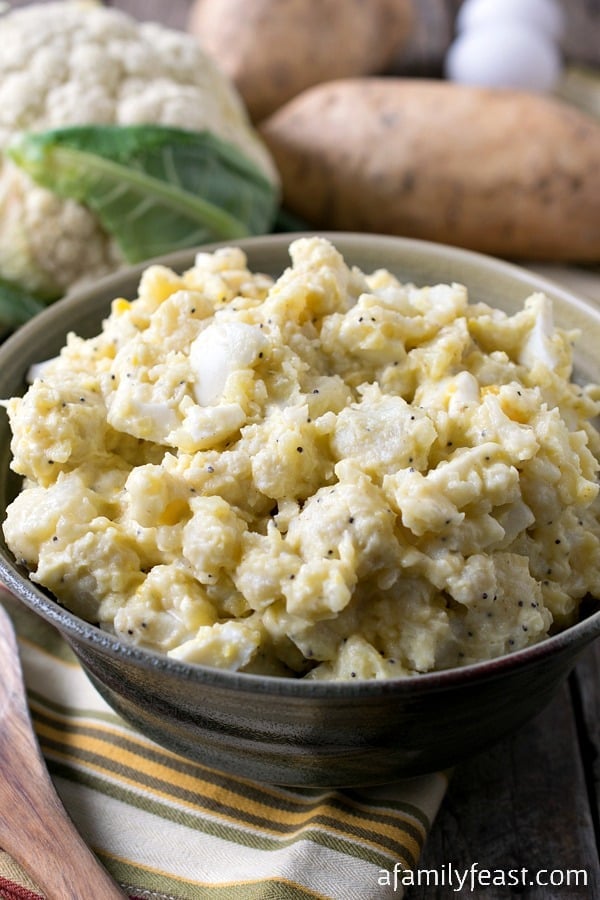 Whole30 Spaghetti Squash with Pesto