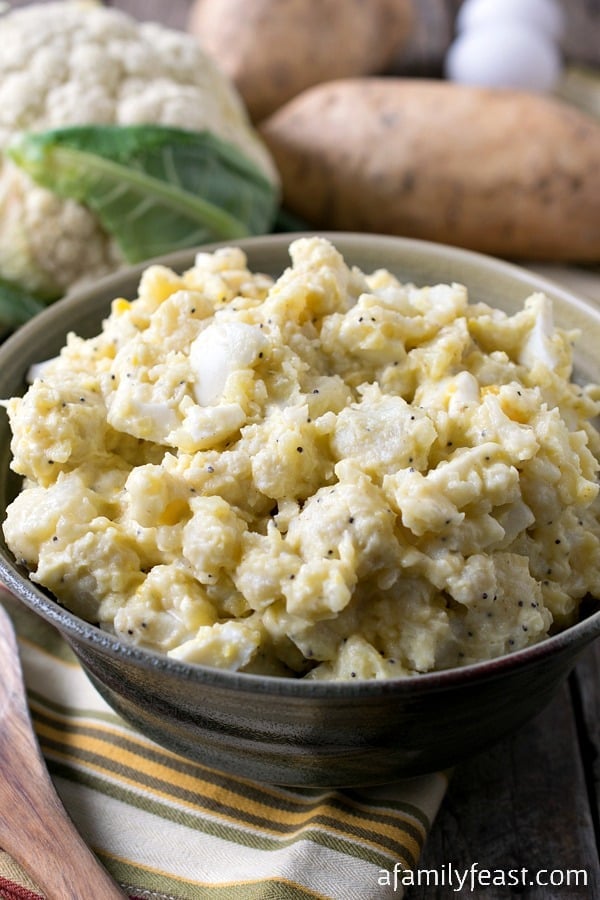 My husband Jack and I are still following the Whole30 program – I'd estimate 95% of the time.  We feel great and both of us are seeing major health benefits by following this eating lifestyle.
It is delicious recipes like today's Whole30 Cauliflower and Yam 'Potato' Salad that make it easy to stay on the plan and not feel like we're missing out on our old favorite recipes!
At a recent family birthday party, our daughter-in-law Danielle raved about a great potato salad recipe she made from cauliflower instead of higher-carb potatoes – and Jack's eyes immediately lit up! Danielle shared the recipe she made with us (from this cookbook) – but Jack wanted to make his own version.
Now – if you've ever tried Jack's earlier Potato Salad recipe – then you know that it is THE BEST potato salad ever! (Go ahead – click over to it, read the comments – then come back!)  So with that recipe in mind, Jack set out to recreate a Whole30 compliant version that would taste just as good.
As you can tell from the title of this recipe – our Whole30 Cauliflower and Yam 'Potato' Salad swaps out the red potatoes in Jack's original recipe, and swaps in lower carb cauliflower and white yams. Jack also recreated a Whole30-complaint dressing that matches the same wonderful flavors of his original popular recipe – creamy and zesty with a hint of sweetness.
This Whole30 Cauliflower and Yam "Potato" Salad is satisfying and delicious – and a recipe that anyone will enjoy even if you aren't following the Whole30 program. We hope you'll give it a try!
Print
Whole30 Cauliflower and Yam 'Potato' Salad
Prep Time:

10 mins

Cook Time:

10 mins

Total Time:

20 minutes

Yield:

4-6 servings
---
3

whole eggs in shell, brought to room temperature (eggs should be pasture-raised if possible to be Whole

30

compliant)

1 tablespoon

white vinegar

1

pound organic cauliflower florets, (organic to be Whole

30

compliant)

½

pound white yam, cubed into bite sized pieces

½ teaspoon

salt

¼ cup

apple juice (only ingredients should be apples and water, to be Whole

30

compliant)

1 teaspoon

apple cider vinegar (Bragg's Organic if possible)

½ teaspoon

white vinegar

½ teaspoon

celery salt

¼ teaspoon

white pepper

½ teaspoon

poppy seeds

½ teaspoon

Dijon mustard (ingredients should be mustard seed and salt, nothing else to be Whole

30

compliant)

½ cup

Whole30 olive oil mayonnaise (see recipe here)

1/3 cup

sweet onion, minced
---
Instructions
Bring a sauce pan of water to a boil with 1 tablespoon of white vinegar and gently place the three whole eggs in without cracking the shells. Boil 5 minutes, turn off burner and let sit 15 minutes in hot water. After 15 minutes, drain water and shake pan to crack shells. Peel under cold water, chop and set aside.
Place cauliflower and cubed yams in large sauce pan and cover with water. Add salt and bring to a boil. Simmer about ten minutes or until tender. Drain and leave in strainer draining.
In a small sauce pan, bring apple juice to a boil and boil until reduced to one tablespoon. Watch closely. The mixture will be thick and sweet. Pour into a small bowl and add cider vinegar, white vinegar, celery salt, pepper, poppy seeds and Dijon mustard. Stir in mayonnaise and onions.
Place drained, but still warm, cauliflower and yams in a large bowl.
Add mayonnaise mixture and stir.
Fold in chopped eggs and immediately refrigerate until chilled.
---
Disclosure: This post contains affiliate links.
You may also like:
Whole30 Spaghetti Squash with Pesto