Turkey Stuffing Meatloaf has all of the delicious flavors of your favorite Thanksgiving stuffing in meatloaf form!
Now that Thanksgiving has come and gone, you'll likely start to see all sorts of specials on ground turkey at the supermarket. I don't mind one bit – because it's the perfect reason to make this Turkey Stuffing Meatloaf!
My husband Jack states that this Turkey Stuffing Meatloaf is the best meatloaf ever – and I have to agree, it's right up near the top of my favorites too. It has the texture and appeal of your typical meatloaf, but it tastes like the turkey stuffing you enjoyed on Thanksgiving day!
How do you make Turkey Stuffing Meatloaf?
You make this easy Turkey Stuffing Meatloaf with ground turkey and dry stuffing mix, plus onions, celery and garlic, eggs for a binder, plus Bell's Seasoning – a must-add ingredient to lend that classic stuffing flavor to this meatloaf.
We also highly recommend using Pepperidge Farm's Herb Seasoned Classic Stuffing Mix in this Turkey Stuffing Meatloaf.  This is not a sponsored post – we just think that the crumb texture of their classic stuffing mix is ideal for this meatloaf versus some other brands that are more like cubes of bread, plus the herb seasoning flavors are delicious too!
We bake our Turkey Stuffing Meatloaf on a large parchment-lined sheet pan – forming the turkey and stuffing mixture into a large loaf for baking.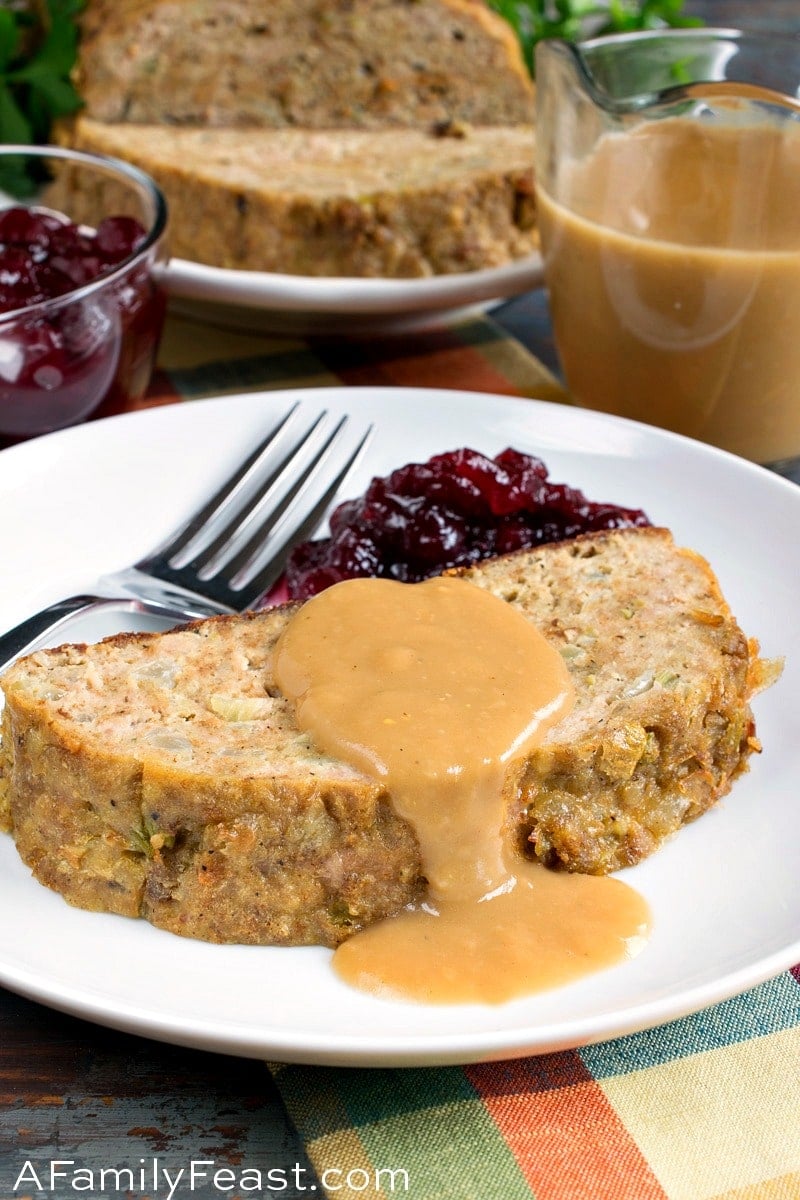 Your Turkey Stuffing Meatloaf will take about a hour to bake through – plenty of time to prepare the gravy to serve alongside your meatloaf, or to roast some root vegetables for a side dish.  This really couldn't be any easier to make!
And – this Turkey Stuffing Meatloaf also makes great hot meatloaf sandwiches the next day! We like to cut a slice or two, then brown them in a skillet to heat through, plus the caramelized fried edges add even more delicious flavor to the meatloaf.
You may enjoy these other recipes:
Print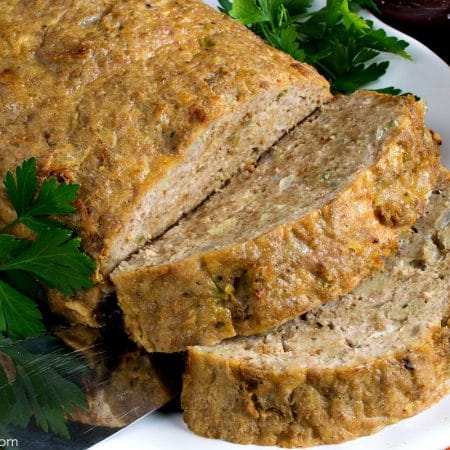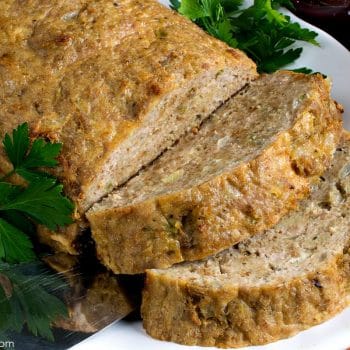 Turkey Stuffing Meatloaf
Author:

Prep Time:

20 minutes

Cook Time:

60 minutes

Total Time:

1 hour 20 minutes

Yield:

10 to 12 servings

Category:

leftovers

Method:

baked

Cuisine:

American
---
4 cups dry stuffing mix, divided (we used Pepperidge Farms Herb Seasoned Classic Stuffing Mix)
1 quart turkey stock, divided (boxed is OK, our homemade recipe is better)
6 tablespoons butter
1 ½ cups onion, diced
1 cup celery, diced
2 teaspoons minced garlic
1 tablespoon Bell's Seasoning
4 whole eggs, beaten
2 pounds ground turkey (we used 85% lean from Shady Brook Farms, which is a mix of white and dark meat)
1 ½ teaspoons kosher salt (taste your stock. If salty, cut back on adding salt)
½ teaspoon freshly ground black pepper
Gravy
Half of stock from above
3 ½ tablespoons butter
5 tablespoons all-purpose flour
½ teaspoon browning and seasoning sauce, such as Kitchen Bouquet
Cranberry sauce, for serving on the side
---
Instructions
Preheat oven to 375 degrees F.
In a large bowl, add 3 cups of the stuffing mix and stir in two cups of the stock. Let sit to soak up the liquid and soften.
In a medium saute pan over medium heat, add butter to melt. Once melted, add onion, celery, garlic and poultry seasoning. Cook until the vegetables are starting to get soft. Set aside to cool.
Pour the remaining cup of stuffing mix in a food processor and process to crumbs. Set this aside.
Add the eggs, ground turkey, salt and pepper to the bowl with the three cups of stuffing mix and gently combine
Add the now-cooled celery and onions along with the cup of ground stuffing mix to the bowl and stir in to combine.
In a small saute pan in some melted butter, fry up a small piece of the meatloaf to sample a taste. Adjust the seasonings as needed.
Line a medium sheet tray with parchment and spray with pan spray.
Scrape the meatloaf mixture into the center of the prepared sheet tray. Fill a bowl with water and using wet hands, form the meatloaf into a log, wetting hands often to shape and smooth top and sides. This will also help keep it from cracking.
Bake for 55-60 minutes to an internal temperature of 155 degrees F. (It's best to use a probe thermometer connected to a device that will alarm at 155 degrees F). If you use an instant read thermometer instead, as soon as you withdraw the probe, insert a fat toothpick into the hole to stop the juices from leaking out. (Leave the hole plugged for 15 minutes after the meatloaf comes out of the oven.)
Once the internal temperature reaches 155 degrees F, remove the meatloaf from the oven, tent with foil and let rest 15 minutes before slicing.
While the meatloaf is cooking, make the gravy by heating the two remaining cups of stock in a medium sauce pan.
In a small saute pan, melt the butter over medium low and add the flour. Cook for 2-3 minutes until raw flour smell is gone.
Slowly add this mixture to the hot stock while whisking until you reach your desired thickness.
Add the Kitchen Bouquet and cook on low for a few minutes. Taste for seasoning and add salt and pepper if needed.
To serve, place a thick slice of meatloaf on a serving dish, cover with hot gravy and serve cranberry sauce on the side.
---
Keywords: turkey stuffing meatloaf