Baked Manicotti with Turkey Sausage is a delicious recipe everyone should have in their collection!
Baked manicotti is a classic Italian dish that looks difficult to make – but it's actually quite easy to prepare with a few tips and tricks we share in our recipe below.
Traditionally, most baked manicotti recipes including a simple ricotta cheese filling (similar to the ricotta layer you would put in a lasagna recipe). For today's recipe we decided to make our Baked Manicotti with Turkey Sausage nestled in a homemade marina sauce for a much more flavorful meal.
While I love just about any type of baked manicotti – I have to say that our baked manicotti with turkey sausage is some of the best I've eaten. The spicier meat, plus onions, garlic, and other seasonings added to the ricotta and shredded mozzarella mixture really takes this dish to a delicious new level.
We know some home cooks who are a little intimidated when it comes to making manicotti – but there are a few tips and tricks that will make things easier:
First, don't fully cook the manicotti pasta before filling them. If the pasta shells are too soft, they could split as you fill them. The manicotti will cook further and soften in the oven.
Second, place your filling in a large pastry bag and (with the tip cut off) use that to fill your manicotti shells. This will allow you to pipe the filling easily into the center of the manicotti without breaking the pasta shell.
Third, don't overfill the manicotti shell.  As you pipe the filling from the center out to each the end, try to avoid overfilling – which could also cause the sides of the shell to burst.  (It's OK if some of the cheese mixture comes out the ends.)
We like our Baked Manicotti with Turkey Sausage extra cheesy so we layered slices of mozzarella cheese on top of the casserole dish before baking. (You could use shredded mozzarella instead if you prefer.)
Bake the manicotti with turkey sausage until hot and bubbly – then serve with extra marinara sauce on the side.  Enjoy!
Print
Baked Manicotti with Turkey Sausage
Prep Time:

30 minutes

Cook Time:

1 hour

Total Time:

1 hour 30 minutes

Yield:

7 servings (2 per person)
---
Description
Note: You can make all or parts of this dish ahead, or even the day before. I cooked the manicotti shells and made the filling the night before, then filled them and baked them the day we served this dish.
---
1 box manicotti shells (standard packaging is 8 ounces in weight with 14 tubes)
2 tablespoons extra virgin olive oil
1 cup onion, diced
1 tablespoon fresh garlic, minced
1 pound Italian turkey sausage removed from casing (we used Shady Brook Farms brand)
2 pound container whole milk ricotta cheese (because why would you buy low fat?)
2 whole eggs
2 tablespoons fresh Italian flat leaf parsley, minced
1 cup Parmesan cheese, freshly grated and divided
½ cup mozzarella cheese, shredded
2 teaspoons kosher salt
1 teaspoon freshly grated black pepper
2 cups of your favorite marinara sauce, plus more for serving
14 slices of sliced mozzarella cheese (the kind you would get at the deli counter)
---
Instructions
Place a large pot of salted water on to boil and once at a full boil, gently drop each manicotti tube into the water, one at a time. Once back to a boil, set timer for exactly six minutes (no more). The tubes will not be fully cooked and will cook further in the oven. Have a bowl of ice water standing by and when your timer goes off at six minutes, use a spider or strainer and gently lift out the tubes and place in the ice water bath to stop the cooking.
If you cooked these ahead or for the next day, lay out on a parchment lined sheet tray sprayed with a little pan spray. Lay them out not touching and spray the tops with more spray. Cover with plastic wrap and refrigerate until you are ready for them.
If using immediately, just lay out in a pan not touching. (so they don't stick to each other)
In a large sauté pan, heat oil over medium high heat and add onions and cook for three minutes. Add garlic and cook for one minute.  Add sausage meat and using a wooden spoon, break up as it cooks until the pieces are fine and no longer pink. Try to break up any pieces larger than a kidney bean.
Remove the pan from heat and let cool to room temperature.
If baking immediately, preheat oven to 350 degrees F.
In a large bowl mix ricotta, eggs, parsley, half of the Parmesan, the shredded mozzarella, salt and pepper. Once the meat mixture has cooled, incorporate into the ricotta mixture. If prepping ahead, cover and refrigerate.
Pour one cup of marinara sauce into the bottom of a 10×13-inch baking dish.
Using a large pastry bag (ours was 16-inch size), spoon about a third of the mixture into the bag leaving room to twist the top shut. Cut off a good piece of the end slightly smaller than the opening of a tube. Pick up one of the tubes and gently pinch the middle as you squeeze filling from that middle point to the end, squeezing a little bit bulging out the end. Turn the tube around and fill the other half, again, bulging the filling out a bit.
Lay into the prepared pan and repeat for the remaining tubes, lining up two rows of seven and refilling the pastry bag as you go. Don't worry if a few manicotti split, just put the split down.
Spoon over the second cup of sauce covering each tube.
Sprinkle each tube with the rest of the Parmesan cheese.
Finally, slice the sliced mozzarella in half and place two halves over each tube.
Cover the pan with parchment and then foil and bake for 30 minutes.
Uncover and bake for 20 more.
Finally, place under broiler just until lightly browned.
Enjoy served with additional marinara sauce.
---
Disclosure: This post contains affiliate links.


You may also like: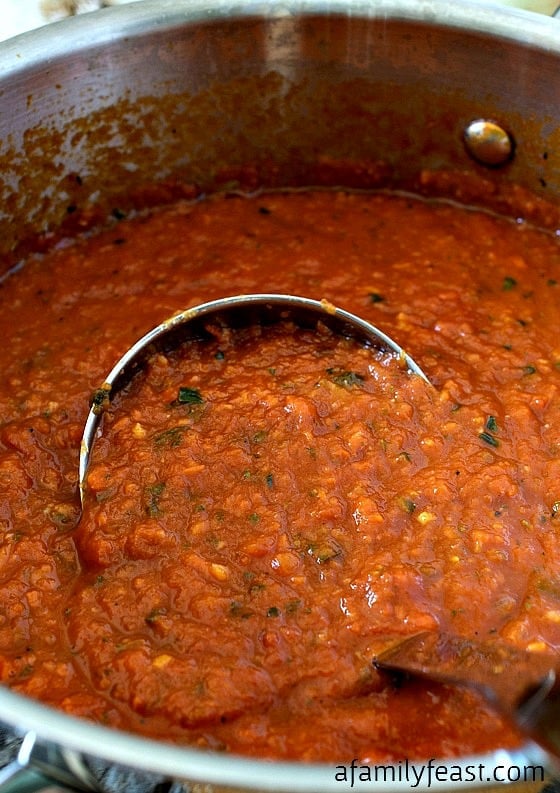 [contact-form][contact-field label="Name" type="name" required="true" /][contact-field label="Email" type="email" required="true" /][contact-field label="Website" type="url" /][contact-field label="Message" type="textarea" /][/contact-form]