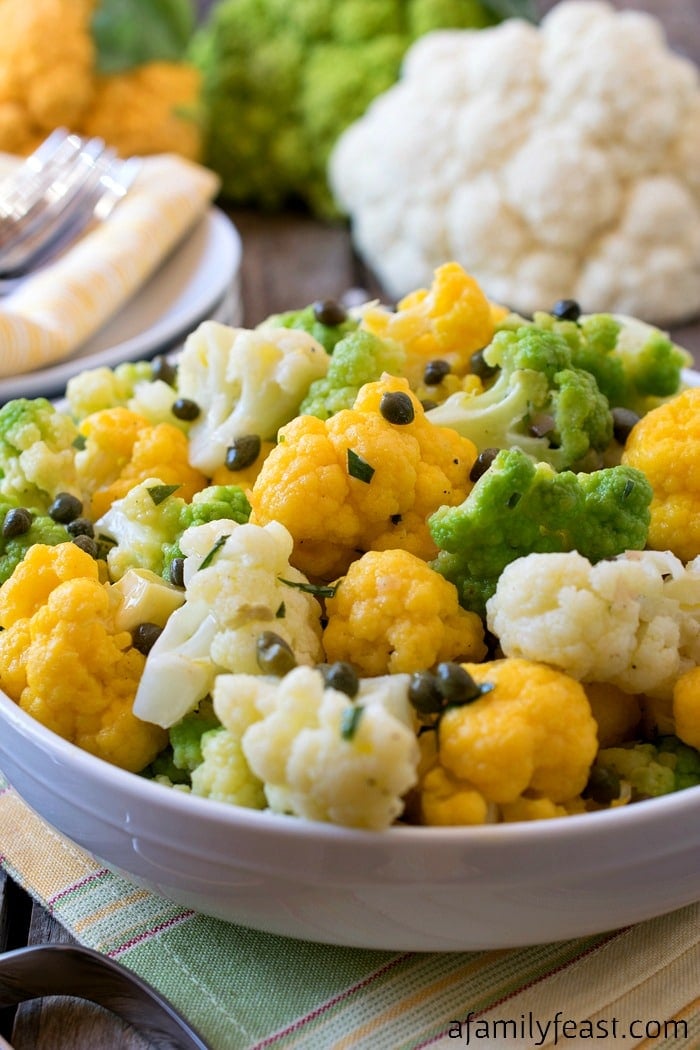 Inspiration for today's Tri-Color Cauliflower Salad came to me at the supermarket.  I was shopping for a few items, when I spotted a display of different colored cauliflower – and that was enough to inspire this recipe!
In addition to the white, orange and green cauliflower we used in this Tri-Color Cauliflower Salad – you can sometimes find purple cauliflower as well.  (I would have bought that for our salad too if I could have!)
These colorful cauliflowers are naturally occurring varieties, and they are said to contain more nutrients than the more common white cauliflower. We didn't notice a huge difference in taste among the different colors – but some other online articles claim there is a difference in flavor too.
This Tri-Color Cauliflower Salad is simple and delicious – and it makes an ideal side dish to bring to a summer barbecue because it is equally delicious served chilled or at room temperature.  We steamed, then chilled the cauliflower florets – then tossed them with an easy, zesty dressing made with shallots, lemon juice, Dijon mustard, fresh tarragon and capers.
You can, of course, make this Tri-Color Cauliflower Salad using all white cauliflower florets if that is all that you can find at your local market. (It will be equally delicious!)
Print
Tri-Color Cauliflower Salad
Prep Time:

45 mins

Cook Time:

10 mins

Total Time:

55 minutes

Yield:

6-8 servings
---
1 teaspoon

kosher salt

1

pound white cauliflower, about

half a

head, cut into florets

1

pound orange cauliflower, about

half a

head, cut into florets

1

pound green cauliflower, about

half a

head, cut into florets

¼ cup

extra virgin olive oil

1/3 cup

shallots, minced

2 tablespoons

freshly squeezed lemon juice

1 teaspoon

Dijon mustard

½ teaspoon

kosher salt

¼ teaspoon

freshly ground black pepper

1 tablespoon

fresh tarragon, minced

1 tablespoon

capers
---
Instructions
Place a steamer basket in a large pot and add just enough water to reach bottom of basket. Bring to a boil covered. Sprinkle in salt and add cauliflower and bring back to a rolling simmer. Cover and cook five minutes. The cauliflower should have a little bite but be somewhat cooked. Drain and chill.
While the cauliflower is chilling, sauté the shallots in the olive oil until translucent, about three minutes. Pour into a bowl and refrigerate.
Once the vegetables are chilled, place cauliflower in a large bowl.
In a small bowl, place lemon juice, Dijon, salt, pepper and tarragon. While whipping, add oil and shallots.
Pour over cauliflower and toss then top with capers and serve.
---
Disclosure: This post contains affiliate links.
You may also like: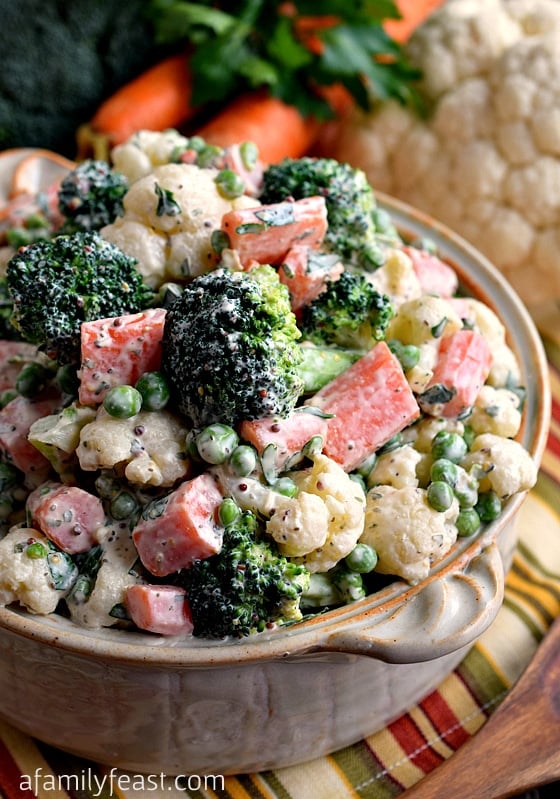 Oven Roasted Parmesan Cauliflower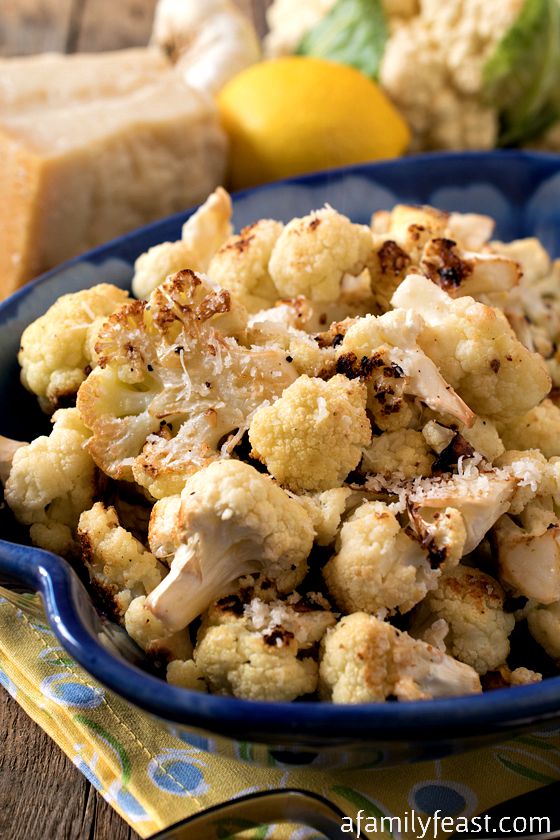 Whole30 Cauliflower and Yam "Potato" Salad