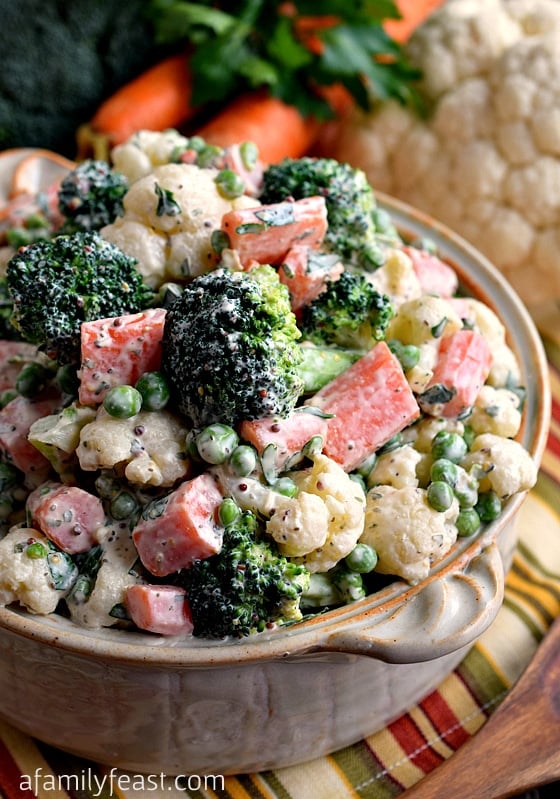 Years ago, when my husband Jack worked in food service management, just about every catered event he managed served some variation of fresh broccoli, carrots and cauliflower.  Unlike some other vegetables, these three could easily be prepped ahead of time, and then steamed as needed before serving at an event.  Additionally – broccoli, carrots and cauliflower make for an impressive contrast of colors when served together on a buffet table!
But after years of serving this trio of vegetables – Jack never EVER wanted to see them served together again at the dinner table!  That is – until now.  With inspiration from The Silver Palate Cookbook, we made this delicious Winter Vegetable Salad using that classic combination of vegetables!
The broccoli, carrots and cauliflower are combined with peas (we used frozen) and fresh chopped parsley, then topped with a creamy and zesty dressing made with mayonnaise, sour cream, mustard (Dijon and whole grain) and a touch of sriracha.  The dressing is also seasoned with dry tarragon and celery seed – both seasonings are a great complement to the vegetables in the dish.
This salad goes very nicely with fish for dinner, or served as a side dish at a luncheon.  You can make it ahead of time – and in fact, the flavors of this dish seem to improve overnight!
Adapted from The Silver Palate Cookbook
(Affiliate Link).
Print
Winter Vegetable Salad
Prep Time:

15 mins

Cook Time:

5 mins

Total Time:

20 minutes

Yield:

6-8 servings
---
Description
Note: The texture of this salad should be crispy. Do not cook the vegetables any longer than recommended to ensure the correct texture.
---
1

pound cauliflower florets, about half of one large head

1

pound broccoli florets

½

pound carrots cut into

two

inch strips about

½

inch thick

1 cup

frozen green peas

¼ cup

chopped fresh Italian flat leaf parsley

1/3 cup

mayonnaise

1/3 cup

sour cream

¼ cup

Dijon mustard

1 tablespoon

whole grain mustard

½ tablespoon

agave nectar or honey
A few drops of Sriracha

2 teaspoons

dry tarragon

1 teaspoon

celery seed

¼ teaspoon

freshly ground black pepper
---
Instructions
Fill a large pot 2/3rd full with generously salted water and bring to a boil.
Prepare an ice bath in a large bowl with ice and water and a colander in your sink or over a large bowl.
Once the water is boiling, plunge the cauliflower in, cover and when it returns to a boil, time for two minutes. Remove the cauliflower to an ice bath using a spider strainer. Leave the flame on high and bring the water back to a boil. Plunge the broccoli in, cover and time one minute after the water returns to a boil. While the broccoli is cooking, remove cauliflower from the ice bath into a strainer. Then place broccoli into same ice bath (add more ice if needed to keep the water extremely cold). Bring the water back to a boil and plunge carrots in. Cover and time one to two minutes depending on how thick you cut your carrots. While carrots are cooking, remove broccoli from ice bath to strainer with cauliflower. When carrots are done, remove to the ice bath. Drop in frozen peas and remove immediately to the ice bath. Strain the carrots and peas and pour into colander to drain with the other two vegetables. Remove water from the heat and discard.
Let the four vegetables drain very well. To further dry, roll the broccoli and cauliflower in paper towels to remove any last moisture trapped. Transfer vegetables to a large mixing bowl.
In a medium bowl, mix the remaining ingredients and add to the large bowl with the vegetables. Gently mix to combine.
The flavors of this dish improve if stored overnight however it can be served right after preparing.
---
You may also like: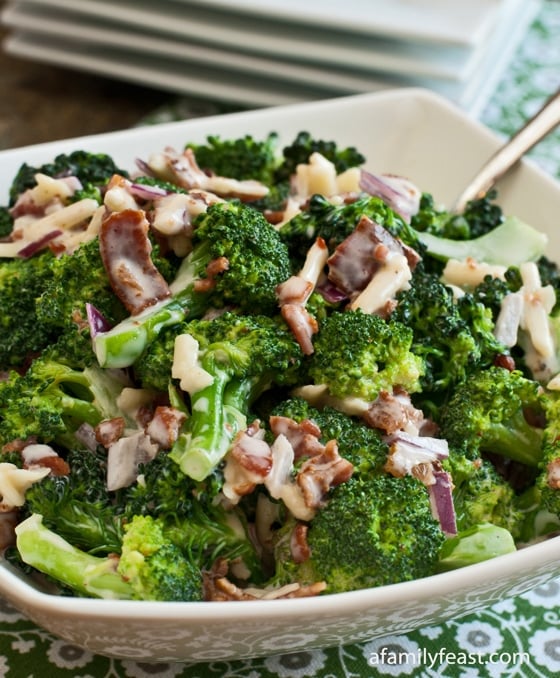 Oven Roasted Cauliflower with Crunchy Topping