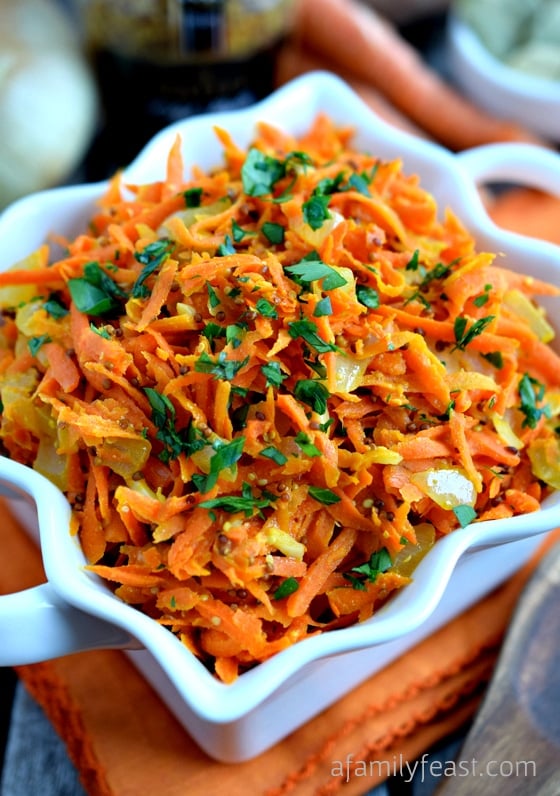 Over on Google+, I follow a blogger named June who writes a blog called Frugal Foodie Recipes.  Many of her recipes are influenced by her travels around the world, and I love the different foods she posts with inspiring and unique flavors!
Last Fall, June shared the link to this recipe for Braised Mustard Carrots – and it immediately caught my attention.  I was so intrigued by the idea of pairing mustard and carrots together along with garlic, onions and bay leaf – a flavor combination I had never tried before – and I knew right away that I wanted to make that recipe!  But – we've been busy cooking other recipes of our own, and June's recipe printout has been sitting on the corner of my desk – untried, but not forgotten.
Fast forward a few months to now – and lately, I've been feeling a little stuck in a rut when it comes to cooking vegetables! (Yes, even food bloggers feel that way sometimes!) We have our old standby vegetable recipes (see here, here and here) and we eat salads all the time too!  But I wanted to try something different – so I dug out June's recipe!
Wow – these carrots are fantastic!  We used a combination of Dijon mustard and whole grain mustard in our version of braised mustard carrots.  And, we also found that our cooking time was less than in the original recipe – but we do like our carrots on the crunchy side, so if you prefer a softer texture, just cook the carrots longer!
June also suggests that any leftover braised mustard carrots also make a delicious cold salad, and I definitely agree!  Served hot or cold – these braised mustard carrots are a recipe that you must add to your collection.  Enjoy!
Print
Braised Mustard Carrots
Prep Time:

10 mins

Cook Time:

15 mins

Total Time:

25 minutes

Yield:

4-6 servings
---
---
1 ½

pounds carrots

2 tablespoons

unsalted butter

3

garlic cloves, minced

1 cup

diced onion

2

bay leaves

2

–

4

tablespoons mustard (we used a combination of Dijon and whole grain)

3 tablespoons

water
Salt and pepper to taste
Chopped fresh parsley for garnish, optional
---
Instructions
Peel and shred carrots, using the coarsest side of a boxed grater to get large shreds. (Alternately, you could use a mandoline to cut julienne slices.) Set carrots aside.
In a large saucepan, over medium heat, melt butter along with minced garlic and diced onions. Sautee the onions and garlic for about 2-3 minutes, until the onions start to soften. Add 2 tablespoons of mustard (half Dijon and half whole grain) and the bay leaves. Cooking the onion-mustard mixture another 2-3 minutes more until the onions are lightly golden in color.
Add shredded carrots to the saucepan, along with the water and stir well to combine. Cover the pan and allow the carrots to braise for about 7 to 10 minutes (or more depending on how soft you like your carrots and how large your shreds or julienne slices are) until they reach your desired tenderness.
Add more mustard and season with salt and pepper if desired, and sprinkle with chopped fresh parsley (optional).
Serve immediately for a hot side dish or chill and serve cold as a salad.
---
Disclosure: This post contains affiliate links.
You may also like:
Fresh Carrots with Butter and Dill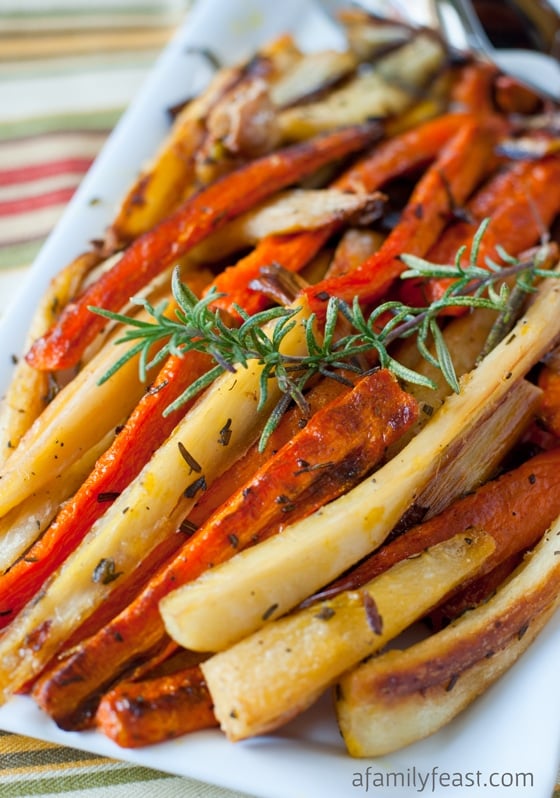 Chicken Breasts with Mushrooms and Onion Dijon Sauce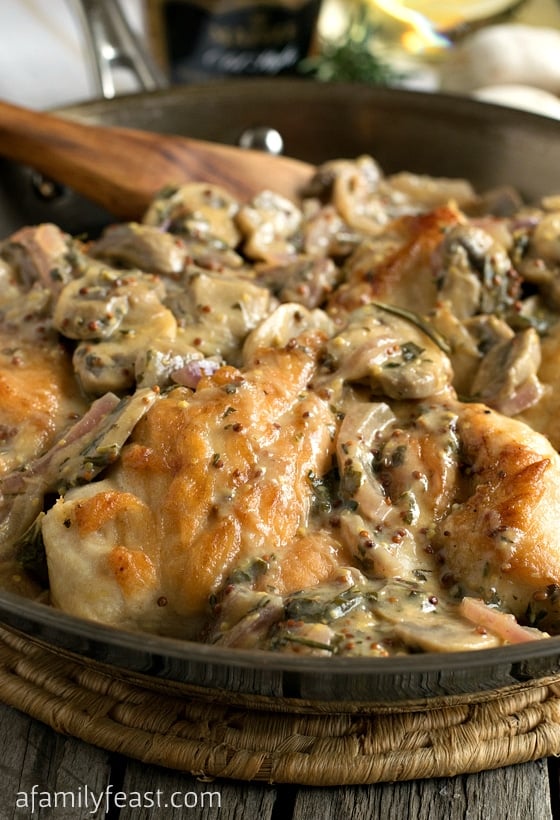 Chicken and Apples with Honey Mustard Sauce