A few times a year, Jack and I get together for dinner with our friends Sandi and David (you may remember us talking about them here) – taking turns suggesting good restaurants to each other.  About a year or so ago, they recommended that we meet up at a great gourmet pizza place called Tavolino, located at Patriot's Place near Gillette Stadium where the New England Patriot's play their home games.
Tavolino has a great pizza menu (among other dishes) with lots of creative and eclectic combinations of toppings – and their fabulous Prosciutto and Fig Pizza with Arugula is the inspiration for our make-at-home version we're sharing with you today.  Jack makes pizza at home for us all the time, and this terrific pizza tastes just as good (maybe even better!) as we remembered having at the restaurant!
The pizza dough is first layered with some fig jam (we found ours in the gourmet cheese section of our local supermarket), then sprinkled with some shredded, creamy Fontina cheese and thinly sliced strips of prosciutto – a delicious salty-sweet combination of flavors!  Once the pizza is baked and out of the oven, it's sprinkled with some fresh arugula for a bright peppery taste, plus a light drizzle of balsamic vinegar over the arugula adds another intense layer of flavor to this pizza.
The flavors of this prosciutto and fig pizza with arugula just dance in your mouth – and I have to admit, Jack and I fight over who gets the last piece of this wonderful pizza – it's so good!  Luckily, this recipe makes two pizzas – one for each of us!
Print
Prosciutto and Fig Pizza with Arugula
Prep Time:

10 mins

Cook Time:

14 mins

Total Time:

24 minutes

Yield:

2 10-14 inch pizzas
---
Description
Our local supermarket sells a product called Balsamic Cream (made by Pastene) which is essentially a balsamic vinegar reduction. If this product is not available in your local supermarket, simply pour a cup of balsamic vinegar in a small sauce pan and gently simmer until it has reduced to a thick syrup consistency.
---
1

16-ounce package whole wheat pizza dough (available in any supermarket) or homemade pizza dough
Flour for dusting your board or counter

½ cup

fig jam, divided

1 cup

shredded Fontina cheese, divided

2 ounces

thinly sliced prosciutto cut into one inch strips (about

five

slices), divided

½ cup

arugula, divided
Balsamic Cream, or a homemade balsamic reduction (see note above)
Corn meal for dusting the pizza peel
---
Instructions
Let dough come up to room temperature and rest in a warm place for one hour covered with a piece of plastic and a dish towel. The link to the perfect pizza dough makes six 7-ounce balls so adjustments will need to be made.
Preheat oven to 500 degrees or higher, if your oven gets that hot, and place a pizza stone on bottom rack.
Sprinkle a little flour on your board and cut dough in half. Each half will be one pizza.
Roll out or press by hand into a 12 – 14 inch circle.
Sprinkle corn meal on your pizza peel and place the rolled out dough round onto the peel.
Spread half of the fig jam almost to the edges of the dough. Sprinkle half of the cheese over the fig jam. Sprinkle half of the prosciutto over the cheese.
Slide the dough onto the preheated pizza stone and bake for six to seven minutes. Use a pair of long handled tongs to peek under pizza to see if it is properly browned. If your oven gets hotter than 500 degrees, it may cook in as little as five to six minutes.
Remove the pizza from the oven and onto a cutting board and sprinkle half of the arugula on top. Drizzle with the Balsamic Cream.
Repeat the process using the other half of the ingredients for the second pizza.
---
You may also like:
How to Make Perfect Pizza Dough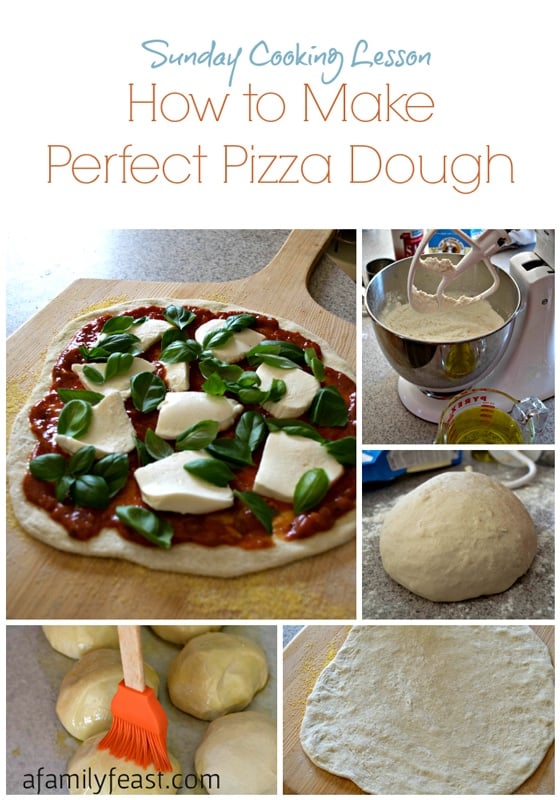 Pizza Margherita with Roasted Tomato Pizza Sauce