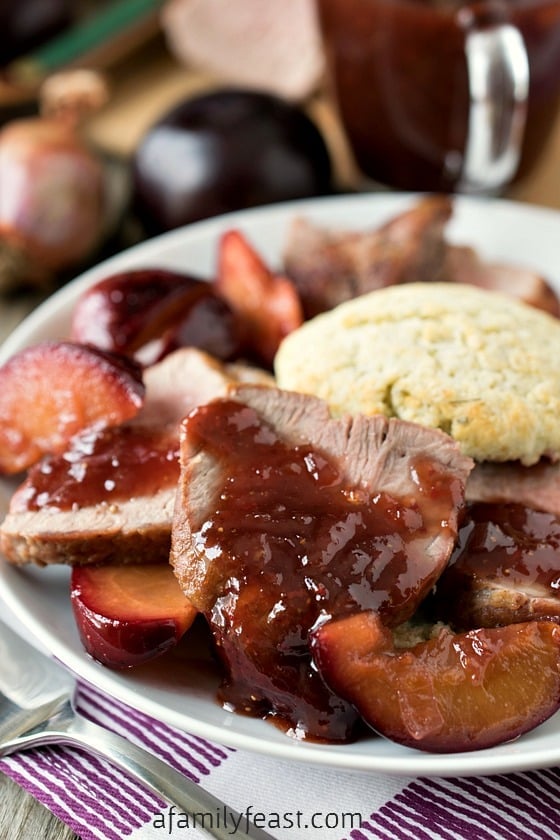 Today's recipe for Pork Tenderloin with Strawberry Plum Sauce and Herbed Biscuits is a great option when you want to prepare something a little extra special. It's a recipe that was inspired by a cooking class at the Viking Cooking School that my husband Jack and I attended last summer when we visited Atlantic City.
During that coking class, our chef instructor prepared a delicious dish of roasted pork tenderloin with plum sauce and it was served alongside an herbed biscuit, and it was a delicious play on a more traditional Southern ham and biscuits dinner. (We did change today's recipe up a bit in the overall method but the general recipe inspiration is still quite close to the one we prepared during class.)
This Pork Tenderloin with Strawberry Plum Sauce and Herbed Biscuits looks super fancy, but it really isn't difficult to make. Tender roasted pork tenderloin is paired with a sweet and savory sauce made with slices of fresh plums and plum and strawberry jam – and shallots, dry mustard, lime juice and prepared horseradish provide a contrasting zesty kick to the otherwise sweet sauce.
To serve, the sliced pork tenderloin is placed over savory herbed buttermilk biscuits – and then that wonderful sauce is spooned over the top. Your taste buds will dance as you enjoy this delicious Pork Tenderloin with Strawberry Plum Sauce and Herbed Biscuits!
Print
Pork Tenderloin with Strawberry-Plum Sauce and Herbed Biscuits
Prep Time:

40 mins

Cook Time:

40 mins

Total Time:

1 hour 20 minutes

Yield:

6-8 servings
---
For the Sauce
2 tablespoons

extra virgin olive oil

½ cup

shallots minced

½ cup

plum jam

½ cup

strawberry jam

1 ½ tablespoons

fresh lime juice

1 tablespoon

prepared horseradish

2 teaspoon

dry mustard such as Coleman's

1 teaspoon

crushed pink peppercorns (black is fine if you don't have pink)

4

fresh firm purple plums
For the Biscuits
1½ cups

flour

1½ teaspoons

baking powder

1½ teaspoons

sugar

½ teaspoon

salt

¼ teaspoon

baking soda

1½ tablespoons

dry chives

1 teaspoon

Herbes De Provence

1 teaspoon

garlic powder

3 tablespoons

cold butter

¾ cup

buttermilk

1 tablespoon

melted butter
For the Pork
3

pounds pork tenderloin (

two

tenderloins approximately

1½

pounds each)

1 teaspoon

kosher salt

½ teaspoon

freshly ground black pepper

3 tablespoons

extra virgin olive oil

½ cup

dry vermouth
---
Instructions
In a medium sauté pan or skillet, heat oil over medium high and cook shallots until translucent, about 3-4 minutes.
Add all other sauce ingredients except plums and heat to combine. Remove from heat.
Cut plums in half and core then cut each half into quarters giving you eight slices per plum. Lay the sliced plums into the sauce, cover and refrigerate the whole pan. The longer this sits, the better tasting the sauce will be. If possible, make the sauce in the morning and let it sit all day refrigerated.
Preheat the oven to 450 degrees.
In the bowl of a food processor with a metal blade, add flour, baking powder, sugar, salt, baking soda, chives, Herbes De Provence and garlic powder. Pulse a few times to combine.
Cut the butter into slices and add to the flour mixture, covering each piece. Pulse a few times until the butter looks pea sized. Add buttermilk while pulsing, don't over mix.
Pour out onto a floured surface and pat into a rectangle a little larger than 9X6. With a three inch cutter cut out six biscuits. Or with a 1 ½ inch cutter, cut out 12 biscuits. Brush the tops with melted butter.
Place on parchment lined cookie sheet and bake for 20-25 minutes until browned (less if making smaller biscuits).
While biscuits are baking, remove silver skin from tenderloins and coat with salt and pepper.
In an oven proof large sauté pan, heat oil to smoking hot over high heat. Add pork and sear about three minutes on each side (5-10 minutes). Biscuits should just about be done at this point. Leave oven at 450 degrees. After the last side is seared, place pan in the oven for 12-15 minutes or until the center is at about 125 degrees as measured with a probe thermometer. Remove pork to a plate, cover loosely with foil and let rest 15 minutes. The temperature will rise to 140 degrees as it rests.
Place the hot pan on a burner over medium high. Add vermouth to deglaze pan. Cook until all but two tablespoons of liquid are left. In the mean time, pull sauce from refrigeration and remove plums to a bowl. Pour remaining sauce in pan with the two tablespoons of liquid and cook to thicken (three to five minutes).
Pour in any juice collected at the bottom of the plate from the pork into the sauce. Then add plums to sauce and heat just to hot and remove from heat.
Slice pork into thick slices and serve with the plum sauce and biscuits.
---
You may also like:
Chicken with Sweet and Sour Plum Sauce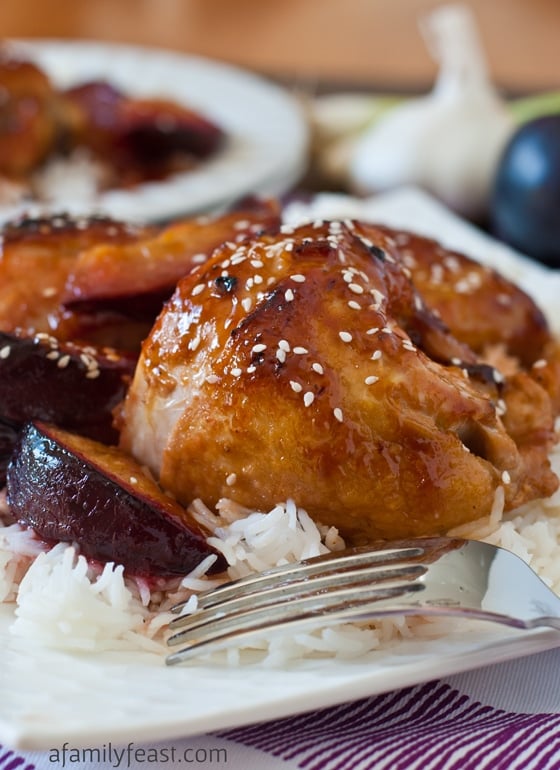 Pork Tenderloin with Pomegranate Pan Sauce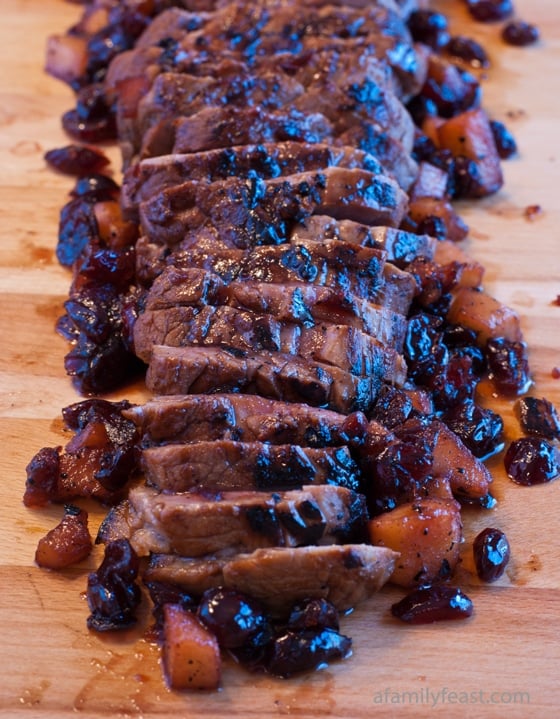 Pork Tenderloin Tips with Apricot Sauce