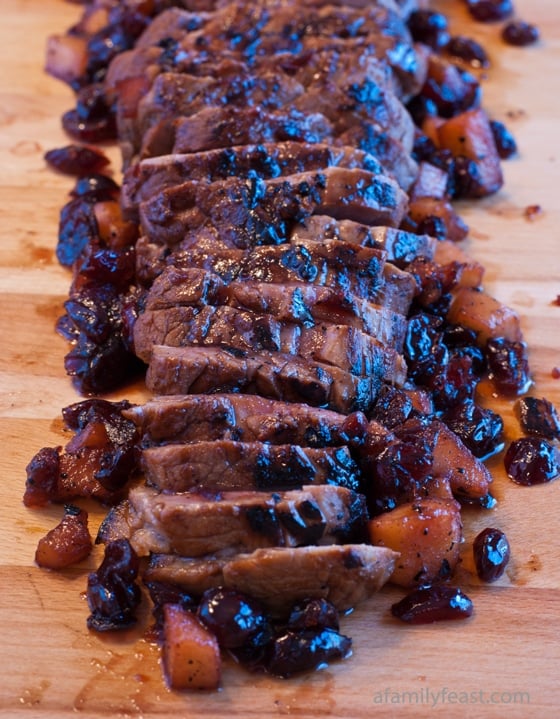 Pork tenderloin is a delicious alternative to chicken or beef – and it can be surprisingly affordable if you find it on special at your local market.  We usually stock up when we see it on sale, and this recipe for Pork Tenderloin with Pomegranate Pan Sauce is one way to prepare this versatile meat.
Since pork goes wonderfully with many kinds of fruit, we've paired the tenderloin here with a delicious pan sauce made from pomegranate juice, diced apples and dried cranberries.  Pork tenderloin is so tender and flavorful on its own that a light pan sauce is really all that you need, and the sweet-tart flavors of this pan sauce are a delicious complement without overpowering the meat.
Our recipe also shares the best way to prepare pork tenderloin – first searing it on all sides in a hot skillet to hold in the juices, then finishing it off in the oven until it has reached the perfect internal temperature.
If you don't own one already, we also recommend that you invest in a probe thermometer.  This handy kitchen tool allows you to monitor the internal temperature of many kinds of meats while they cook in the oven.  The probe of the thermometer is inserted into the meat and attaches to an alarm so that you know exactly when to take the meat out when it reaches the perfect temperature for your preferred level of doneness.
Print
Pork Tenderloin with Pomegranate Pan Sauce
Prep Time:

6 hours 15 mins

Cook Time:

20 mins

Total Time:

6 hours 35 minutes

Yield:

4-6 servings
---
Ingredients
1 ¼

pound pork tenderloin

3 tablespoon

s extra virgin olive oil (used for searing the pork)
To marinate the pork
¼ cup

pomegranate juice (we used POM Wonderful)

2 tablespoon

s lemon juice

¼ cup

orange juice

1 tablespoon

Dijon mustard

1 tablespoon

Worcestershire sauce

2 tablespoon

s soy sauce

1 tablespoon

Hoisin sauce

¼ cup

Agave nectar (honey may be substituted)

½ teaspoon

ground ginger

¼ teaspoon

anise seed

3

cloves garlic finely minced

2 teaspoon

s salt

½ teaspoon

pepper
To prepare the pan sauce:
½ cup

vermouth

½ cup

dried cranberries

½ cup

pomegranate juice (we used POM Wonderful)

1

peeled diced apple

1/3 cup

Agave nectar (honey may be substituted)

½ cup

reserved marinade

3 tablespoon

s butter
---
Instructions
Trim silver skin from pork tenderloin.
Mix pomegranate juice, lemon juice, orange juice, mustard, Worcestershire sauce, soy sauce, Hoisin sauce, Agave nectar, ginger, anise seed, garlic, salt and pepper and pour into a gallon zip lock bag. Marinate for 6 hours or overnight.
Preheat oven to 325 degrees.
Remove pork from the marinade and pat dry. Reserve ½ cup of the marinade and discard the rest.
Heat a large oven proof skillet to high and add olive oil. Let oil heat to hot and place pork into hot oil.
Cook the pork for approximately 3 minutes on each side. Try not to move it as it sears on each side. Once you flip it to the last side, place a probe thermometer into the thickest end and place the pan in the oven. When you attached the other end of your thermometer to the device, set the temperature to alarm at 143 degrees. Depending on the size and thickness of the tenderloin, this could take between 15 and 25 minutes.
Once the temperature reaches 143 degrees, remove from the oven and place pork on a plate to rest 5-10 minutes before slicing (leave the probe in while the meat rests).
Note: The pork will continue to cook after it's taken out of the oven so ideally, you want to remove it from the oven before it is fully cooked so that it doesn't become overdone as the pork rests before cutting. You always want cooked meats to "rest" for 5-10 minutes after cooking so that the juices have a chance to redistribute throughout the meat. If you cut the meat right away, all of the juices will flow out and the meat will be dry and tough when you eat it.
While the meat is resting, place a pot holder over the pan handle to remind yourself that the pan just came out of the oven and is hot. Heat pan over medium heat and add vermouth and cranberries. Scrape up any brown bits from the bottom of the pan.
Once most of the vermouth has evaporated, add pomegranate juice, diced apple, Agave nectar and the ½ cup of reserved marinade.
Cook until liquid is reduced by half and add in the butter. Stir and cook until thick and serve over pork.
---
Disclosure: This post contains affiliate links.
You may also like: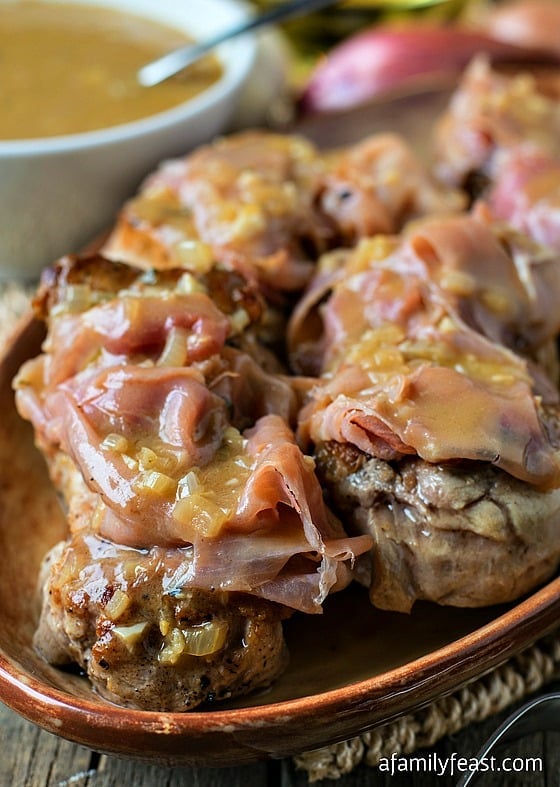 Herb Crusted Grilled Pork Tenderloin with Crispy Shallots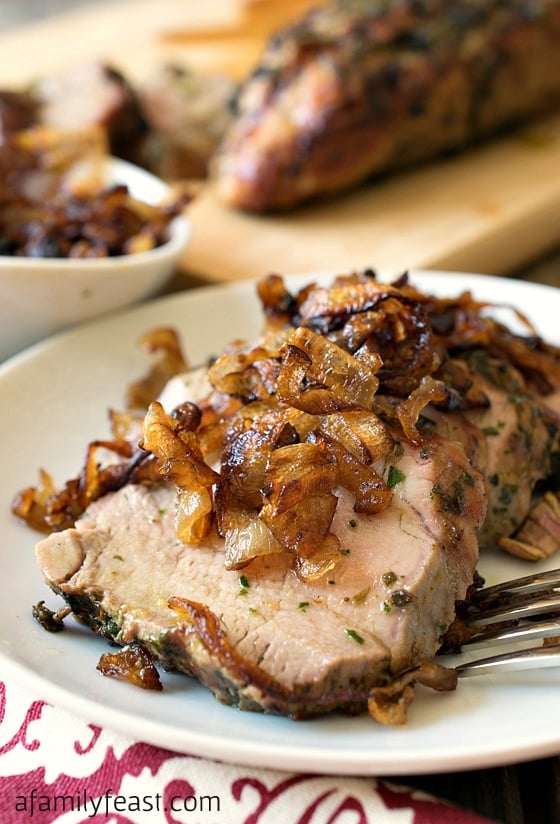 Pork Tenderloin Tips with Apricot Sauce