Here on A Family Feast, my husband Jack often shares some 'behind-the-scenes' glimpses into what it was like to work in a professional food service management role.  In a large food service operation – where serving numerous guests efficiently is an absolute must – there are many dishes that get prepared ahead of time, and in such a way as to make the final serving step very quick to do.
One strategy is to set up 'sauté stations' – with different ingredients and sauces prepped and set up close by for a chef to make a quick-cooked, made-to-order meal one at a time.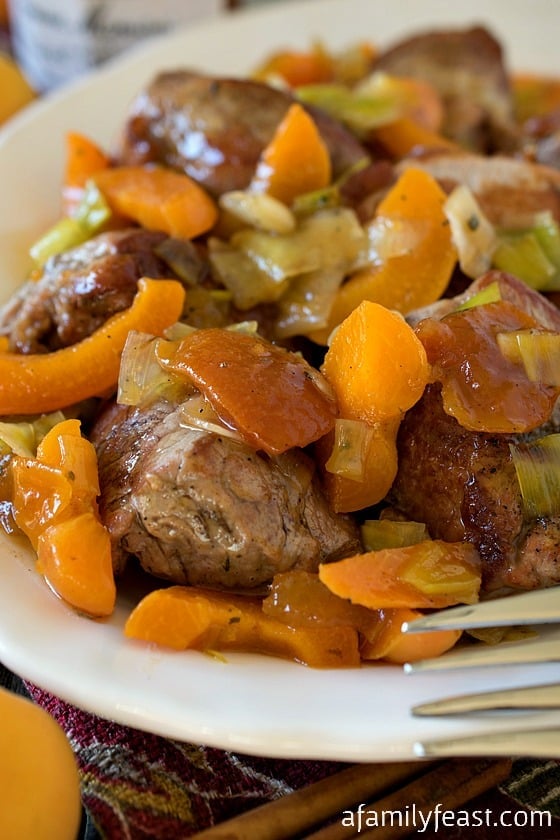 Today's recipe for Pork Tenderloin Tips with Apricot Sauce is one that Jack's staff often served at a sauté station at one of the locations he managed. The apricot sauce was made in advance and kept chilled until ready to use.
Once a customer requested the dish, the chef would heat a sauté pan and cook a single portion of pork tenderloin tips (back then they were cut into smaller pieces so they would cook quickly). Next, the pork tips were topped with the apricot sauce and the pan was heated until the sauce was hot. To serve, the pork tenderloin tips (which were now nicely smothered in that delicious apricot sauce) were poured over rice – and in fewer than three minutes, they were able to serve one guest.  Jack's chef could have several sauté pans and burners going at once – so the line moved very quickly!
For our version of this recipe today, we decided to make the pork tenderloin tips larger (generous five-ounce pieces) which were seared and finished in the oven. (This keeps the delicious pork tenderloins extra tender and juicy!) The luscious apricot sauce – made with apricot jam, fresh apricots, leeks, brown sugar and other seasonings – is made ahead and simply reheated once the pork is done cooking in the oven in about 15 minutes.
This quick and fantastic restaurant-quality meal is a great option for a weeknight dinner – but also a great option for a special dinner party!
Print
Pork Tenderloin Tips with Apricot Sauce
Prep Time:

15 mins

Cook Time:

15 mins

Total Time:

30 minutes

Yield:

6-8 servings
---
To Prepare the Apricot Sauce
1 tablespoon

extra virgin olive oil

1

large leek – top removed and cleaned of all sand, sliced into thick half circle pieces (you could just as easily use scallions or onions if leeks are not available)

1 teaspoon

Herbes De Provence

1 teaspoon

dry mustard

½ teaspoon

pepper
Juice from

one

fresh lime, about

2 tablespoons

4

fresh apricots cut in half, pits removed and each half sliced into five slices (they do not need to be totally ripe)

1

cinnamon stick

3 tablespoons

brown sugar

½ cup

good-quality apricot jam (we love Bonne Maman brand)

¼ cup

water
To Prepare the Pork
2

–

3

pounds pork tenderloin, cut into

4

–

5

ounce pieces

1 teaspoon

kosher salt

½ teaspoon

freshly ground black pepper

2 tablespoons

extra virgin olive oil
---
Instructions
In a medium sauté pan over medium high heat, heat oil and add leeks, Herbes De Provence, dry mustard and pepper and sauté for two minutes. Add the lime juice and cook until all liquid has evaporated.
Lower heat to medium and add apricots and cinnamon stick and sauté for one to two minutes or until apricots are almost tender.
Add brown sugar, apricot jam and water and simmer on medium until a nice sauce forms and the apricots are tender but not falling apart. (Firm but tender). Remove from heat and set aside.
Preheat oven to 425 degrees.
Remove any excess fat and silver skin from pork and cut into 4-5 ounce pieces. Then coat all sides with the salt and pepper.
In a large oven proof sauté pan (cast iron works well), heat olive oil to smoking hot over medium high to high heat.
Place pork pieces in making sure they don't touch and sear on all sides (5-10 minutes total).
Place pan in preheated oven and cook for 10-15 minutes or until done. We left ours in for 12 minutes for medium rare. If you like pork cooked further, leave in until your desired doneness.
Once out of the oven, transfer to a platter and loosely cover with foil and let rest for 10 minutes.
Take any pan juices accumulated in the sauté pan and add to the sauce. Slowly heat the sauce to serving temperature, being careful not to overheat.
Either serve pork tips whole or sliced to your guests topped with the pan sauce.
---
You may also like:
Pork Tenderloin with Pomegranate Pan Sauce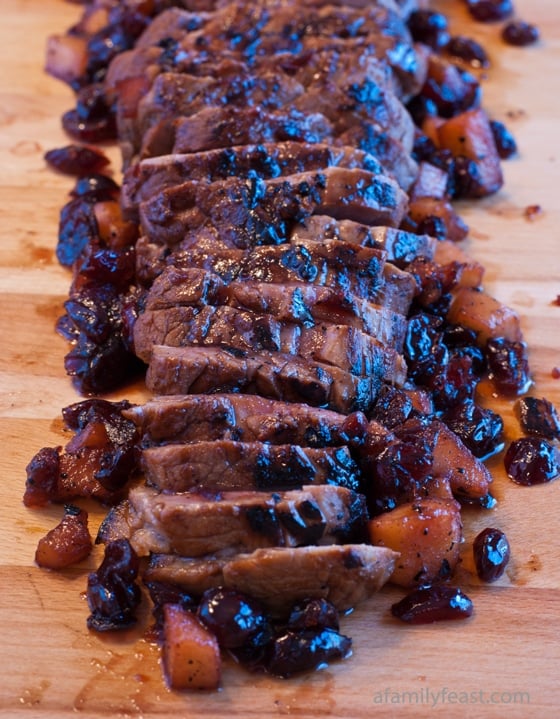 Herb Crusted Grilled Pork Tenderloin with Crispy Shallots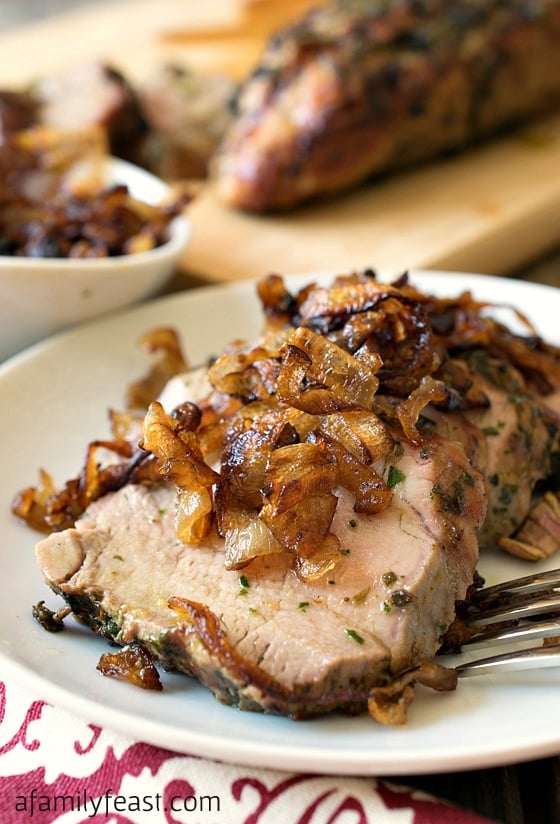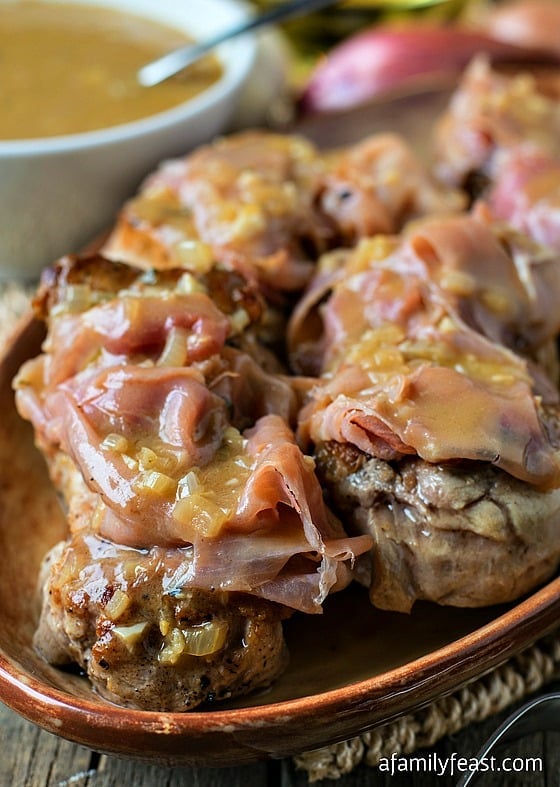 Sweet and Sour Glazed Pork Tenderloin