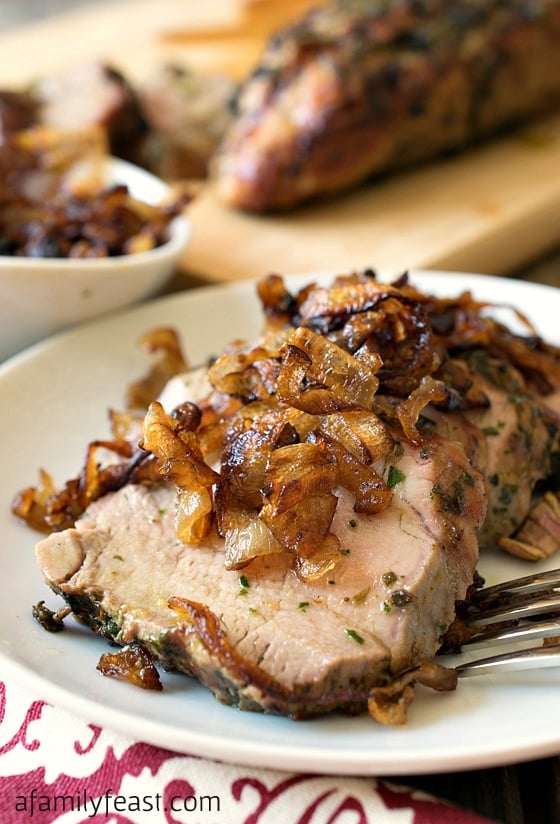 Anytime we see pork tenderloin on sale at the supermarket – we jump!  It's one of our favorite alternatives to eating chicken (you know…the other white meat) so we always stock up whenever we can get it at a great price.
Today's recipe for Herb Crusted Grilled Pork Tenderloin with Crispy Shallots is simple and delicious.  First, we started off by placing sliced shallots in a skillet with extra virgin olive oil and butter, and cooked them until golden and caramelized. (If you have a side burner on your grill – definitely use that!)
While the shallots cooked, we rubbed the pork tenderloin with a wonderful paste of olive oil and fresh, chopped herbs including oregano, sage, parsley, garlic and a bit of red pepper flakes – all flavors that are really fantastic with pork.  Then we seared the herb crusted pork tenderloin over a hot grill to begin the cooking process – then moved the pork to a cooler side of the grill to finish cooking.
Any time you are cooking a pork tenderloin – using any method of cooking – the key thing is to avoid overcooking!  Pork of any kind only needs to be cooked to an internal temperature between 120 and 145 degrees to be safe to eat – and that happens fairly quickly with a tenderloin, especially on the grill!  Just remember that the pork will continue to cook after you take it off the grill and while you allow it to rest before slicing into it.
Serve your herb crusted grilled pork tenderloin sliced on an angle for an impressive presentation, then top with those wonderful crispy shallots!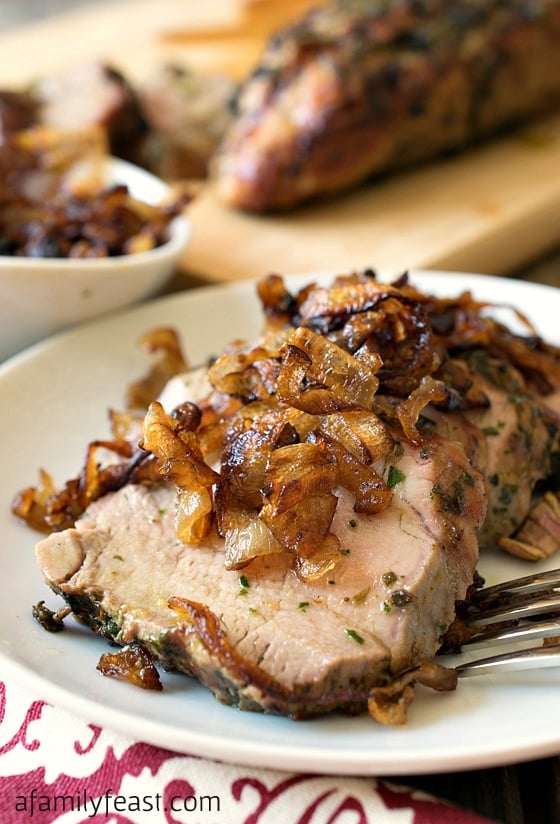 Print
Herb Crusted Grilled Pork Tenderloin with Crispy Shallots
Prep Time:

15 mins

Cook Time:

35 mins

Total Time:

50 minutes

Yield:

4-6 servings
---
Description
Note: For grilling, try to purchase the largest pork tenderloin you can find. The really small ones hardly have enough time to get a nice char on them before they are over cooked. The one we cooked was almost three pounds and was the perfect size for grilling – but something over two pounds will also work.
---
2 cups

shallots sliced ½-inch thick

2 tablespoons

extra virgin olive oil

1 tablespoon

butter

2

–

3

pound pork tenderloin

1/3 cup

fresh oregano

1/3 cup

fresh sage

1/3 cup

fresh Italian flat-leaf parsley

4

large cloves garlic

½ teaspoon

red pepper flakes

1 teaspoon

salt

½ teaspoon

black pepper

1/3 cup

extra virgin olive oil
---
Instructions
In a medium non-stick sauté pan, place shallots, oil and butter and cook over medium low for 35-40 minutes stirring occasionally until browned and crispy. Drain on paper towels.
While shallots are cooking, heat grill to high.
In a small food processor (see here) place oregano, sage, parsley, garlic, pepper flakes, salt, pepper and oil and mix until a paste forms.
Trim the tenderloin of the silver skin by running a sharp small knife under the skin and pulling up to remove. Place tenderloin on a platter and smear the herb mixture all over.
Place the herbed tenderloin on hottest part of grill and turn one quarter turn every two or three minutes. Once seared, move pork to a higher rack or to a cooler portion of the grill to continue cooking. The internal temperature should be 120 for a nice pink doneness. It will cook further once removed from the heat. If you follow the recommendations on the internet, the recommended temperature is 145 degrees. (Our personal preference is to have it a little pink inside but your choice.)
Once at the desired temperature, remove the pork to a platter, cover loosely with foil and let rest ten minutes before slicing.
Slice on an angle and serve topped with crispy shallots.
---
Disclosure: This post contains affiliate links.
You may also like:
Sweet and Sour Glazed Pork TenderloinTenderloin
Pork Tenderloin with Pomegranate Pan Sauce