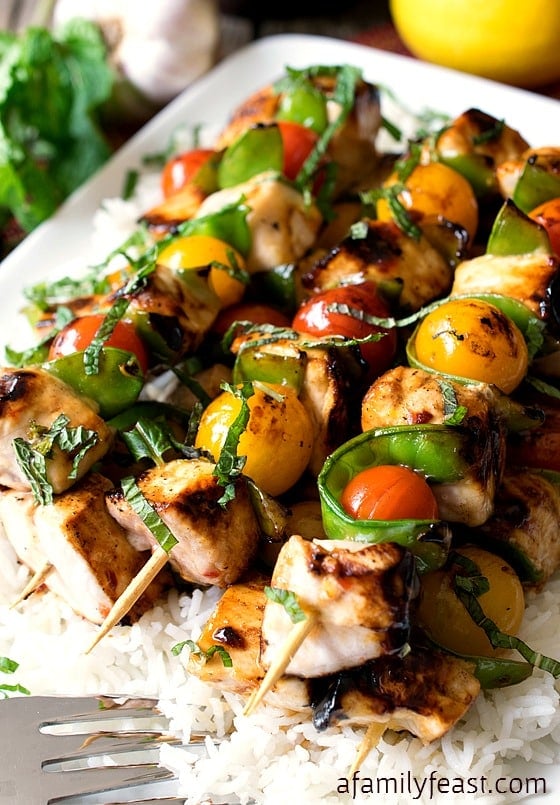 Today's delicious recipe for Lemon-Glazed Swordfish Skewers Over Rice is an adaptation of one of the recipes that we prepared a few weeks ago when we attended a cooking class at the Viking Cooking School!
Last week, we shared some details of our food tour of Atlantic City, and as part of that trip, my husband Jack and I decided to sign up for a class at the Viking Cooking School.  The school was located inside Harrah's Resort where we stayed.  While this class wasn't part of our original itinerary, we had most of the day free before our flight home to Boston so we decided to spend that time – where else – but cooking in the kitchen!  We had such a great time…
We signed up for a class with a Summer Cocktail Party menu, and the class was held in a very well-equipped professional teaching kitchen.
Our instructor was Chef Richard Younger, and we were paired up with a super sweet couple, Mitch and Joanne, who were also visiting Atlantic City for the weekend.  Chef Younger started things off on a fun note with a delicious Watermelon Frozen Margarita (which, by the way, inspired this recipe).
This was a very hands-on class (just the way we like it!) and each team of students prepared every recipe on the menu – which we then got to enjoy for lunch!
Our menu included a delicious avocado salsa that was served over shrimp, a wonderful zesty and sweet plum sauce that was served with pork tenderloin, lemon-glazed tuna kebobs, and a delicious fresh peach pie – all really fantastic!
The tuna kebob recipe from our class at the Viking Cooking School inspired this recipe Lemon-Glazed Swordfish Skewers over Rice (with our own special touches added to the recipe of course!).  This lemony, slightly sweet and slightly zesty marinade works great with tuna (like we had in our cooking class) or swordfish (used here) as well as any other firm fish that you can skewer before cooking!
The fish was skewered along with some cherry tomatoes (we used a mix of red and yellow for color) and snow peas – then marinated before grilling.  A final sprinkle of fresh mint leaves finishes this light, delicious and super flavorful dish!
We served our lemon-glazed swordfish skewers over rice, but this recipe would also be equally delicious served with a salad.  Enjoy!
Print
Lemon-Glazed Swordfish Skewers Over Rice
Prep Time:

30 mins

Cook Time:

15 mins

Total Time:

45 minutes

Yield:

6 skewers (serves 3-6)
---
Description
Any firm fish can be used in this recipe such as fresh tuna, mahi mahi, marlin, or swordfish, etc. If you use fresh tuna and like your tuna rare like we do, reduce the cooking time to just sear the tuna. You may need to make the pieces a bit larger so the tuna does not cook through before the vegetables.
---
6

eight-inch wooden skewers

½ cup

freshly squeezed lemon juice

1 tablespoon

lemon zest

1 teaspoon

chili paste

2 teaspoons

fish sauce (optional)

½ cup

granulated sugar

½ teaspoon

sea salt (Kosher if sea salt is not available)

1

pound fresh swordfish or other firm fish

18

snow peas

18

grape or cherry tomatoes (yellow or red or both)

2 tablespoon

extra-virgin olive oil

¼ teaspoon

additional sea salt
Few grinds of fresh black pepper

2 teaspoons

each of corn starch and water to make a slurry

8

mint leaves
---
Instructions
Soak skewers submerged in water for 30 minutes. Use a dish or bowl to hold them under water.
In a medium bowl, mix lemon juice, zest, chili paste, fish sauce, sugar and salt.
Remove skin and any dark meat from the swordfish. Cut remaining fish into 24 even cubes.
Place swordfish in lemon mixture and marinate for 30 minutes.
(Start cooking your rice now if you plan to serve it with this dish.)
Place a small pan of water on to boil and prepare an ice bath. When the water boils, place snow peas in and blanch for 30 seconds. Remove to ice bath then drain and pat dry. Set aside.
After the fish marinates for 30 minutes begin assembling the skewers but do not discard marinade.
Place a fish piece on skewer and slide to the end. Then wrap a snow pea around a tomato and slide onto skewer. Repeat until you have three pieces of fish and three wrapped tomatoes then finish with a forth piece of fish. Repeat for all six skewers.
Place skewers in a dish and coat with olive oil, salt and pepper.
Heat a ribbed grill pan to medium hot.
While pan is heating, place marinade in small sauce pan and heat. Mix corn starch and water to make slurry and add a little at a time to hot marinade until a creamy glaze is formed. Set aside.
When grill is hot, spray with pan spray then place skewers on grill. Turn a quarter turn every minute or so until the fish is cooked to desired doneness, no more than five or six minutes total, less if cooking rare tuna.
Turn grill off but leave skewers in place and brush on glaze, turning and brushing until all sides are covered.
Pile mint leaves on top of each other and cut into strips.
Serve fish skewers topped with mint strips over cooked rice.
---
Disclosure: While our trip to Atlantic City and our stay at Harrah's Resort was sponsored (you can read more about that here), this cooking class at the Viking Cooking School was not part of our sponsored trip.
You may also like:
Watermelon and Pink Grapefruit Frozen Margaritas