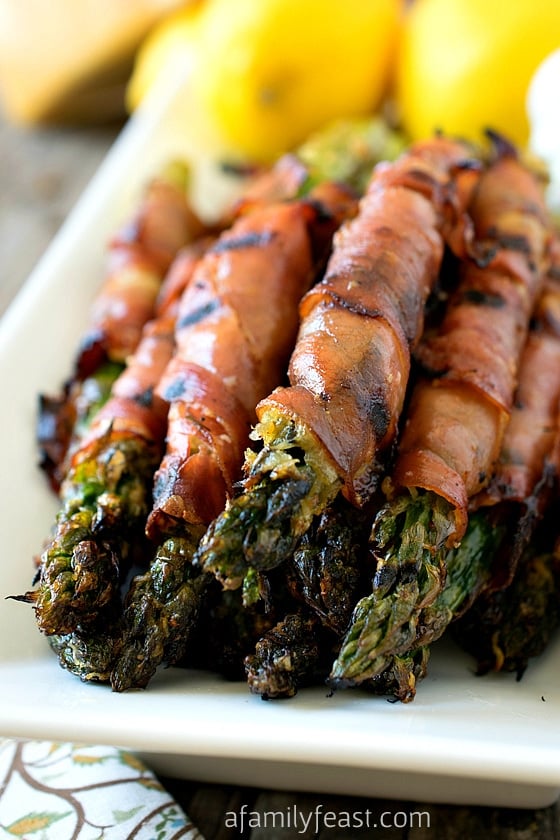 Today's Parmesan-Coated Asparagus Wrapped in Prosciutto is NOT your typical recipe for this popular, classic appetizer!
Oh no.  Our version takes things up a several notches in flavor because we've marinated the asparagus in a mixture of fresh lemon and garlic before rolling the stalks in freshly grated Parmesan cheese – all before wrapping the asparagus in wonderful, salty prosciutto!  Finally, we grilled the Parmesan-coated asparagus wrapped in prosciutto – which adds even more fantastic flavor!
Anytime we make this delicious (and easy!) recipe, it's one of the first to get eaten and our guests always ask for the recipe – because they can tell we've done something a little different than the same ol' way to prepare this appetizer!  (I myself, would be perfectly content eating an entire plateful of these delicious asparagus stalks myself – forget the other food!)
This recipe – with all of its wonderful salty, zesty flavors – makes a great appetizer for a summer party, but it's also easy enough that you can serve it any day of the week!  To get the full flavor of all the ingredients, the asparagus should marinate for one to six hours before being coated in the Parmesan cheese and wrapped in the prosciutto.
Print
Parmesan-Coated Asparagus Wrapped in Prosciutto
Prep Time:

1 hour

Cook Time:

10 mins

Total Time:

1 hour 10 minutes

Yield:

Approximately 24 stalks
---
One large bunch of thick asparagus (try to avoid bunches with very slender stalks)

½ cup

extra virgin olive oil
Zest of

one

lemon

3

large garlic cloves

¼ cup

fresh oregano

1 cup

freshly grated Parmesan cheese

24

slices good quality prosciutto, sliced thin but not see-through thin
---
Instructions
Snap off a few inches of the bottom, woody ends of the stalks and place the asparagus in a gallon zipper seal bag.
In a small food processor (like this one here), blend oil, lemon zest, garlic and oregano until an oily paste forms. Pour this mixture in the bag with the asparagus and seal. Marinate for one to six hours at room temperature. Turn bag a few times so all of the asparagus get coated.
Heat grill to medium
In a pie plate or dinner plate, pour out Parmesan cheese. Pick one asparagus at a time out of the marinade and roll in the cheese, pressing the cheese to stick. Then roll in a slice of prosciutto. Roll on a slight angle so the single slice wraps from one end to the other with the end and tip poking out. Repeat for all of the asparagus.
Place on grill seam side down and grill 5-10 minutes turning slightly every few minutes until golden brown and cooked (but still a bit crisp so try not to overcook).
Serve immediately.
---
Disclosure: This post contains affiliate links.
You may also like:
Pasta, Chicken and Asparagus in Garlic Tomato Sauce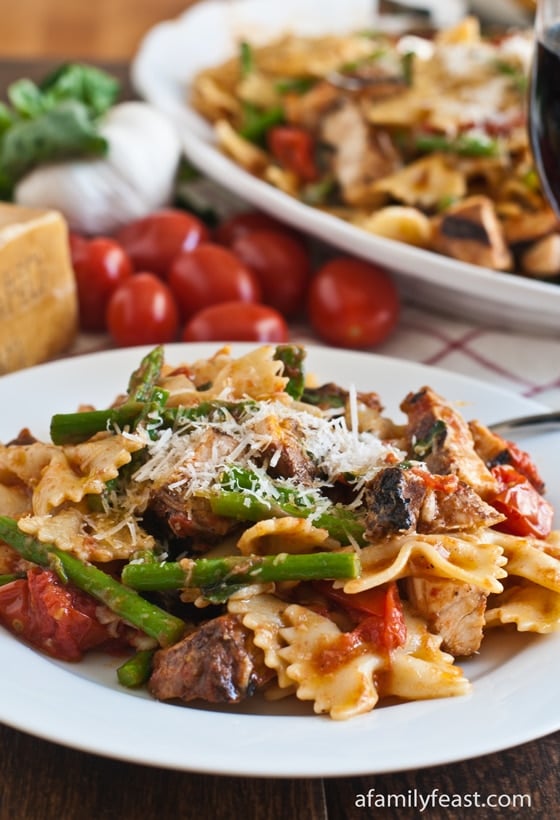 Prosciutto and Cheese Biscuits