My husband Jack has been experimenting with making breakfast biscuits over the last few weeks, and these Prosciutto and Cheese Biscuits are our newest family favorite!  This is actually another one of what we call an "A.I." recipe – where Jack takes some "available ingredients" from the refrigerator and creates a terrific new meal!
After making our yummy Chicken Bellagio recipe earlier this week, we had some leftover prosciutto and basil, as well as some buttermilk leftover from making our terrific Honey Dijon Ranch Dressing – and Jack's creative juices started flowing.  These prosciutto and cheese biscuits are a wonderful burst of savory flavors in your mouth!
The prosciutto adds a great salty flavor to these biscuits (thinly sliced ham will work as well – it just won't be as flavorful), complementing the sharp cheddar cheese and basil flavors so nicely.  A small amount of potato is also added to these biscuits making them hearty and moist without being too dense and heavy.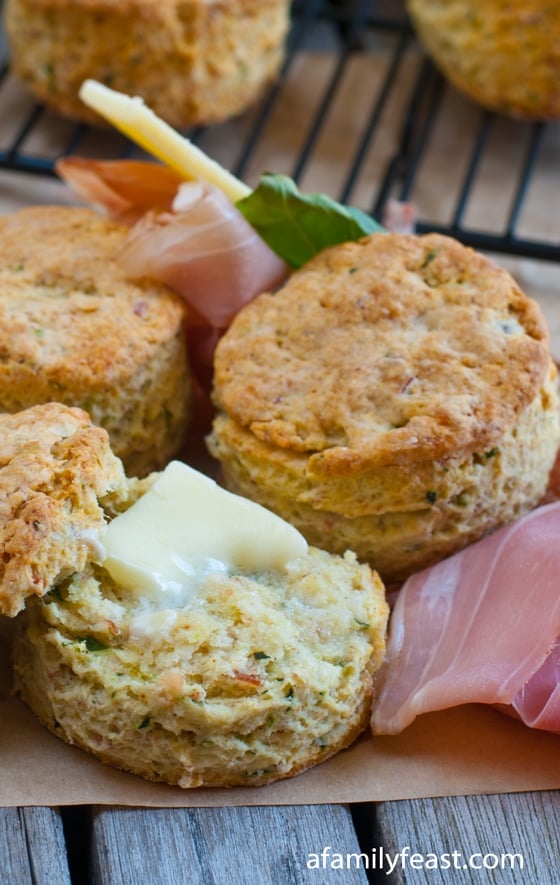 These prosciutto and cheese biscuits are amazing right out of the oven with some butter, and they are delicious with a salad or soup for a light lunch or dinner.  And – as another serving idea – we're planning to make a new batch of these delicious biscuits this weekend so we can make some egg and cheese breakfast sandwiches (just use a larger round biscuit cutter)!  I'm so excited to make these again – and I'm sure you and your family will love this recipe as much as we do!
Print
Prosciutto and Cheese Biscuits
Prep Time:

30 mins

Cook Time:

15 mins

Total Time:

45 minutes

Yield:

12 biscuits (using a 2 1/2-inch cutter)
---
Description
Note: These are great used as breakfast sandwiches. If that is how you will use them, use a larger cutter. Your yield will be less but they should be big enough to place a cooked egg and cheese in the middle. You may need to adjust cooking time.
---
1

medium potato (about

6 ounces

)

1

stick very cold butter (

8 tablespoons

), cut into 16 pieces

1/3 cup

cold buttermilk

2 cups

all-purpose flour, plus a little for flouring the surface of your counter

2 ½ tablespoons

baking powder

1 teaspoon

baking soda

1 tablespoon

sugar
Pinch of cayenne

1 teaspoon

salt

½ teaspoon

freshly ground black pepper

¼ cup

chopped fresh basil

¼ cup

shredded sharp cheddar cheese

2 ounces

thinly sliced prosciutto
---
Instructions
Place the potato in the microwave and cook on high for five minutes. Remove skin and cool completely. It is imperative that the cooked potato is refrigerated and cooled completely before continuing this recipe. Place the chilled potato in a small bowl and mash the flesh. Add the cold buttermilk and mix very well. Hold in the refrigerator until needed.
Preheat the oven to 425 degrees.
Cut the butter, place on a plate and put in your freezer while you measure out the flour and other ingredients.
In the food processor, add flour, baking powder, baking soda, sugar, cayenne, salt and pepper. Pulse four times to blend dry ingredients.
Add the cold butter from the freezer (not frozen) one piece at a time so every piece is covered in flour. Pulse six times until the butter is the size of small peas.
Add potato-buttermilk mixture in dollops around flour mixture. Add basil, cheddar and ham and pulse just until a soft dough forms. (Pulse for about 10, two second pulses.)
Pour out onto a floured surface and gently pat down and fold in half three times. Then roll to one inch thick and with a 2 ½ inch cutter, cut straight down and pull straight up. Repeat until there is no room to make a full round shape. Pull up dough scraps and roll back out for a second cutting. The remaining scraps should be discarded. One recipe should yield a dozen small biscuits.
Place biscuits on parchment lined sheet pan well separated and bake 16 – 18 minutes turning the pan once halfway through. (They must not be placed too close together. Because they are dense, they need heat around all sides to rise properly) When done, biscuits should be puffed and slightly browned on top. Cool on a wire rack for 10 minutes and serve with butter.
---
You may also like: