These Sweet Buttermilk Biscuits are soft and tender, flaky, light and buttery with the perfect hint of sweetness on top! This is sure to become your new go-to biscuit recipe!
Buttermilk biscuit recipes are often passed down from generation to generation – and this recipe for Sweet Buttermilk Biscuits is our family's go-to recipe.
This is a fairly basic biscuit recipe, and (in our opinion) simple is best when it comes to buttermilk biscuits, especially when the results are light and flaky as ours! Look at those layers of buttery, tender biscuit!
As you can tell from the name, our Sweet Buttermilk Biscuits recipe has a touch of sweetness in both the biscuit dough, as well as a sprinkle of sugar on top. We think the sweet in these biscuits really complements savory dishes quite nicely.
These Sweet Buttermilk Biscuits can also be used for desserts such as strawberry shortcake. Just adjust the sugar in the recipe by a tablespoon or two depending on how sweet you like your dessert biscuits.
How do I make Sweet Buttermilk Biscuits?
Our Sweet Buttermilk Biscuits start with unsalted butter that has been cut into small pieces, then chilled in the freezer. Using super cold butter in any pastry like these biscuits ensures that you'll get those distinctive flaky layers that are so fun to pull apart as you eat them.
Next, the chilled butter will be cut into a mix of all-purpose flour, granulated sugar, both baking soda and baking powder (make sure they are fresh!), and some salt. A pastry cutter, two knives or a fork should be used to mix the butter into the dry flour mixture to prevent the butter from softening from the heat of your fingers and hands.
Finally, add enough buttermilk to the butter-flour mixture to create a sticky dough. Pour the dough onto a floured countertop or pastry board, then quickly shape the biscuits into a rectangle with your hands. Fold the dough in half, then in half again five more times (this creates the flaky layers in the dough).  After the final fold, pat the dough down into a 1-inch thick piece, then use a 2 1/2-inch biscuit cutter to cut the dough into round biscuits.
Place your Sweet Buttermilk Biscuits on a parchment-lined cookie sheet – then bake in a hot oven until lightly golden brown. (A hot oven is important, too, to ensuring flaky biscuits. The high heat from a hot oven hitting the super cold butter creates steam as the dough bakes, and that steam creates those wonderful biscuit layers.)
Once out of the oven, remove to a cooling rack. My husband Jack likes to brush the tops of the biscuits with melted butter, then add a sprinkle of sugar on top for an additional touch of sweetness. (Any coarse  sparkling sugar works great.) This step is optional.
How do I store Sweet Buttermilk Biscuits?
This Sweet Buttermilk Biscuits recipe makes six to eight biscuits – which is the perfect amount to serve at a meal with several guests.  Any leftovers can be stored in an airtight container – up to two days at room temperature, or up to a week in the refrigerator. Alternately, you can freeze leftover biscuits (make sure they are wrapped well to avoid freezer burn) then reheat as needed.
This Sweet Buttermilk Biscuits originally appeared on A Family Feast in March 2013. While the recipe has remained the same, we've updated the photos and post.  Scroll below to read other readers' rave reviews!
You may enjoy these other biscuit recipes:
Print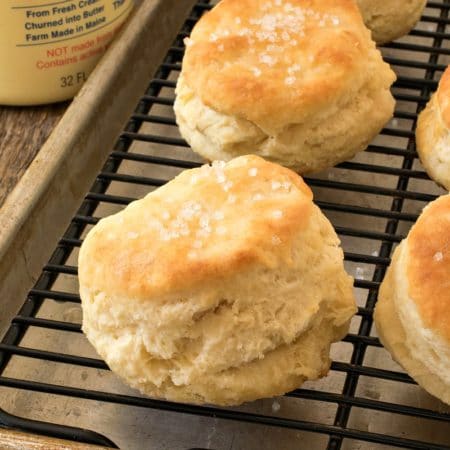 Sweet Buttermilk Biscuits
Prep Time:

15 mins

Cook Time:

15 mins

Total Time:

30 minutes

Yield:

6-8 biscuits

Category:

bread

Method:

baked

Cuisine:

American
---
6 tablespoons unsalted butter
2 cups all purpose flour
1 tablespoon sugar
¼ teaspoon baking soda
1 tablespoon baking powder
1 teaspoon salt
1 cup buttermilk
Optional: melted butter and coarse sparkling sugar
---
Instructions
Preheat oven to 450 degrees.
Cut butter into small pieces. Spread the butter pieces on a dinner plate and place in the freezer while you measure out and mix the dry ingredients. The butter should be cold but not frozen.
In a large bowl, sift together flour, sugar, baking soda, baking powder and salt.
Note: It is very important that you work quickly through these next steps so the butter does not warm up and soften too much.
With a pastry cutter or two knives, cut the cold butter into the flour mixture until it resembles small crumbs (the size of a pea).
Make a hole in the middle of the flour and add buttermilk. Gently stir until the dough is mixed together but still tacky. If it's too dry, add more buttermilk.
Pour the mixed dough out onto a floured surface and pat gently into a rectangle.
Fold the dough onto itself six times then pat down to 1 inch thick.
With a 2 ½ inch round biscuit cutter, push down to cut the dough and pull up without twisting the cutter and the dough. Any leftover scraps can be combined and cut again – but just once; reusing any scraps after that will make the biscuits tough.
Arrange the biscuits on a parchment-lined cookie sheet almost touching each other and bake for 12-15 minutes until browned.
Optional: After they are baked, you can also brush the tops with melted butter and sprinkle more sugar on top if you wish for added sweetness.
Keywords: sweet buttermilk biscuits