Whenever we eat out at The Cheesecake Factory, more often than not, I order the Chicken Bellagio.  I love pesto (as I confessed yesterday) and the Chicken Bellagio is a delicious pesto pasta dish!  This recipe is Jack's make-at-home version, and – dare I say – it's even better than the dish they make at the restaurant!
Our Chicken Bellagio recipe is loosely adapted from the official recipe that the folks at The Cheesecake Factory are nice enough to share on their website here.
Rather than breading and frying a whole boneless chicken breast like they do at the restaurant, our version includes bite-sized, boneless chicken pieces that are marinated, and then sautéed with prosciutto and pine nuts helping to infuse some wonderful flavors into the chicken.  Then the chicken-prosciutto-pine nut mixture is added to a creamy pesto-parmesan cheese sauce that is tossed with linguini.  The dish is topped with some fresh arugula, giving it a great bright, fresh flavor that complements the creaminess of the sauce.
The result is a creamier version of the original – the chicken is so moist and tender and the flavors of the pesto, cheese and prosciutto just dance in your mouth!   This is pure chicken and pasta comfort food – and you don't have to leave home to enjoy this fabulous restaurant-quality dinner!
Print
Chicken Bellagio
Prep Time:

45 mins

Cook Time:

15 mins

Total Time:

1 hour

Yield:

6-8 servings
---
½

to

¾

cup of pesto, divided (see our homemade pesto recipe here) or use your favorite jarred pesto

1

pound boneless, skinless chicken breasts

2

egg whites

2 tablespoons

lemon juice

1 teaspoon

dry oregano

1 cup

of flour

½ teaspoon

salt

¼ teaspoon

freshly ground black pepper

2

–

3

tablespoon butter

2

–

3

tablespoon extra virgin olive oil

1

package linguini pasta

¼ cup

finely minced shallots

2

cloves garlic, minced

10

shaved slices Prosciutto, cut into

one

inch pieces

1 tablespoon

finely chopped fresh flat leaf parsley

1/3 cup

pine nuts

2 cups

heavy cream

1/2 cup

grated Parmesan Reggiano, divided

1 cup

arugula
---
Instructions
Prepare pesto according to this recipe.
Cut chicken into 1" wide by 2" long strips.
Mix egg whites, lemon juice, oregano and 2 tablespoons of pesto and stir to combine. Place in a quart zipper seal bag along with chicken strips and marinate for 30 minutes.
Toast the pine nuts in a small frying pan over medium heat for about five minutes until lightly browned. Do not overcook.
Mix the flour salt and pepper. Dip the marinated chicken strips in the flour and coat on both sides.
In a 14" sauté pan, heat 2 tablespoons of butter and 2 tablespoons of oil over medium high heat until hot and frothy. Add chicken strips in single layer and cook on both sides for 2-3 minutes, or just until cooked through. Cook in two to three batches using an additional tablespoon of butter and oil if needed. Remove to platter and hold.
Cook pasta according to package instructions.
In the same pan over medium heat, sauté the shallots until translucent; about 1-2 minutes. Add garlic and cook for 30 seconds. Add chopped Prosciutto, parsley and toasted pine nuts and cook for one more minute.
Add cream and 3 tablespoons of the pesto. Add salt and pepper only if needed and stir to combine. Stir in 1/3 cup of the Parmesan cheese until melted into the sauce. Save the rest for serving.
Add the cooked chicken into the sauce and gently mix to combine.
To serve, mix two to three tablespoons of the pesto with the cooked Linguini and place on a serving platter. Top with the chicken and cream mixture. Sprinkle the remaining Parmesan cheese (more if needed) and top with the arugula. Or serve pasta, chicken and sauce directly onto serving plates and top each plate with Parmesan and arugula.
You may also like: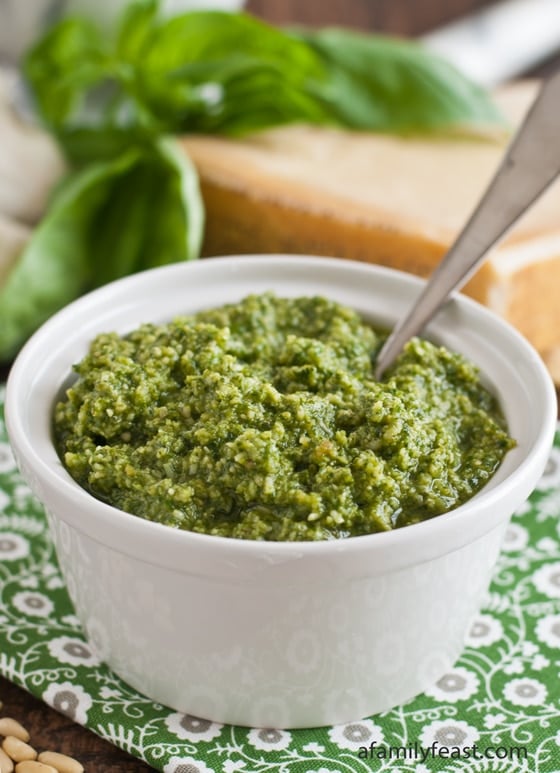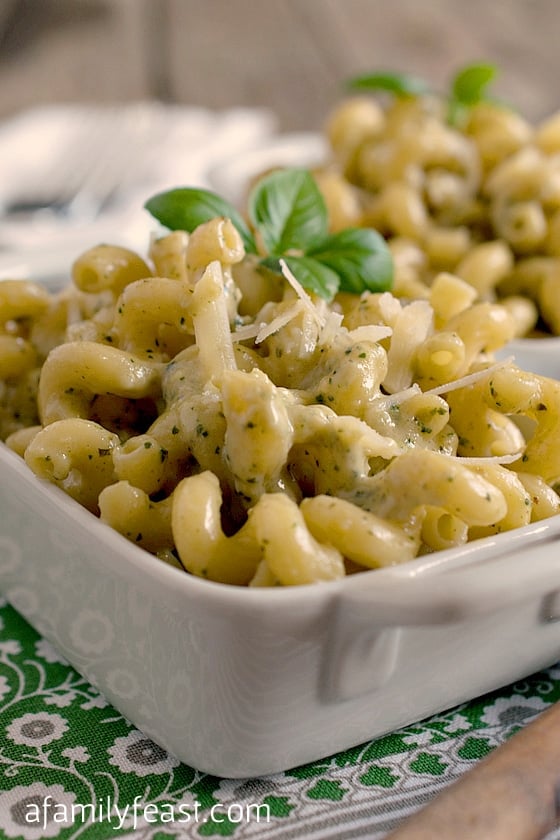 Pesto Chicken over Sautéed Cannellini Beans