This Pear and Gorgonzola Pizza with Arugula and Ranch Dressing is a unique pizza with a surprisingly delicious combination of flavors.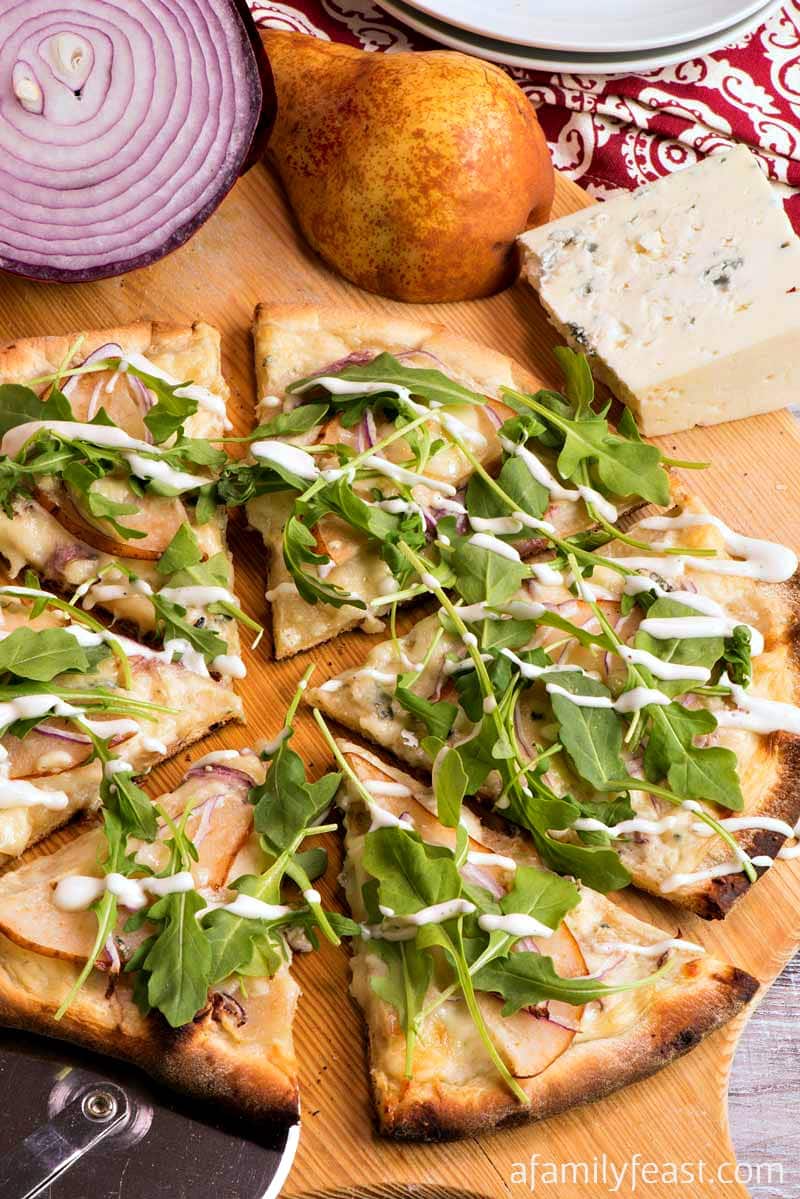 Whenever we travel, my husband Jack and I have found that the best restaurant recommendations often come from the local residents. During our recent vacation to Lake Tahoe, our group rented jet skis one morning at the marina right next to the condo where we stayed. Among other things, the conversation with the rental staff turned to discussing some of the best local restaurants we should try.
One of the women helping us with our rentals recommended Base Camp Pizza Co. – a wood-fired, gourmet pizza place in the village at the base of Heavenly Mountain, a ski resort in South Lake Tahoe.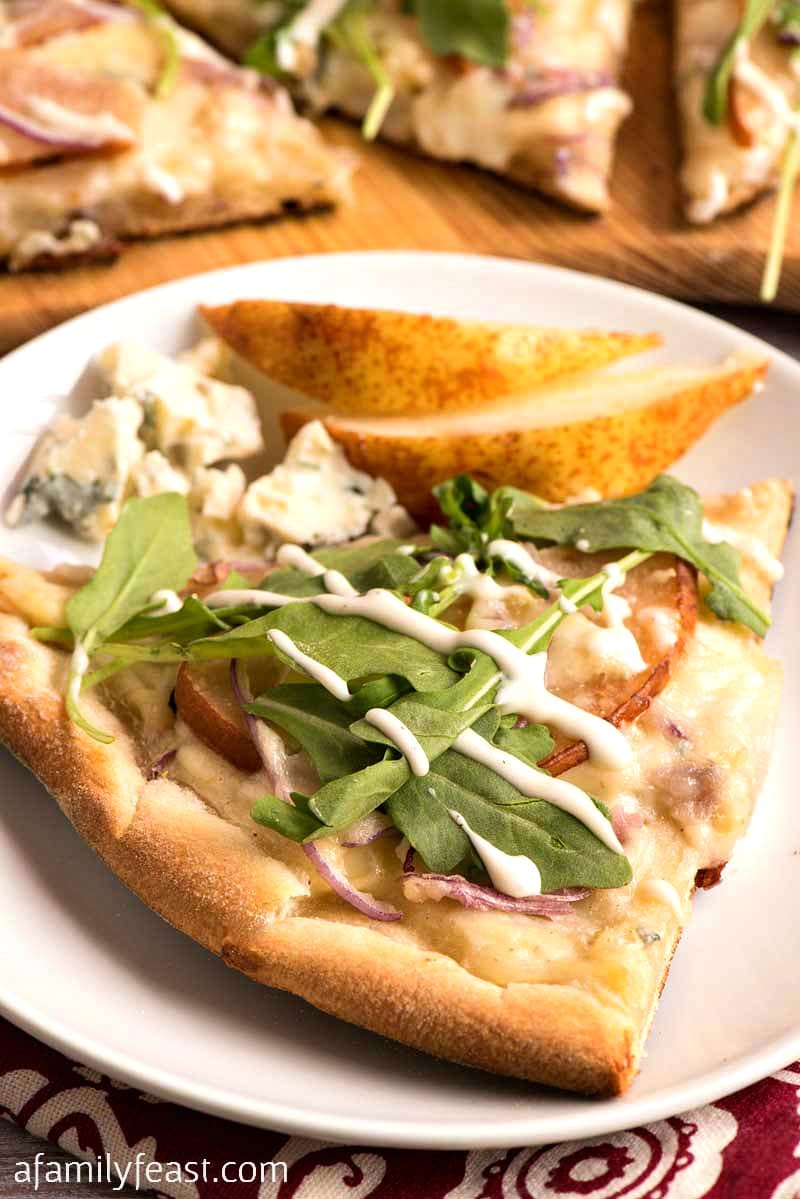 Later in the week, after a day of exploring (and no interest in cooking when we returned home to the condo) – we decided to check out the menu at Base Camp Pizza. The menu included an eclectic (but delicious!) variety of pizzas – and the one that stood out for me was their Pear and Gorgonzola Pizza.
I'm a huge fan of white pizzas – and this pizza has a white garlic cream sauce topped with slivers of Bosc pear and red onion, plus crumbles of zesty gorgonzola cheese. After it bakes, the pizza is topped with arugula and a drizzle of ranch dressing.*
*If you look at their menu online, Base Camp serves their pizza with arugula tossed with balsamic dressing. For whatever reason, our takeout pizza came with undressed arugula and a side of ranch dressing.
Either way – this pizza is delicious! The creamy garlic sauce, the sweet pears, the bite of the creamy gorgonzola, the fresh and peppery arugula, and the drizzle of creamy ranch had my taste buds dancing! It was so good – Jack wished he had ordered it too. So once we arrived back home, we decided to make a Pear and Gorgonzola Pizza with Arugula and Ranch Dressing to share with all of you today.
The instructions below are for baking this pizza in the oven, but if you'd like to try to emulate the wood fired pizza flavor of Base Camp Pizza Co. – feel free to grill your pizza instead (see how to do that here).
Print
Pear and Gorgonzola Pizza with Arugula and Ranch Dressing
Author:

Prep Time:

15 minutes

Cook Time:

15 minutes

Total Time:

30 minutes

Yield:

2 pizzas
---
1 20-ounce ball of pizza dough, room temperature (store bought or homemade)
3 tablespoons butter
1 ½ tablespoons fresh garlic, minced (about 2–3 cloves)
4 tablespoons all-purpose flour
1 cup whole milk
1 cup half and half
1 teaspoon kosher salt
¼ teaspoon white pepper
¼ teaspoon dry mustard
Few grinds fresh nutmeg
1 Bosc pear, unpeeled and cut into thin large slices (discarding core)
½ cup Gorgonzola cheese, crumbled
A few very thin slices of red onion
2 cups fresh arugula
3–4 tablespoons ranch dressing
Flour for counter
Corn meal for pizza peel
---
Instructions
Place a pizza stone in the bottom of your oven and heat the oven to as high as it will go.
In a small sauce pan, melt butter over medium heat and add garlic.
Cook for 2-3 minutes or just until the garlic starts to brown and add flour.
Stir and cook for three minutes and add milk and stir with a wire whip.
The mixture will be thick.
Add half and half and stir again to a smooth consistency.
Add salt, pepper, dry mustard and nutmeg and stir one last time. Remove from heat and set aside.
Flour your counter and cut the dough balls in half to form two balls.
Flatten each to about 12-14 inches round.
Sprinkle corn meal on the pizza peel and place one pizza dough over the corn meal.
Use a small ladle and cover the top with the cream sauce, going to about a half inch from the edge. Be generous on the sauce but save at least half for the second pizza.
Place the sliced pears around the pizza. (We put six large slices on each pizza so when cooked and sliced, each slice will have one pear slice).
Sprinkle half the thin sliced onion over the pears.
Crumble half the Gorgonzola over the pizza and slide onto the stone.
Depending on your oven, the pizza should be ready between 5-7 minutes.
Remove to a cutting board and cut into six slices then top with half the arugula and drizzle ranch dressing over the top.
Repeat for the second pizza.
---
Disclosure: This post contains affiliate links.


You may also like:
Prosciutto and Fig Pizza with Arugula