This Chicken Pasta Salad with Arugula and Feta is on regular rotation at our house all year round. It's simple to make, full of flavor, and it's perfect for just about any occasion.
It's a great choice to pack for picnics on the beach or summer cookouts. It's perfect for a special luncheon with friends. Or, mix up a bowl for dinner one night, then enjoy leftovers the next day. Even after being dressed with our homemade lemon vinaigrette, this salad holds up nicely and stays fresh because the peppery arugula doesn't get soggy.
Key ingredients and Substitutions
Lemon Vinaigrette – Make a batch of this homemade lemon vinaigrette – it's the perfect, light and lemony dressing for a fresh pasta salad.
Farfalle Pasta – This 'bow tie' pasta shape is well suited for this salad because it's sturdy and the crevices hold the flavor. If you prefer, you can use other larger, shaped pastas such as penne or cellentani.
Chicken Tenderloins – You'll poach, then shred the chicken for this pasta salad. While you can use breast meat instead, we prefer chicken tenderloins because they are super tender, and cook quickly.
Arugula – This peppery, fresh Italian green lends great flavor to this cold pasta salad. It also holds up nicely to the lemony dressing and won't get soggy.
Tomatoes – Use cherry or grape tomatoes for a pop of color and sweet juicy flavor.
Feta Cheese – Crumbled feta also adds a nice punch of tangy flavor to this salad, as well as some creamy texture. You could swap in a Mexican Cotija cheese instead for a less tangy flavored cheese.
Fresh Thyme – This fresh herb is added to the salad for extra herbaceous flavor. It also complements the lemony dressing which also has notes of thyme in the flavor profile.
Chef's Tip –

Poaching the chicken with the heat off will yield very tender chicken. Just be careful not to leave it in the hot liquid too long.
How do I make Chicken Pasta Salad with Arugula and Feta? 
Remove the tendon from tenderloins, and cut away any connecting tissue as well.
Prepare the poaching liquid by pouring chicken stock and water, black peppercorns, fresh garlic and fresh thyme in a pot. Bring to a boil.
Add the chicken to the boiling broth, cover and remove the pan from the heat. Let the chicken poach in the hot liquid for 5-8 minutes. Remove, cool quickly and shred. Do not discard the poaching liquid.
Add more water to the poaching liquid and use this to cook the pasta according to package instructions.
Drain the hot cooked pasta, then pour into large bowl and toss with half of the lemon vinaigrette. Then lay the pasta out on a sheet tray and cool for 30 minutes.
Assemble the salad by placing the cooled and dressed pasta back into the bowl. Add the poached and shredded chicken, arugula, tomatoes, fresh thyme and the remaining dressing – toss again. Add in two thirds of the crumbled feta and toss one more time.
Pour the salad into a serving bowl or platter, then top with the remaining crumbled feta cheese.
Serve the salad warm, room temperature or chilled.
 Chef's Tip –

Cooking the pasta in the poaching liquid as well as cooling it tossed with some of the dressing will allow the pasta to absorb more flavor.
Frequently asked Questions
Can I make this pasta salad ahead of time? Yes, within reason. While freshly made is always best, the arugula does not immediately get soggy when dressed like some other greens. So you can make this salad up to a day ahead. Alternately, you can cook the chicken and pasta ahead of time – then right before serving, add the arugula, tomatoes, and feta.
How do I store the leftovers? Store refrigerated in an air-tight container. Feel free to add more of the lemon vinaigrette to the leftovers before serving to freshen the flavors up a bit.
You might like these other pasta salads:
Print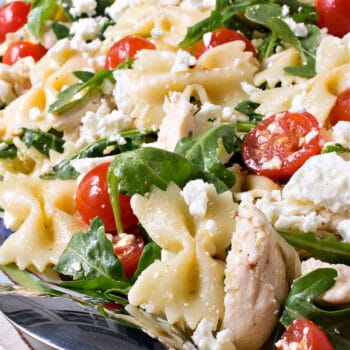 Chicken Pasta Salad with Arugula and Feta
Author:

Prep Time:

1 hour

Cook Time:

20 minutes

Total Time:

1 hour 20 minutes

Yield:

10 servings

Category:

salad

Method:

boiled, poached

Cuisine:

American
---
1 recipe Lemon Vinaigrette, divided (5 fluid ounces)
1 pound chicken tenderloins
Poaching liquid
2 cups chicken stock
2 quarts of water, divided
½ teaspoon whole black peppercorns
2 large sprigs fresh thyme
1 large garlic clove, peeled and smashed
Salad ingredients
12 ounces dry farfalle pasta, also called bow tie pasta
1 cup cherry tomatoes, each cut in half
3 cups fresh arugula packed, about 3 ounces in weight
2 teaspoons fresh thyme
1 cup feta cheese, crumbled and divided
---
Instructions
Make the Lemon Vinaigrette, see recipe here, and set aside.
Remove the tendons from the chicken tenderloins and trim any connecting tissue.
In a 4–5-quart pot, place chicken stock, one quart of the water, black peppercorns, thyme sprigs and garlic.
Bring to a boil, add all of the chicken, remove from heat and cover. The chicken will poach in the hot liquid off-heat for between 5-8 minutes depending on the size of the tenders. After five minutes, slip one out and pull apart to check the center. If still pink, continue to let the chicken sit for another minute or two. Do not leave the chicken in the hot liquid any longer than it needs to poach.
Use tongs to remove the chicken tenders to a platter and immediately refrigerate uncovered to cool down. Once cool, shred with your fingers and set aside.
Do not discard the poaching liquid. Place a fine sieve over a bowl or pitcher and pour the poaching liquid through and discard the solids.
Place the liquid back into the pot and add the second quart of water to the pot and bring to a boil. Skim off any foam that forms on top.
Add the pasta and cook just shy of done. The pasta will slowly cool down and continue to cook a little bit as it cools. Pour the pasta into a colander to drain.
Pour the drained pasta into a large bowl and add half of the vinaigrette and toss. Then using a rubber spatula, scrap onto a sheet tray and refrigerate for 30 minutes. As the pasta cools, it will absorb the dressing.
After 30 minutes, scrape the pasta back into the bowl and add the cooked chicken, tomatoes, arugula and thyme. Pour in the remaining dressing and toss.
Add 2/3 of the crumbled feta and toss again then pour into a serving bowl or platter.
Top with the remaining crumbled feta cheese and serve.
Can be served warm, room temperature or chilled.
---
Keywords: Chicken Pasta Salad with Arugula and Feta