We have tomatoes from our garden coming out of our ears these days – especially grape and cherry tomatoes!  But I'm actually very glad about that because it's a deliciously good excuse to make this Pasta, Chicken & Asparagus in Garlic Tomato Sauce!
This recipe is another one that we call "A.I." – recipes made from 'available ingredients' in the refrigerator.  But after I made this pasta, chicken & asparagus in garlic tomato sauce for the first time, it was so good we now go out of our way to make this dish whenever we have an abundance of fresh little tomatoes!
This recipe combines our Perfect Asparagus and our Marinated Grilled Chicken with cooked farfalle-shaped pasta.  But the huge flavors in this dish come from the sauce! Whole cloves of garlic are slowly cooked in a pan of extra virgin olive oil until they are golden on the outside and soft on the inside (don't be put off by using so much garlic – this cooking process caramelizes and really mellows the flavors of the garlic similar to roasting in the oven).  Then the cherry or grape tomatoes are added to the pan, where they essentially poach in the olive oil until the skins burst and the juices are released – making a rustic, flavorful garlic-tomato sauce that is just out of this world!
A generous helping of fresh, chopped basil and freshly grated Parmesan cheese finish off this wonderful dish.  Toss everything together – and enjoy!
Print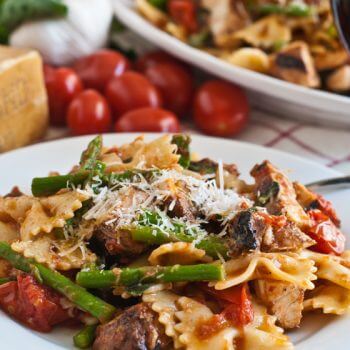 Pasta, Chicken & Asparagus in Garlic Tomato Sauce
Prep Time:

15 mins

Cook Time:

20 mins

Total Time:

35 minutes

Yield:

2-4 servings
---
½

bunch of cooked Perfect Asparagus spears

2

cooked Marinated Grilled Chicken breasts

½

pound dry farfalle pasta (or other firm pasta of your choice such as penne or ziti)

½ cup

extra virgin olive oil

4

large garlic cloves, peeled and left whole

1 pint

cherry or grape tomatoes

4

large basil leaves, roughly chopped

¼ cup

freshly grated Parmesan cheese, plus more to taste
Salt and freshly ground black pepper to taste
---
Instructions
Cut the cooked asparagus spears into bite sized pieces (each spear cut into thirds). Set aside.
Cut the cooked marinated grilled chicken into bite sized strips. Set aside.
Bring enough water to a boil to cook the pasta. When the water is boiling, pour in the pasta and cook according to package directions.
While pasta is cooking, in a large sauté pan, heat olive oil over medium heat.
Add whole garlic cloves to oil and sauté until all sides are golden and the garlic is soft on the inside. (About 4-5 minutes). Reduce heat if garlic is browning too quickly.
Turn heat in pan up to medium high and add in whole tomatoes (be careful of splattering if the tomatoes are wet) and gently sauté the tomatoes in the oil until they start to lose their shape and the skins burst.
Remove pan from the heat. Using a potato masher or large fork, mash each tomato and garlic clove into the olive oil. This will give you a very rustic sauce with pieces of tomato and garlic in the oil. (Alternately, you can pour the mixture into the deep sided bowl and blend with an immersion blender for a smoother, more emulsified sauce.)
Drain cooked pasta and add it into the sauce along with the asparagus, chicken, fresh basil and Parmesan cheese. Toss well to combine. Adjust seasoning with salt and pepper.
Serve pasta with additional grated Parmesan.
---
You may also like:
Parmesan-Coasted Asparagus Wrapping in Prosciutto