Sometimes, new recipes really surprise us. We start out with a general idea for a recipe (like today's Oat Buttermilk Waffles with Mango Fig Spread), and we are so thrilled when it comes out even better than we ever imagined!
First of all…these waffles! They are so good!
These Oat Buttermilk Waffles are both light and hearty at the same time. We used a combination of oat flour and Irish quick oats in the buttermilk batter, and vanilla and brown sugar add a wonderful deep sweetness.  These waffles cook up light and crispy – but also with a little bit of a chewy texture and a perfect amount of sweetness.
These oat buttermilk waffles will power you through the entire morning – and they are delicious all by themselves…
…but we decide to make a simple, warm Mango-Fig Spread to go along with the Oat Buttermilk Waffles. Just heat some chopped mangoes (we used jarred ) and their juices in small saucepan along with some chopped, plump, soft figs – and simmer until thick and syrupy. To serve, simply spoon the spread over your waffles. (The flavors go so well together!)
You can make this entire Oat Buttermilk Waffles with Mango Fig Spread breakfast ahead of time – perfect for a busy morning!  Freeze the cooked Oat Buttermilk Waffles in an air-tight plastic bag – then reheat in a toaster just before serving. And, that Mango Fig Spread just needs a quick reheat on the stovetop or microwave as well.
Enjoy!
Print
Oat Buttermilk Waffles with Mango-Fig Spread
Author:

Prep Time:

10 minutes

Cook Time:

20 minutes

Total Time:

30 minutes

Yield:

4-8 servings
---
Mango spread
1 cup jarred mango pieces, chopped (Del Monte makes a 20-ounce jar found refrigerated in the produce section of most supermarkets)
1 cup of the juice from the jarred mangoes
8 plump soft figs, stems removed and chopped fine
Waffles
2 whole eggs, beaten
1 ½ cups buttermilk
½ cup vegetable oil
½ teaspoon vanilla extract
2 cups oat flour (Bob's Red Mill is the brand we used)
1 cup Irish Quick Oats (We used McCann's Quick & Easy Irish Oatmeal)
1 tablespoon brown sugar
¼ teaspoon salt
4 teaspoons baking powder (1 tablespoon and 1 teaspoon)
1 cup heavy cream, whipped to serve over top (optional)
---
Instructions
In a small sauce pan, heat mango pieces, mango juice and figs over medium heat for 8-10 minutes until thick and syrupy. Set aside.
In a large bowl, add beaten eggs, buttermilk, oil and vanilla and beat to combine.
In a medium bowl, mix flour, oats, brown sugar, salt and baking powder.
Add dry to wet and stir with a wooden spoon.
Heat a Belgian waffle maker and once hot, spray top and bottom with non-stick pan spray.
Pour in portions of batter according to the directions of your waffle maker and cook according to the directions of your model. We used this Belgian waffle maker and cooked 8 waffles in two batches. Each batch took about five minutes.
Serve hot with the mango spread and top with the optional whipped cream.
These waffles freeze very well and can be heated in a toaster for serving.
---
Disclosure: This post contains affiliate links.
You may also like: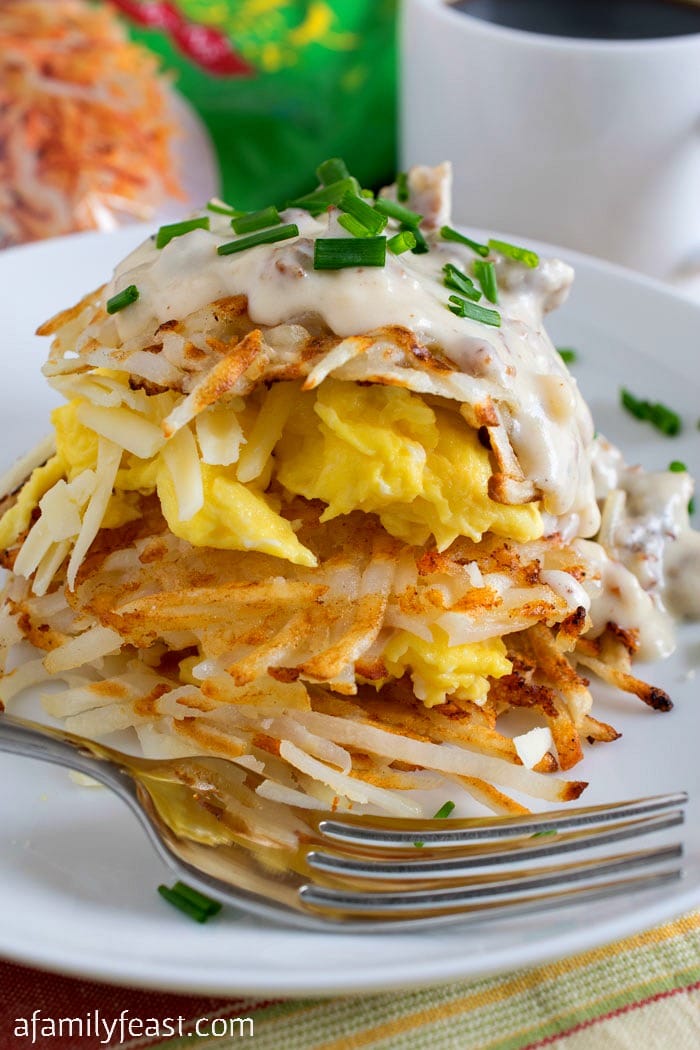 Steel Cut Oats Breakfast Biscotti