Every married couple has their little annoyances – things that each of us does that drive the other person just a little crazy. Luckily, my husband Jack and I are both of the mindset that we should 'pick our battles' with each other, and for the most part we can laugh off those little annoyances with each other!
Today, I'm going to confess a few things that I do that annoy my husband!  First – I have this habit of leaving cabinet doors and drawers open or slightly ajar (usually because I'm planning to go back to get something else) – and at any given time, you'll see Jack closing all of the drawers and doors behind me!
Second – whenever I go grocery shopping, I almost always buy a package of strawberries – even if we don't need them!  It's like those packages of beautiful ripe berries are calling my name and I always have to buy some…I can't explain it!  So, needless to say, we eat a lot of strawberries (they are my favorite fruit after all!) and these Strawberry Cheesecake Streusel Muffins came about because I bought too many and had to use them up!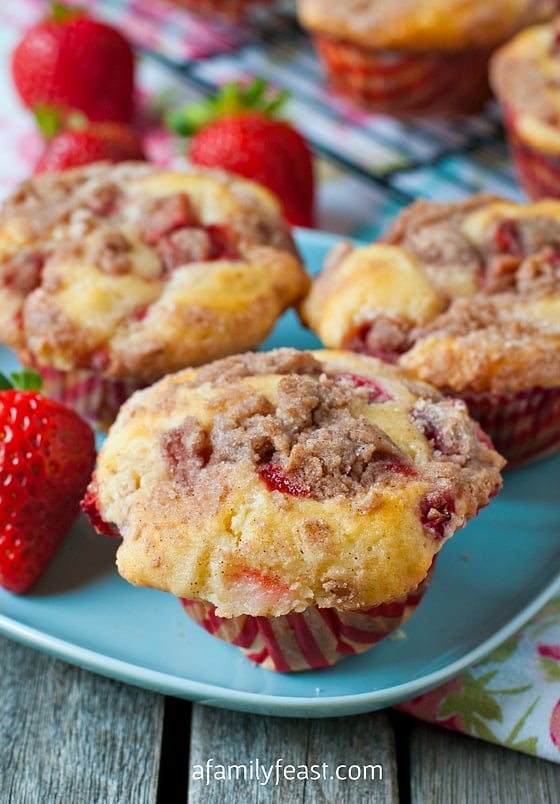 These are very delicious muffins – a sweet vanilla batter is layered with pieces of fresh chopped strawberries and a sweet cream cheese filling that makes them super, super moist!  And a sprinkle of buttery cinnamon streusel both inside and on top of these muffins adds the perfect complementary flavor to strawberries and vanilla!
If being wrong about buying too many strawberries means I have to make delicious recipes like these strawberry cheesecake streusel muffins – then I don't want to be right!  I'd gladly eat these delicious muffins any day!
Oh…and the things that Jack does that annoy ME?  We'll save that story for another day and another recipe!
Recipe adapted from Joan's Food Wanderings via The Recipe Critic
Print
Strawberry Cheesecake Streusel Muffins
Prep Time:

25 mins

Cook Time:

20 mins

Total Time:

45 minutes

Yield:

12 muffins
---
For the batter
2 cups

all-purpose flour

2 teaspoons

baking powder

1/2 teaspoon

salt

1/2 cup

granulated sugar

1

egg, beaten

1/4 cup

canola oil

1 cup

whole milk

1 teaspoon

vanilla extract
For the cream cheese filling
4 ounces

cream cheese, softened

1/3 cup

granulated sugar

2 tablespoons

beaten egg

1 teaspoon

vanilla extract
For the cinnamon streusel
1/4 cup

all-purpose flour

1/4 cup

granulated sugar

1 teaspoon

cinnamon

3 tablespoons

unsalted butter, cut into small pieces

2 cups

strawberries, cut into small pieces
---
Instructions
Preheat the oven to 400 degrees. Line a 12-cup muffin pan with paper liners. Set pan aside.
To make the batter
In a medium-size sift together the flour, baking powder and salt. Set aside.
In a larger mixing bowl, combine the sugar, egg, oil, milk and vanilla and stir until completely combined. Add the dry ingredients to the milk mixture, stirring to mix – but being careful not to over mix. (The batter should be slightly lumpy.) Set aside.
To make the cream cheese filling
In the bowl of a stand mixer, beat the cream cheese until smooth.
Add the sugar, egg and vanilla and mix again until smooth. Set aside.
To make the cinnamon streusel
Mix the flour, sugar and cinnamon in a small bowl.
Add the butter pieces to the cinnamon mixture and using a fork or pastry blender (see here) blend until the mixture resembles coarse sand.
To assemble the muffins
Spoon a tablespoon of the batter into the bottom of each liner. Next, sprinkle a few pieces of strawberries on top of the batter (you want to leave enough strawberries for another top layer), then evenly divide the cream cheese mixture across all 12 muffins cups (about ½ tablespoon in each) spooning the filling on top of the strawberries. Sprinkle a little of the cinnamon streusel on top of the cream cheese (you will want to leave enough of the cinnamon streusel for another top layer). Then finish by adding another layer of the remaining batter, the remaining strawberries and the remaining cinnamon mixture on top.
Bake for 15-20 minutes or until a toothpick inserted into the center of the muffin comes out clean. Remove to a wire rack to cool completely.
---
You may also like: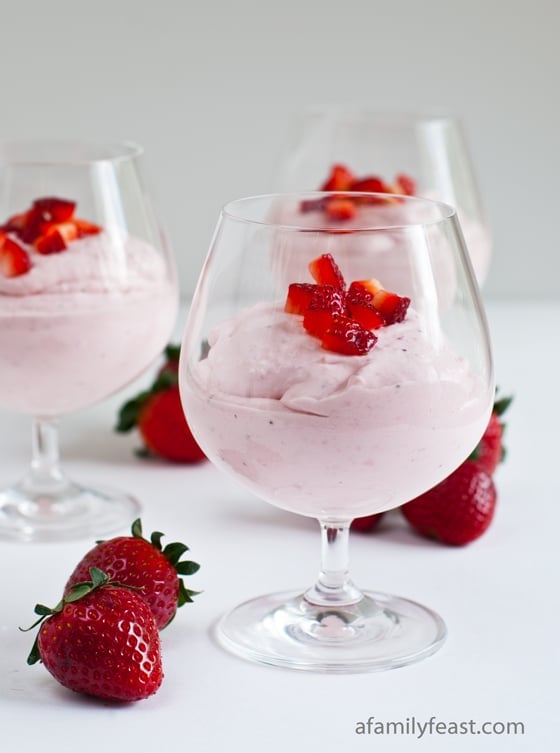 Strawberry Spinach Salad with Strawberry Vinaigrette
Mascarpone Strawberry Stuffed French Toast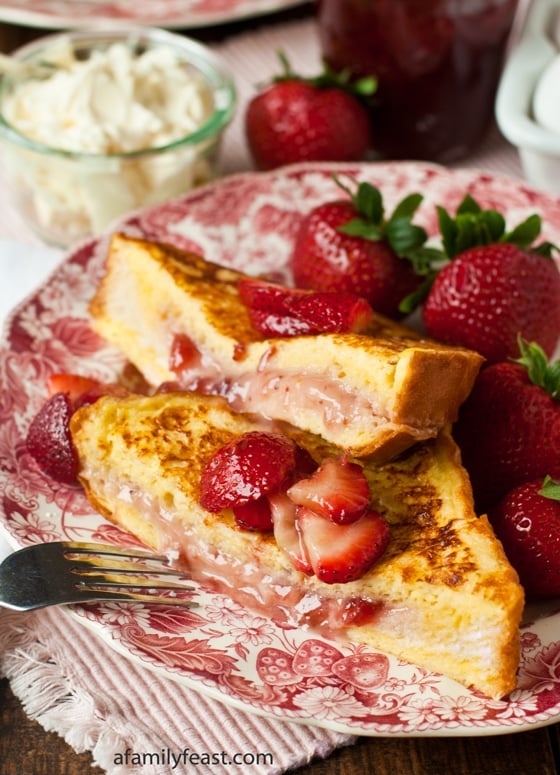 25+ Sweet and Savory Strawberry Recipes