This Mascarpone Strawberry Stuffed French Toast is a delicious option for a special breakfast or brunch!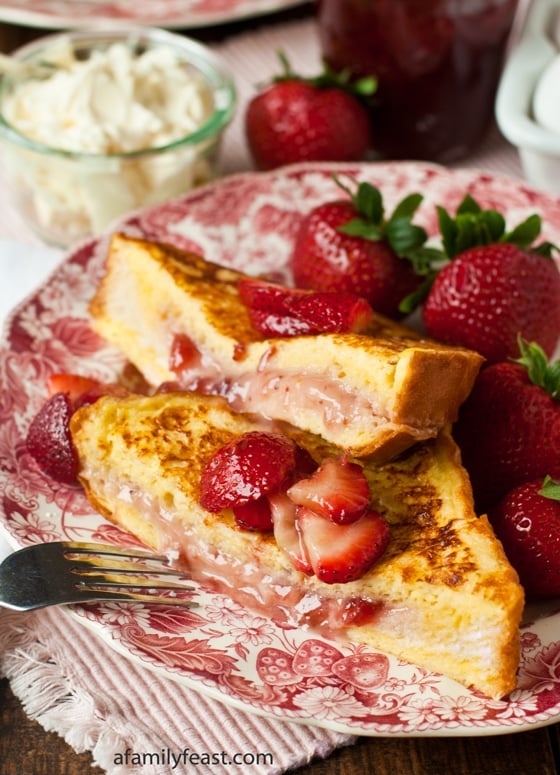 Years ago, early in my husband Jack's prior food service career, he worked two jobs — one being as a short order cook for a busy breakfast place on Sunday mornings.  Stuffed French toast was a very popular item on the menu – but Jack always felt that the way they were asked to prepare it made the dish overly-sweet, and the wonderful fresh strawberry flavor was overwhelmed by the maple syrup served with it.  Years later, Jack created his own version which became this fabulous recipe for Mascarpone Strawberry Stuffed French Toast!
Thick slices of challah or white bread are stuffed with a creamy mixture of mascarpone cheese and strawberry preserves.  Next, the slices are dipped in an egg-milk mixture, then cooked on a griddle until perfectly golden brown on the outside, and warm on the inside!
Finally, this Mascarpone Strawberry Stuffed French Toast is finished off with a sweet – but not too sweet – topping made with fresh strawberries, powdered sugar and a touch of milk, plus balsamic vinegar adds the perfect amount of fresh flavor to this wonderful breakfast!  You can sprinkle a bit of powdered sugar on top before serving if you like things very sweet – but we think this Mascarpone Strawberry Stuffed French Toast is perfect as is!
Our Mascarpone Strawberry Stuffed French Toast is one of my favorite breakfasts, and it's a wonderful option for a holiday or special occasion – or when you just want an incredibly decadent and delicious start to your day!
You may like these other Breakfast recipes:
Print
Mascarpone Strawberry Stuffed French Toast
Prep Time:

15 mins

Cook Time:

8 mins

Total Time:

23 minutes

Yield:

2-4 servings
---
Description
You can easily change quantities and over-stuff these with more filling, or if serving more than 2 to 4 people, use the whole loaf of bread, and double the rest of the ingredients. The recipe is very forgiving.
---
1

unsliced loaf of Challah or white bread

4 ounces

mascarpone cheese

4 ounces

strawberry preserves

4

eggs

½ cup

milk

½

pound fresh strawberries

½ teaspoon

milk

½ teaspoon

balsamic vinegar

½ cup

powdered sugar

2 tablespoons

butter
---
Instructions
Slice four 1 ½ inch slices from the loaf. With a long sharp knife, cut down through the center making the slit almost to the bottom and sides without poking through.

Hand mix the mascarpone and strawberry preserves and place in a small piping bag. Pipe the filling equally between the four slices pressing the tip into the slit and squeezing as you lift up. Then place the knife tip in and push it up and down a bit to move the filling away from the opening.
In a large bowl, beat eggs and milk until combined.
Place the four stuffed slices into the egg mixture turning so all sides are coated. Leave them to soak up the egg while you work on the next step.
Trim and slice the strawberries and place in a bowl with the ½ teaspoon of milk, balsamic vinegar and powdered sugar. Toss slightly or gently mix with a rubber spatula. Let this mixture sit while you cook the French Toast.
Find a pan or heat-proof bowl that you will use as a cover over the cooking French toast.
On a flat non-stick pan or griddle, bring heat up to medium and melt butter to coat surface. Once the pan is hot and butter is just starting to brown, place French toast onto pan and cover with prepared lid.

Cook for about 3-4 minutes, remove cover, flip and place cover back on. Cook for an additional 3-4 minutes. Remove cover and check. Both sides should be just nicely browned but not dry or over cooked.
Remove to serving plates and cover with strawberry mixture. Serve immediately. Sprinkle with additional powdered sugar if you'd like.
---