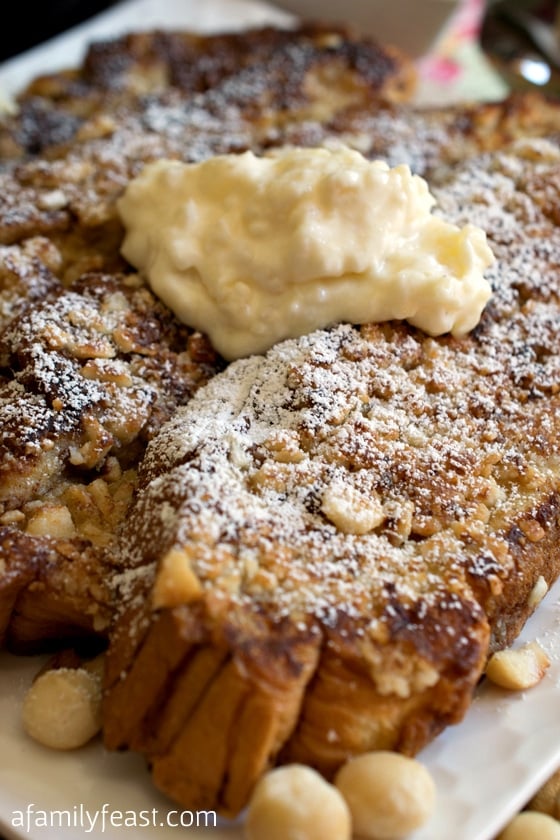 For us, recipe inspiration comes from many different places and in the case of this Hawaiian French Toast with Pineapple Mascarpone Topping – it came from a loaf of bread!
Last month, I attended BlogHer Food in Miami where I met many different brand representatives who were there to connect with bloggers.  Many of them were nice enough to share samples, with the hopes that we would be inspired to create recipes in the future using their products.  Among the abundance of samples was that loaf of KING'S HAWAIIAN® sweet bread that you see here…
…a soft, sweet and delicious bread that is very similar to a Portuguese sweet bread in both taste and texture!   (By the way, that photo was the swag I collected after just one day at BlogHer Food.  There was even more than that!)
When I returned home, my husband Jack (who happens to be a huge lover of just about any kind of bread) immediately broke into that loaf of bread – but I stopped him so we could make this Hawaiian French toast recipe!
We soaked thick slices of bread in a mixture of egg, coconut milk, agave nectar and cinnamon, then coated the bread in chopped macadamia nuts before frying it on the griddle.  Next, we spooned on a generous dollop of pineapple and mascarpone cheese that was the perfectly complement to the Hawaiian French toast!  Enjoy!
Disclaimer: This post is part of my entry in to the KING'S HAWAIIAN® Go Pupule™ Recipe Sweepstakes. For details on how you too can enter for a chance to win the sweepstakes prize by entering the KING'S HAWAIIAN® Go Pupule™ Recipe Sweepstakes, go here: http://www.kingshawaiian.com/gopupulerecipe.  As mentioned above, I received free samples of KING'S HAWAIIAN® bread at the BlogHer Food conference.  I was not compensated for this post and all opinions are 100% my own.
Print
Hawaiian French Toast with Pineapple and Mascarpone
Prep Time:

20 mins

Cook Time:

10 mins

Total Time:

30 minutes

Yield:

4 servings
---
Ingredients
4 large, thick slices of KING'S HAWAIIAN® Sweet Round Bread (slices of Portuguese sweet bread or Challah may be substituted if you can't find King's)
8 ounces mascarpone cheese (cream cheese may be substituted, but cut back a little on the powdered sugar if you use that)
½ cup crushed pineapple, drained (save juice)
2 tablespoons pineapple juice, drained from crushed pineapple
¼ cup powdered sugar, plus more for dusting
4 eggs
¼ cup coconut milk
1 tablespoon agave nectar
½ teaspoon cinnamon
2 cups chopped roasted macadamia nuts
2 tablespoons of butter, for the griddle
---
Instructions
Slice the bread and set aside.
In a small bowl, mix mascarpone cheese, crushed pineapple, pineapple juice and powdered sugar until smooth. Set aside.
In a small bowl beat eggs and mix with coconut milk, agave nectar and cinnamon. Pour into a flat dish large enough to hold the bread slices dipped one at a time.
Dip both sides of each slice in the egg mixture and hold on a platter to soak up the liquid.
Lay out a dish large enough to hold one slice and pour the chopped nuts into the dish.
Coat both sides of each slice in the chopped nuts.
Heat a griddle pan over medium heat and melt one tablespoon of butter.
Cook each side of two slices until golden brown, about 2-3 minutes per side. Repeat with rest of butter and last two slices. (If your grill pan will hold all four, then cook all at once.)
To serve, cut each slice in half and serve two halves per portion, dusted with powdered sugar and topped with the pineapple spread or serve the spread on the side.
You may also like:
Strawberry Mascarpone Stuffed French Toast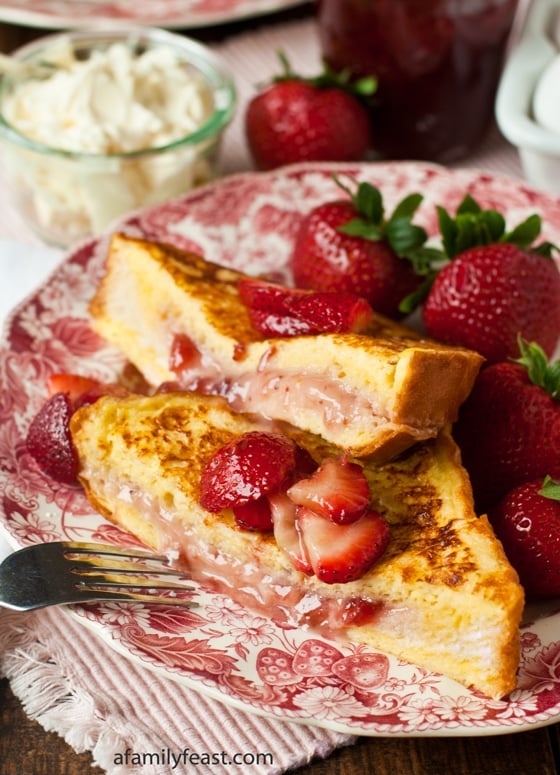 Apple and Cheddar Baked French Toast