Feed a hungry crowd with this delicious Meatball Lasagna!
On any given day – if you happened to look into our freezer – chances are you'd find several home-cooked foods and ingredients that we always keep on hand.  Among them, you'd find some of our Italian Tomato Sauce, and our Italian-Style Meatballs. (There are a few others too – like this, this and this – but those are for another day and some other recipes!)
Keeping a select stash of pre-made foods and ingredients on hand is a great way to get dinner on the table quickly and easily when time is tight and schedules are hectic. Wouldn't it be great to know that you can cook up a tray of this delicious Meatball Lasagna anytime you'd like?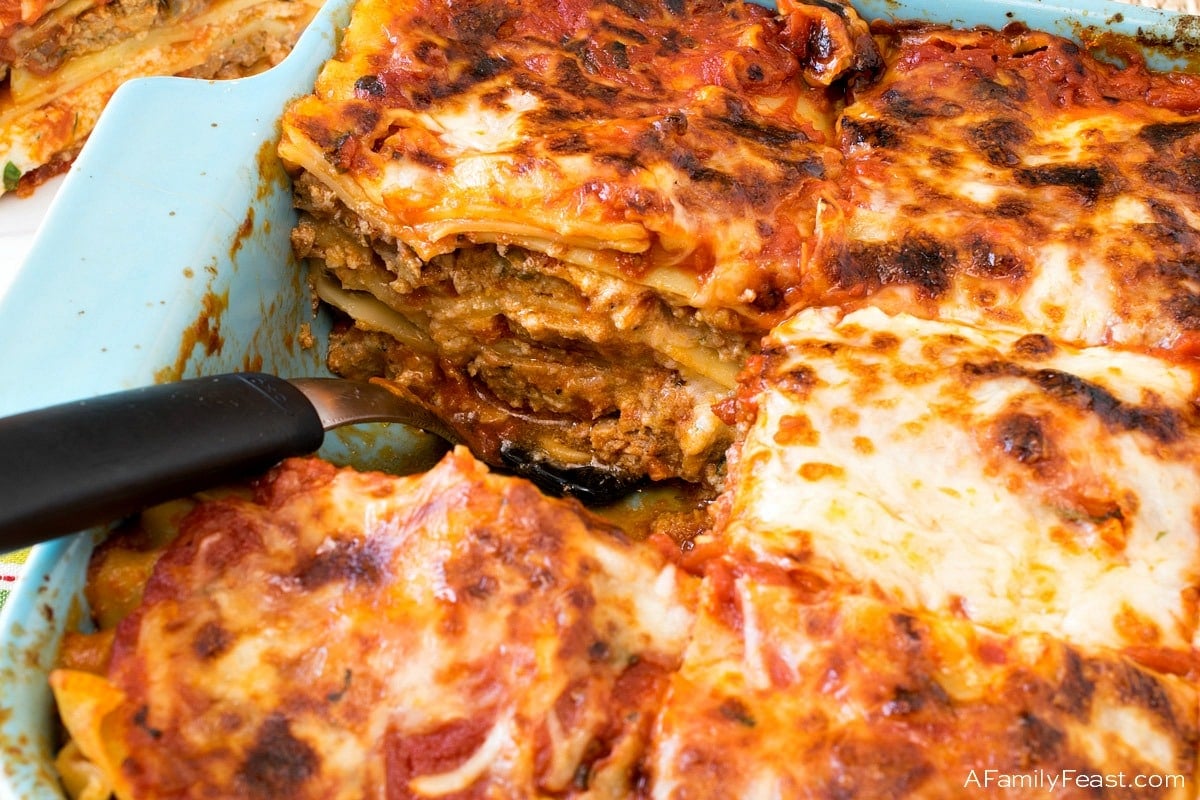 Our Meatball Lasagna is pure, satisfying comfort food, and it's a great way to feed a hungry family of pasta and meat lovers.
How do you make Meatball Lasagna?
Today's Meatball Lasagna recipe is a close cousin to our popular Classic Lasagna recipe – another recipe that everyone seems to love.  But, rather than using a meat sauce, you'll nestle sliced meatballs in between the tomato sauce and cheeses – adding wonderful texture and (of course) all of the delicious flavors of our homemade meatballs!
Like any lasagna recipe, there is some prep time involved in assembling all of the layers – tomato sauce, lasagna noodles, a ricotta cheese mixture, mozzarella and Parmesan cheeses – but having prepared sauce and cooked meatballs on hand helps the preparations go more quickly. Then, you can go about your business while this fantastic Meatball Lasagna bubbles away in the oven until it's ready to serve.
This recipe makes a generous amount. But even if you don't have lots of mouths to feed, the leftovers are just as good (maybe even better!) the next day – simply reheat in the microwave or oven. Serve with extra tomato sauce on top.
Mangia!
You may enjoy these other Lasagna recipes:
Print
Meatball Lasagna
Author:

Prep Time:

45 minutes (excluding time to prep meatballs and sauce)

Cook Time:

55 minutes

Total Time:

1 hour 40 minutes

Yield:

12 portions

Category:

pasta

Method:

baked

Cuisine:

Italian
---
3 cups Italian Tomato Sauce, plus more for serving, see our recipe here
18 Italian-Style Meatballs (see our recipe here), each sliced into 5 or 6 slices
18 lasagna noodles (a one-pound box has 18 pieces)
16 ounce container of whole milk ricotta cheese
½ cup Parmesan cheese, grated
¼ cup fresh Italian flat leaf parsley, chopped fine
1 whole egg
½ teaspoon kosher salt
½ teaspoon freshly grated black pepper
Few grinds fresh nutmeg
2 cups mozzarella cheese, divided
10 slices deli provolone cheese
---
Instructions
Heat sauce and hold for assembly.
Heat meatballs and slice then hold for assembly.
In a very large wide pot, heat water and once boiling, salt the water then add one lasagna strip at a time so that they don't stick. Cook for one minute short of what it says on the box. My box said to cook for eight minutes and I cooked for seven.
Have a strainer standing by and gently lift each piece out with tongs and into the strainer, being careful not to break any. Rinse with cold running water and lay out on a sheet tray with the pieces not touching. I layered with plastic wrap until I was ready to use them.
In a medium bowl, mix ricotta cheese, Parmesan cheese, parsley, egg, salt, pepper, nutmeg and ½ cup of the mozzarella cheese.
Preheat oven to 375 degrees F.
To assemble, in a 9×13-inch or larger* casserole dish place one cup of sauce on the bottom.
Lay four lasagna noodles the long way, overlapping each.
Lay half of the sliced meatballs across the noodles, overlapping if needed to fit. Cover with ½ cup of sauce.
Lay five slices of provolone over the meatballs, cutting one piece in half to fit.
Top with another layer of noodles, then cover with all of the ricotta mixture.
Place another layer of noodles over the ricotta and top with the remaining meatballs and another ½ cup of sauce.
Place the remaining provolone over the meatballs and top with a final layer of noodles.
Cover the top with one cup of sauce then sprinkle the remaining shredded mozzarella over the top.
Cover with parchment and foil and bake for 45 minutes. (You may need a sheet of foil on the rack below to catch drips.)
Uncover and bake for five more minutes. If desired, place under broiler for a few minutes to brown.
Let sit ten minutes then cut 4×3 (thirds across the short edge of the pan and quarters across the long edge) to yield 12 portions. Serve with additional sauce.
---
Notes
Some newer casserole dishes are slightly larger in dimension than the standard 9×13-inch. It is OK if your dish is slightly larger, just make sure it is not smaller.
Keywords: Meatball Lasagna