Lidia's Pizza Rolls have pizza dough rolled and stuffed with Italian sausage, vegetables, creamy ricotta, and Parmesan cheese. Great for game day!
Hi everyone – Jack here.
The other night, I happened upon a new PBS cooking show called "Eating In with Lidia." I've mentioned before that I'm a huge fan of Lidia Bastianich – so of course, I was drooling over every recipe she cooked on the show. In particular, I wanted to try Lidia's Pizza Rolls.
How do you make Pizza Rolls?
Lidia's Pizza Roll is simply pizza dough rolled out flat, topped with different fillings, then rolled into a log, brushed with an egg wash and baked. It is somewhat similar to a calzone – although rolled instead of folded in half, and slits in the top allow the steam to escape and the filling to poke through.
Pizza Roll Stuffing Options
Lidia made two versions of her Pizza Rolls: one with Italian sausage and ricotta; the other with broccoli rabe, leeks, onions, and ricotta. I knew I wanted to try this recipe ASAP, but I couldn't decide on the which filling I like best – so I combined them all into one instead.
Lidia's recipes never disappoint – and I'm happy to say she has kept her winning streak alive with these Pizza Rolls. These were fantastic!
These Pizza Rolls bake up with a light and crispy dough and a generous amount of filling – so every bite is very satisfying. (Martha and I devoured these Pizza Rolls – they were so good.)
After trying Lidia's Pizza Rolls – the sky really is the limit in terms of other filling ideas. A tomato-based meat sauce would be delicious, or maybe pepperoni and mushroom…I could go on.
Either way, give this delicious recipe a try!
You might like these other Italian recipes:
Print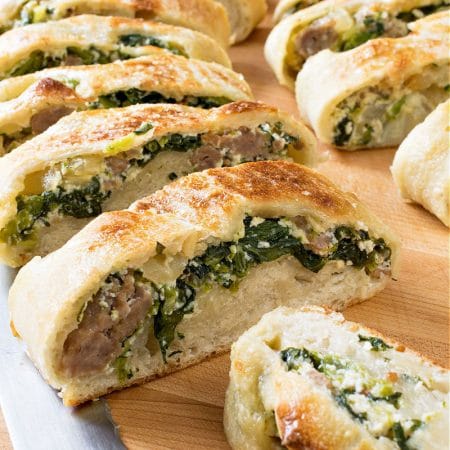 Lidia's Pizza Rolls
Author:

Prep Time:

30 minutes

Cook Time:

1 hour 30 minutes

Total Time:

2 hours

Yield:

8 servings

Category:

appetizer

Method:

baked

Cuisine:

Italian
---
2 pounds (32 ounces) pizza dough (make our homemade pizza dough), or use store bought
1 large bunch broccoli rabe; after cutting and steaming, 2 cups
1 pound sweet Italian sausage, removed from casings
¼ cup extra virgin olive oil
½ large sweet onion cut into thick slices
2 large leeks, white only cleaned of sand and diced large (1 ½ – 2 cups)
2 large garlic cloves sliced
Pinch red pepper flakes
1 teaspoon kosher salt
½ teaspoon freshly ground black pepper
½ cup freshly grated Parmesan cheese
1 pound ricotta cheese (some brands are 15 ounces, which is fine)
1 beaten egg
---
Instructions
Bring the dough to room temperature and cut on a floured surface into four pieces. Cover with a towel while you prepare the filling.
Cut the long stem ends from the broccoli rabe and discard leaving a few inches of stem, leaf and head.
Place a steaming basket in a large pot and add water to the bottom of the steaming basket and bring to a boil. Add a little salt then add the broccoli rabe and steam for 5-10 minutes until tender. They will bake further in the pizza roll so try not to overcook. Drain, cool and coarsely chop into bite sized pieces. Set aside.
In a large skillet or saute pan, cook the Italian sausage until browned, breaking into small pieces as you cook. Drain and discard the fat and set the sausage aside.
In the same saute pan, add the olive oil and over medium heat, add the onion, leeks, garlic slices and red pepper flakes and cook 8-10 minutes until soft. Set aside.
Preheat oven to 400 degrees F.
In a large bowl, combine prepared broccoli rabe, cooked Italian sausage, onion and leek mixture, salt, pepper, Parmesan cheese and ricotta cheese.
Flour your counter and cover two sheet trays with parchment paper.
Roll each dough ball into approximately 12×8 rectangle. Does not have to be exact.
Divide the filling between the four rolled out doughs, placing the filling in a line closest to the front and leave the side edges and rear edge free.
Wet the sides and back of the dough about a half inch from the edges with a little water.
Fold the dough closest to you over the filling. Then fold over each end towards the center. Then fold the whole thing over rolling it onto the back edge.
Place two on each pan seam down. May need help lifting with a spatula.
Brush the beaten egg over the top of two pizza rolls on one pan only and wait on the second. We are baking one pan at a time and don't want the egg running down the sides and onto the parchment of the second pan.
With scissors, make cut steam vents down the length of each of the two pizza rolls then bake just that one pan for 20-25 minutes until golden. (I also put mine under the broiler for a minute to get it extra brown on top)
They are done when the filling is hot and bubbly and the crust golden brown.
As soon as the first pan comes out of the oven, brush and cut the pizza rolls on the second pan and bake.
Move all four to a cutting board and cut each into eight to ten thick slices with a sharp serrated knife. I was also careful not to let them fall apart so after using the serrated knife to cut through, I used a large sharp chef's knife to push down into the bottom crust.
Move the slices to a serving tray or board and serve. They are very moist so no need of any dipping sauce.
---