You won't need a special deep-dish pizza pan to make this easy and delicious Upside-Down Deep-Dish Skillet Pizza.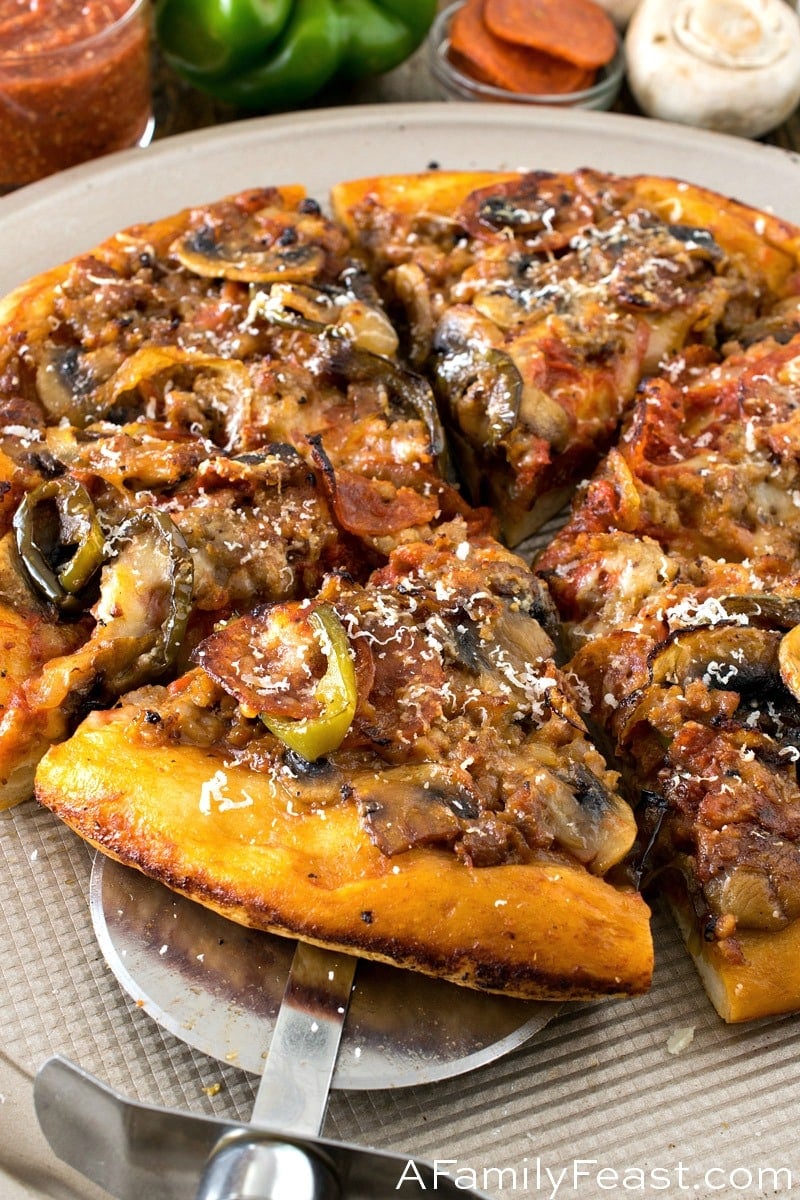 Hi everyone – it's Jack. I never know when and where recipe inspiration will strike – and I'm here today to tell you about the story behind this Upside-Down Deep-Dish Skillet Pizza.
I had bit of insomnia the other night after a hectic day at work, so I started channel surfing while lying in bed, hoping to get tired enough to sleep. I came across an infomercial for a frying pan (I don't remember the brand) that claimed to be so strong you could break concrete with a sledge hammer inside the pan, and doing so would never damage it, and the pan would never stick or scratch. (The commercial was less informative than it was comical, and it just seemed too unrealistic.)
However, just before I was about to surf over to the next channel, they showed someone putting an upside-down pizza into the oven and then flipping it over onto a pizza pan once it was cooked. I actually liked the idea and started brainstorming ideas for pizza toppings before finally falling asleep.
And that – my friends – is where I came with this Upside-Down Deep-Dish Skillet Pizza recipe.
How do you make Upside Down Deep-Dish Skillet Pizza?
This recipe uses all of your typical homemade pizza ingredients – pizza dough (you can make your own using this recipe or use store-bought), pizza sauce (if you haven't tried this homemade easy, no-cook pizza sauce recipe yet – you should), and your favorite toppings. We went with sweet Italian sausage, mushrooms, green bell peppers, onions, pepperoni, and three kinds of cheese (mozzarella, provolone, and Parmesan).  What can I say – I like my pizzas loaded with lots of toppings.
You'll pre-cook the toppings – then layer them into a large oven-safe, non-stick skillet (we used this one from Calphalon). Finally, the pizza dough is placed over the toppings, you'll brush the dough with some olive oil, and the entire thing is baked in the oven.
Once it's baked through, you'll place a pizza pan on top of the skillet – then flip the pan over so you now have a typical-looking (and delicious-looking) pizza sitting on your pizza pan. You'll want to bake the pizza right-side-up for a few additional minutes just to crisp up the pizza crust.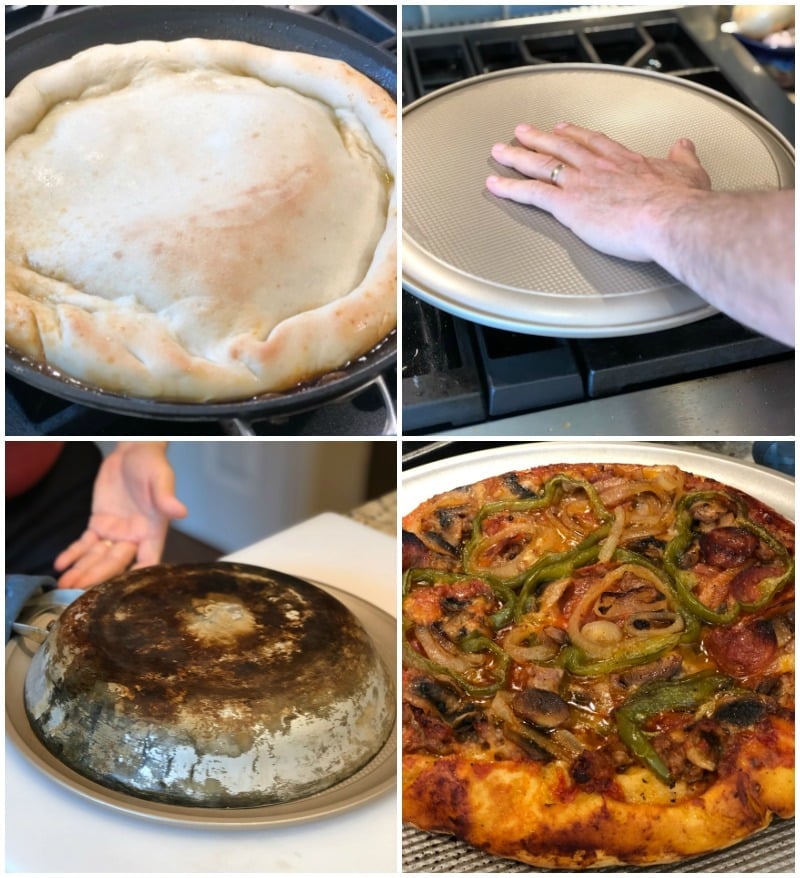 Sprinkle on some additional cheese and dig in.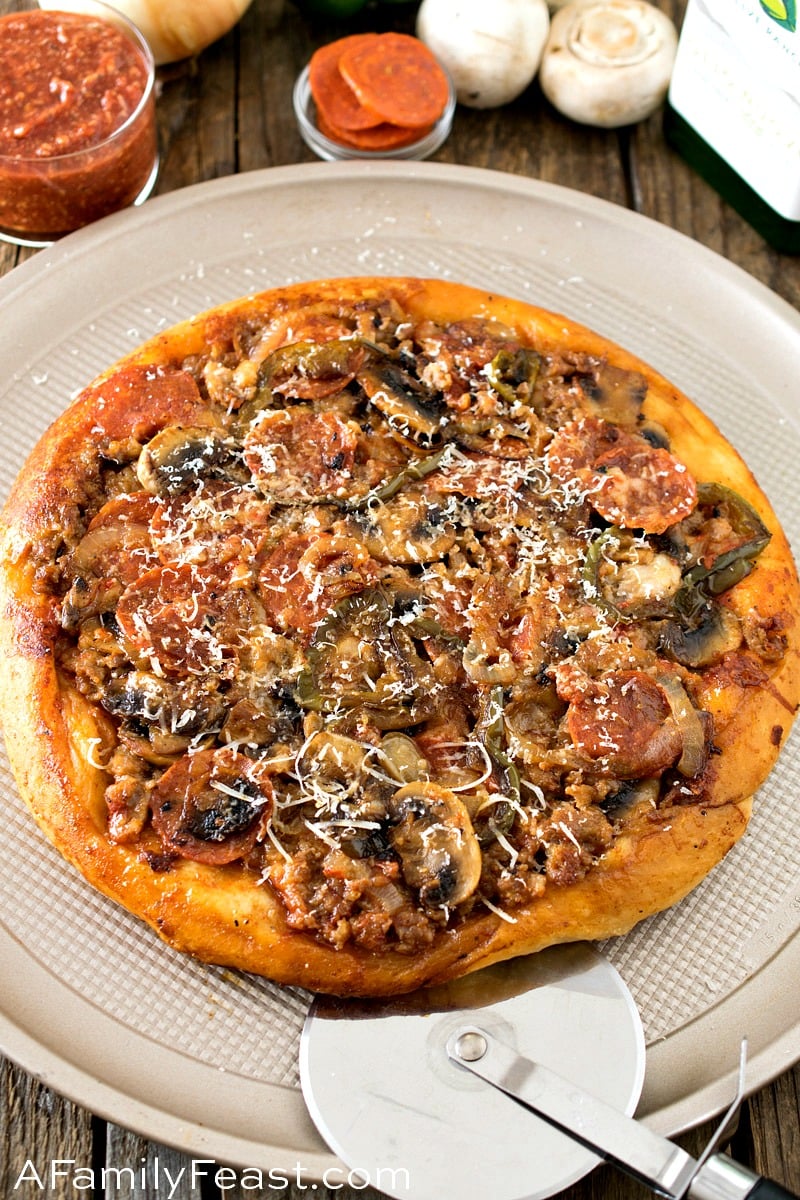 In the end, you'll enjoy a deep-dish skillet pizza with a light and crispy crust and perfectly caramelized toppings. During that upside-down baking time, the crust soaks in some of the sauce and some of the juices from the sausage – giving it really outstanding flavor.
This Upside-Down Deep-Dish Skillet Pizza is so good – we made it twice in one week and devoured it! I really think you'll love it too.
You may like these other pizza recipes:
Print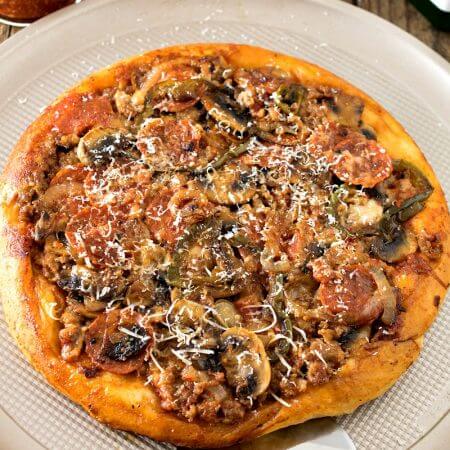 Upside-Down Deep-Dish Skillet Pizza
Author:

Prep Time:

20 minutes

Cook Time:

35 minutes

Total Time:

55 minutes

Yield:

2 servings (1/2 pizza each)

Category:

pizza

Method:

baked

Cuisine:

Italian
---
1 pizza dough, about 20 ounces (ours was 18.5 ounces)
5 tablespoons olive oil, divided
4 Italian sausage links, removed from casing
Pinch red pepper flakes
5 medium mushrooms, cut into ¼" thick slices
4 slices green bell pepper, cut into ¼" thick slices
2 slices onion, ¼" thick
14 pepperoni slices
4 tablespoons grated Parmesan cheese, divided
½ cup shredded mozzarella cheese
5 slices provolone cheese
½ cup pizza sauce (see here)
---
Instructions
Bring dough to room temperature.
Preheat oven to 400 degrees F and place rack in top position in oven (opposite of a normal pizza cooking on a stone close to the bottom)
While dough is warming up, in a large 12"-14" non-stick oven proof fry pan*(see tip), heat one tablespoon of the oil over medium heat and cook sausage and pepper flakes until the meat has browned, breaking up as it cooks. Pour into a strainer over a bowl.
Add another tablespoon of oil and cook the mushrooms until browned. Remove to a plate or bowl leaving any fat in the pan.
Add another tablespoon of oil and place the pepper rings and onion slices in and cook for two minutes then turn off burner. Remove the peppers and onion to a plate and wipe any excess oil from the pan.
With the pan off the heat, build the upside-down pizza. Start by laying out the pepper and onion rings covering the bottom. Next fill in the holes with the pepperoni slices.
On top of that spread out the mushrooms then top with the drained sausage, again spreading to the edge.
Sprinkle on two tablespoons of the Parmesan next and then the mozzarella and finally the provolone, overlapping the slices as you go around the pan.
Spread the sauce over the provolone going almost to the edge.
On your cutting board, drizzle a tablespoon of the oil and spread the dough out to be slightly larger than the bottom of the pan, building a thick edge all the way around. Lift the dough and place over the sauce, stretching to go up the sides a bit and then tucked back in so no filling pops out.
Brush the remaining oil over the top of the dough (which is actually the bottom once flipped) and place on the upper rack and bake 20-25 minutes or until slightly golden.
Remove the pan, keeping the pot holder in place over the handle. Put an upside-down pizza pan over the pan top and with one quick motion, flip the pan over so that the pizza is sitting upright on the pizza pan. Place back in the oven for 15 more minutes to crisp up the edges. (As it bakes upside down, the sauce and any fat bakes into the crust edge (yummy) and when you invert it, it is soft and spongy and needs to crisp up).
When it comes out of the oven the second time, sprinkle on the remaining two tablespoons of Parmesan cheese, cut and serve.
---
Notes
*We use a non-stick Calphalon pan rated oven proof to 400 degrees F.