The other day, my husband Jack and I were in the mood for some pizza!  Luckily, we had some leftover pizza dough in our freezer (since we just made this recipe a few weeks ago), and we also had all of the ingredients to make our great marinara sauce (see that recipe here) which cooks up in just minutes!  We also had a refrigerator drawer full of mozzarella string-cheese that we bought for our seven-year-old to eat – and inspiration struck in the form of this Stuffed Crust Pizza Braid!
Years back when Jack took a baking class in culinary school, his instructor showed the class a technique for braiding strips of bread dough into a loaf.  With all that string cheese in the fridge – why not make a similar loaf except with pizza dough, and turn it into a stuffed crust pizza braid?
This stuffed crust pizza braid is actually quite easy to make – just roll your pizza dough into long strips and then wrap it around pieces of the string cheese.  Braid the cheese-filled strips together, sprinkle on some coarse kosher salt and bake for a few minutes.  Then add some grated cheese on top – and finish baking until golden brown!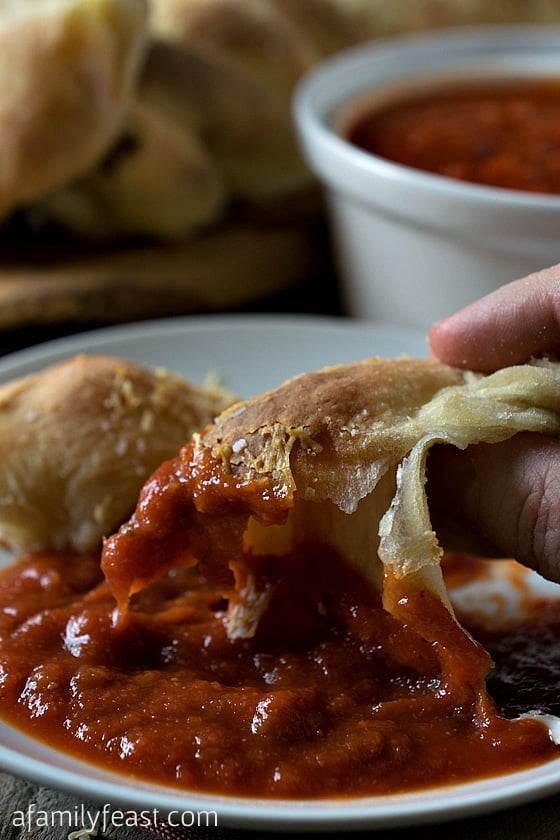 The result is a delicious loaf of easy-to-pull-apart sections of warm , crusty pizza dough with a soft and gooey inside!  Dipped in marinara sauce – this stuffed crust pizza braid makes a light and easy dinner or a perfect party appetizer!
Print
Stuffed Crust Pizza Braid
Prep Time:

20 mins

Cook Time:

40 mins

Total Time:

1 hour

Yield:

8-10 servings
---
3

7-ounce pizza dough balls (see recipe here) or your favorite store-bought pizza dough, at room temperature

18

mozzarella string cheese sticks, cut in half the short way
Extra virgin olive oil, for brushing
Kosher salt, for sprinkling

1/8 cup

of grated hard cheese such as Parmesan, Romano or Asiago (or any combination)
Marinara sauce for dipping (see recipe here)
---
Instructions
If you are using our pizza dough recipe, follow the directions in that recipe to prepare the dough.
Preheat oven to 450 degrees with rack in center.

On a floured surface with a rolling pin, roll out each dough ball into a rectangle one at a time 30 inches long by 3 inches wide. (If they stretch back a bit, cover and let rest for ten minutes to allow the gluten to relax.) Place 12 mozzarella halves end to end on each strip, leaving a little room to seal the ends.
Brush one side of the dough with water and fold the opposite side over the cheese so each edge meets. Press down or use the back of a fork to press the two sides together. (You must have a good seal.) Fold the two ends in on themselves and again, seal tightly. Then brush the top of the fold with water (where you just pinched it closed) and roll the filled dough onto the fold so you end up with the seam side down. Repeat this for the other two dough balls using 12 half pieces of cheese in each. (36 total pieces cut from 18 sticks)

Lay out a parchment lined cookie sheet on the counter and lay the three rolls next to each other from corner to corner over the sheet tray. (The finished braid is too difficult to lift so making the braid on the pan is the easiest.) Pinch the tops of each roll to each other and tuck under that end. Now braid crossing the outside to the middle (like you were braiding hair). Keep crossing outside to the middle until you are at the end, then fold and seal the end under. If the braid is not positioned properly on the pan, adjust it now.
Brush or spray the top with olive oil and generously sprinkle the top with kosher salt.
Place in the oven and bake for 15 minutes. Remove from oven, spray the top with more oil (pan spray or brush on) and sprinkle on the grated cheese. Return to oven and bake for 20-25 minutes until the top is golden brown. Check the bottom to make sure it is not over-browning toward the ends. If it is, raise the oven rack for the remaining baking time.
Serve hot right out of the oven, left whole, with marinara sauce on the side and allow guests to pull off pieces and dip in the sauce.
---
You may also like: