These Italian Almond-Orange Cookies are light and chewy with an intense orange flavor. Coated in powdered sugar, the crinkled orange insides show through after the cookies bake.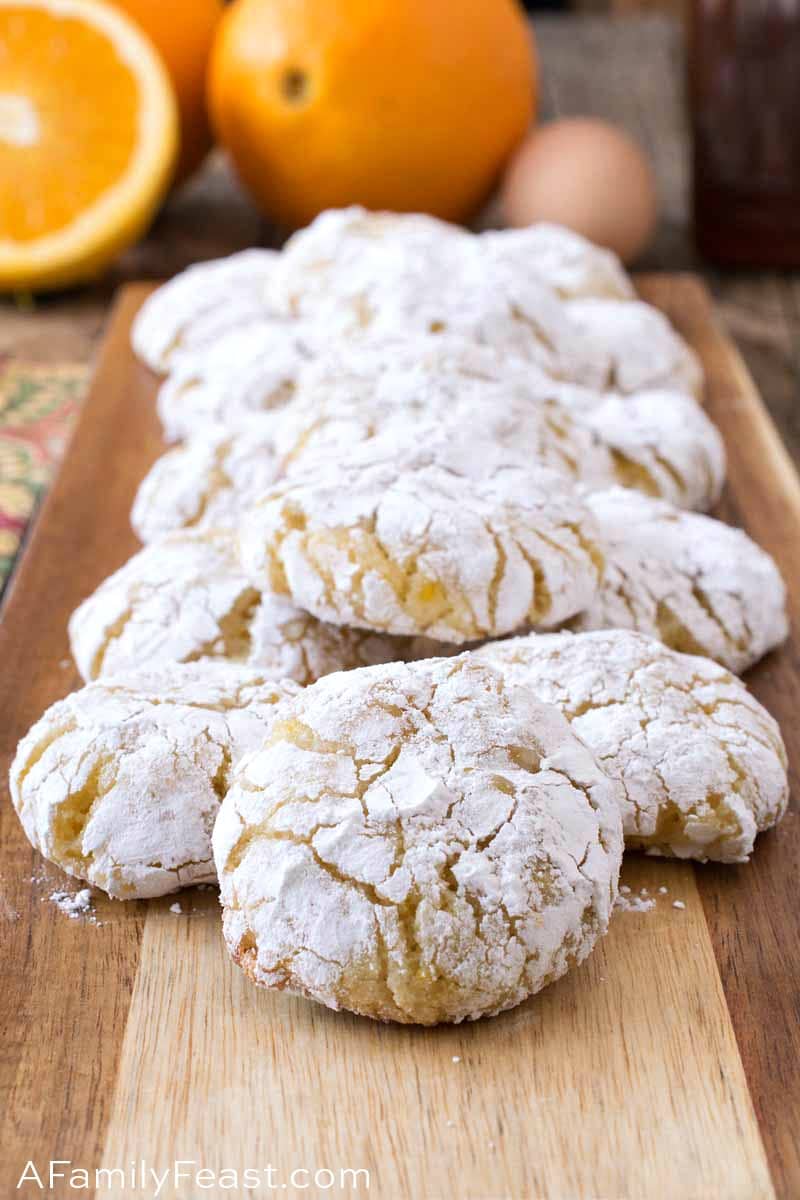 Hi everyone – it's Jack here, sharing the recipe for my new, favorite cookie – these Italian Almond-Orange cookies. They are truly out of this world!
Martha and I both belong to an Italian recipe Facebook group where someone recently asked for an orange cookie recipe they remembered enjoying in Italy. It was light and chewy with a soft interior like a macaroon, and had a crinkled appearance under a coating of powdered sugar.
Several group members chimed in. Some called this cookie by the name Ricciarelli – known as a Tuscan biscuit recipe from the city of Siena, while others referred to them as Acetani.
I honestly don't know which is correct – and perhaps the name varies based on the region of Italy your family comes from. By either name, they looked identical – and all I knew is that I wanted to try making them.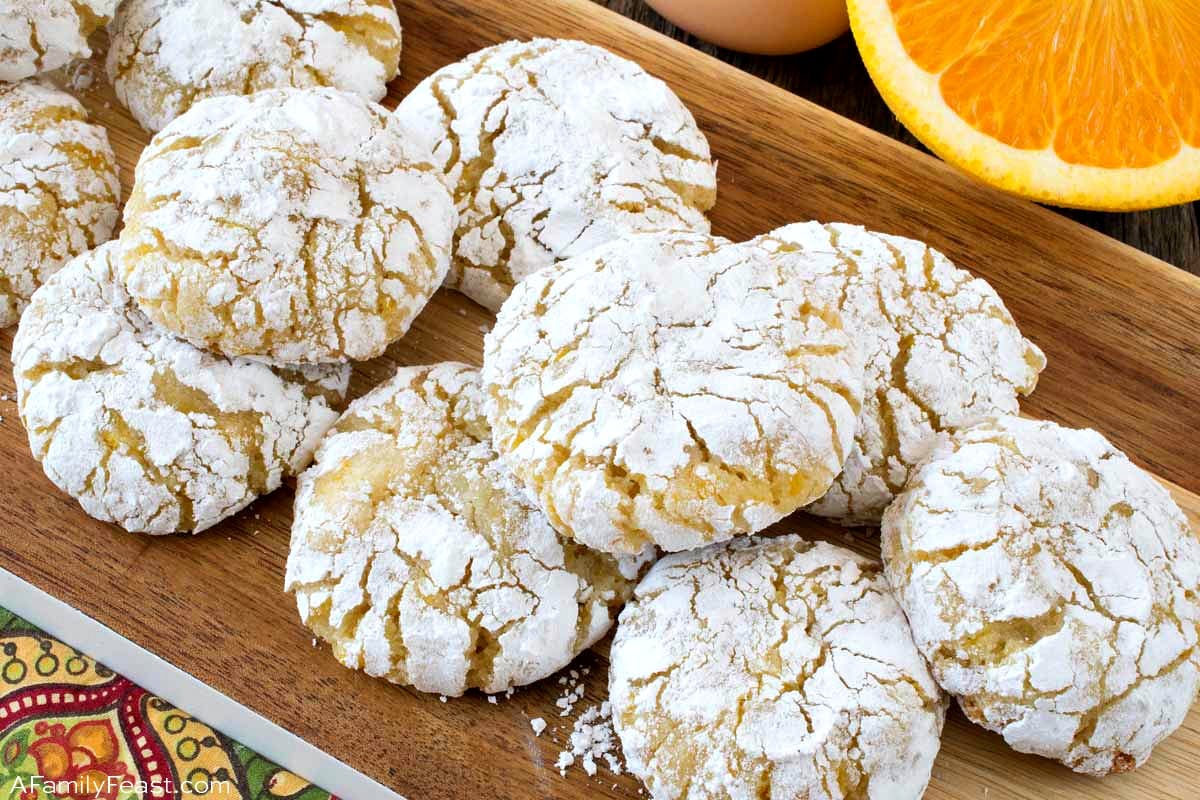 How do you make Italian Almond-Orange Cookies?
If my earlier mention of macaroons has scared you off – please don't worry. These cookies were very easy to make.
You'll start by measuring out 1/3 cup egg whites from eggs that have been separated. This could take anywhere from two to four eggs, depending on the size of the eggs you have on hand. (Don't throw those egg yolks out – make crème brulee or this vanilla ice cream.)
Whisk the egg whites together with granulated sugar, orange zest, and honey. Add almond flour and baking powder – mixing with a wooden spoon or a spatula until all of the dry ingredients are absorbed into the wet. At this point, cover the dough and refrigerate for anywhere between one and 24 hours.
Once you are ready to bake, preheat the oven and line two cookie sheets with parchment paper.
Place powdered sugar in a bowl. Then start working with the chilled dough – rolling it into a log and cutting it in half. Roll each half into a log – then portion each half into 12 pieces. (After portioning both logs, you will have 24 pieces of dough – yielding two dozen Italian Almond-Orange Cookies once baked.)
Roll each piece of dough into a ball, then roll the ball in the powdered sugar. Place on the cookie sheets and bake.
Your Italian Almond-Orange Cookies will spread a bit as they bake and the tops will crinkle – showing a glimpse of the orange inside. Don't over bake – the centers of the cookie will be very soft when they come out of the oven.
Allow your Italian Almond-Orange Cookies to cool on the cookie sheet – the outside will become crispy as it cools and the inside will stay nice and chewy.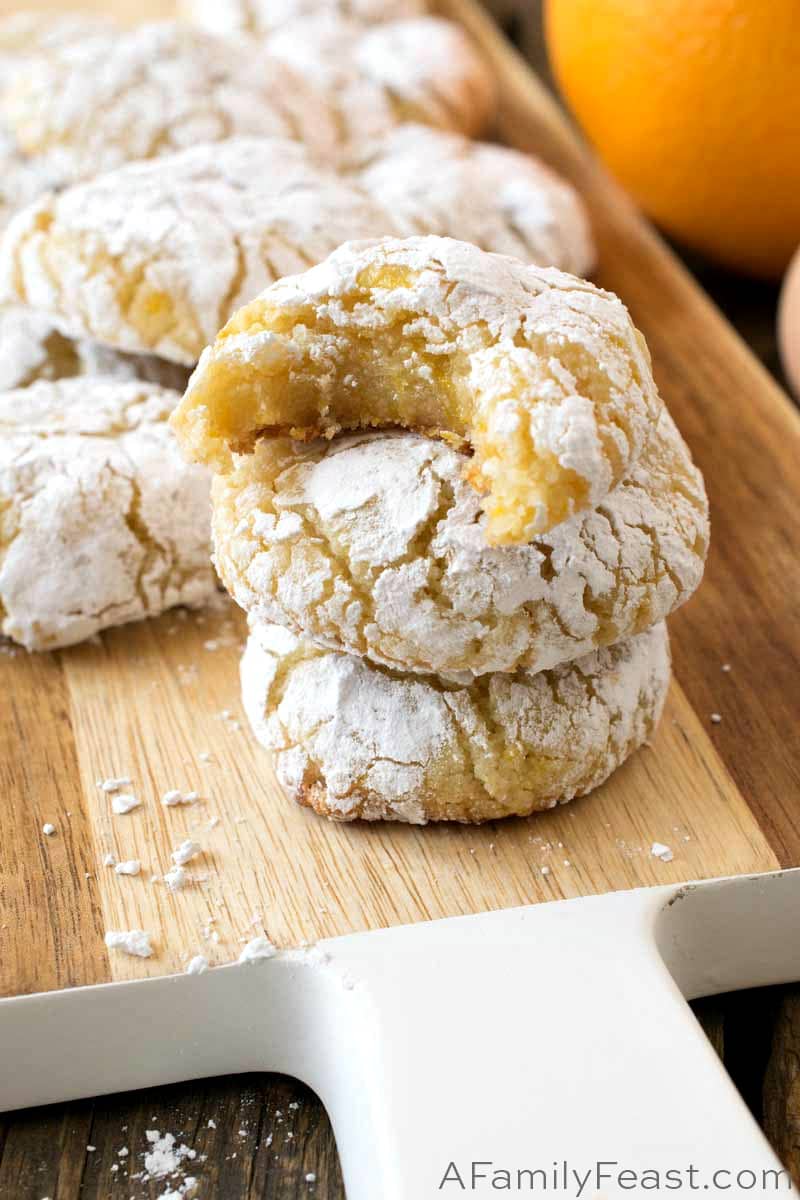 According to Wikipedia, Ricciarelli are traditionally served Christmas Eve with a sweet dessert wine called Vin Santo. But why wait until then? These Italian Almond-Orange Cookies are so good they should be enjoyed all year round.
See some of my other favorite Italian cookies here:
Print
Italian Almond-Orange Cookies
Author:

Prep Time:

1 hour 10 minutes

Cook Time:

15 minutes

Total Time:

1 hour 25 minutes

Yield:

2 dozen

Category:

cookies

Method:

baking

Cuisine:

Italian
---
1/3 cup egg whites (we separated two jumbo eggs and got exactly 1/3 cup of egg whites, but you may need more than two eggs to measure out exactly 1/3 cup)
1 ¼ cups granulated sugar
Zest of one orange
2 tablespoons honey
2 ½ cups almond flour
½ teaspoon baking powder
½ cup powdered sugar
---
Instructions
In a medium bowl, mix egg whites, sugar, orange zest and honey with a whisk until smooth.
Add the almond flour and baking powder and mix with a wooden spoon or rubber spatula until moist and all of the dry ingredients are absorbed into the wet and combined.
Cover and refrigerate for one hour and as long as 24 hours. I made my dough the night before then baked the next morning.
When ready to bake, preheat oven to 325 degrees F with two racks in top two positions.
Cover two cookie sheets with parchment paper.
Place the powdered sugar in a small bowl.
Roll the dough on your counter with your hands into a fat log and cut it into two equal pieces.
Roll each piece out into logs and cut in half then each piece in half again. Then cut each piece into three. This will give you 24 pieces.
Roll each piece into a ball then roll in the powdered sugar then onto the cookie sheets, 12 per tray.
Bake both together for 15-17 minutes, rotating the pans half way through.
The cookies are done when they start to crackle and flatten out and are slightly browned on the bottom. The centers will be very soft so don't go by the feel of the cookie and don't lift off the cookie sheet yet.
As they cool on the cookie sheet, they stiffen up and have a crisp outside and a chewy center.
Store at room temperature in an air-tight container.
Keywords: Italian Almond-Orange Cookies, acetani, riccarelli