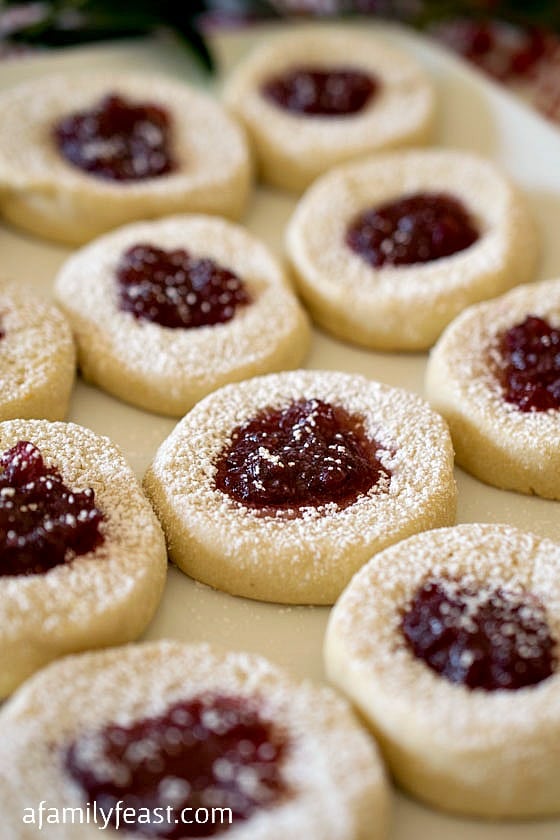 Pasta Frolla (Italian for "short pastry") is a pastry dough that is used in many Italian recipes. It's rich and buttery with a hint of lemon. While it's often used in sweet recipes – like today's Pasta Frolla Christmas Jam Cookies (as well as this recipe) – it can also be used in savory recipes that call for a shortbread crust!
Either way – pasta frolla is wonderfully versatile, delicious and very simple to make! Unlike many shortbread recipes where cold butter is cut in to form the dough, in pasta frolla the butter is softened and creamed so it mixes up quickly and easily!
We used pasta frolla today as the base for these delicious Christmas Jam Cookies! It's a recipe that we adapted from one that Jack and I brought back after our honeymoon in Italy.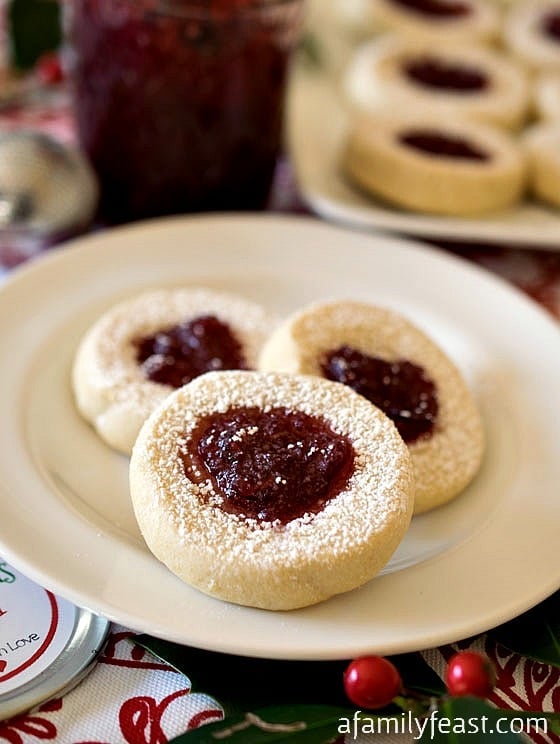 After you mix the dough, it's rolled into a log and chilled until firm. Then the log is sliced – and similar to a "thumbprint" cookie – an indentation is formed in the middle of the cookie by pressing down with your thumb, then fill the indentation with a spoon of your favorite jam (we used our Christmas Jam recipe) and bake!
Once these sweet, crisp jam-filled shortbread cookies are baked and cooled, sprinkle with powdered sugar before serving.
The pasta frolla dough can be made in advance and kept tightly-wrapped in the refrigerated for a few days – or you can even freeze it for about a month.
Print
Pasta Frolla Christmas Jam Cookies
Prep Time:

2 hours 25 mins

Cook Time:

15 mins

Total Time:

2 hours 40 minutes

Yield:

48 cookies
---
Description
This pastry dough can be used in a variety of recipes including cookies or for a tart.
As written, the ingredients list will give you enough dough to bake between 36-48 cookies depending on thickness. Feel free to cut the recipe in half if you'd like to make fewer (18-24) cookies – OR make the full dough amount and save half in the freezer for another recipe.
---
For the Dough:
2 sticks butter (1 cup or 16 tablespoons), softened
1/3 cup powdered sugar
1/3 cup granulated sugar
Pinch of salt
2 whole eggs
2 egg yolks
2 teaspoons vanilla
Zest from one whole lemon
4 cups flour
For Garnish:
1/2 to 1 cup Christmas Jam or other berry jam
Powdered sugar for dusting
---
Instructions
In the bowl of a stand mixer with a paddle attachment, cream butter then add both sugars and salt. Cream until fluffy, about two minutes.
With mixer on low, add the eggs and egg yolks one at a time until mixed.
Add vanilla and zest and mix again.
With mixer on low, add each cup of flour until combined.
Remove from bowl and knead by hand for about a minute.
Refrigerate dough wrapped in plastic for up to three days or at least for two hours.
Assuming you will only be baking 18-24 cookies, remove dough, cut in half and refrigerate other half for another recipe (like this one), or freeze for up to a month.
Preheat oven to 350 degrees.
On lightly floured surface, flatten and work dough so that it becomes soft and pliable but not warm.
Roll into a log and either cut into 18 or 24 pieces depending on how large you want the cookies. For 18, cut log in half. Cut each half in thirds and each third in thirds. For 24, cut log in half, each half in half, each quarter in half, then each piece in thirds. An 18 count cookie will be about 2-2 1/2 inches.
Line two cookie sheets with parchment paper
Roll each dough piece into a ball then press down with the palm of your hand. With your thumb, make an indentation into the center of each then lay out on the sheet pans.
With a teaspoon, fill each indentation with Christmas Jam, being careful not to fill too high.
Bake for 12-15 minutes (depending on the size) until lightly golden.
Remove to a cooling rack.
Once cool, dust with powdered sugar.
---
You may also like: